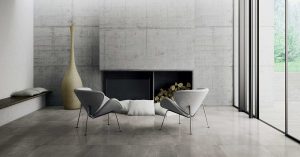 Many homeowners set the bar too low when it comes to their concrete surfaces. It's easy to do. After all, this durable and strong material used to be considered to be purely utilitarian — and not nearly as sexy as Italian marble, bookmarked granite or retro-cool travertine.
But if you think this way, you're selling concrete short, because it can also be beautiful in modern, industrial or even traditional interiors. Like any hard surface, though, it's susceptible to stains, damage and general wear and tear. Your concrete deserves the same kind of TLC that you bring to the rest of your fine surfaces.
With some extra attention from MARBLELIFE®, concrete can become a focal point in your home and not just a sidebar. MARBLELIFE's Concrete-Made-Beautiful line of services and surface options provides almost an infinite breadth of potential finishes. Whether hiding crack repairs, seeking a splash of color, or going all the way to make it look like a marble floor or a granite surface, the possibilities today are many. Here are a few ideas for showing your concrete just how much you care.
Basic Concrete Maintenance
Although regular cleaning like sweeping and mopping is important, it won't conquer bigger problems like mold or mildew or unsightly crack repairs. But MARBLELIFE'S proprietary, scientifically formulated Mold & Mildew Stain Remover can tackle the tough tasks. However, for a really big job with lots of surface area or a space that's been neglected for a long time, call in your local MARBLELIFE® pro – we've got the know-how and tools to handle it.
Concrete Repair
Spalling concrete is concrete that's broken, cracked or flaking due to extreme environmental conditions, chemicals or mechanical pressure that compromises its surface. It open appears when water has been able to soak into the surface and then freeze and expand to pop off a piece of concrete. This can be prevented by ensuring concrete surfaces beneath rain spouts are properly sealed to keep rainwater above the surface where it belongs. Your local MARBLELIFE® pro can remedy this distressing situation with an affordable EnduraCrete treatment. Don't delay dealing with deteriorating concrete — it will only get worse over time.
Have a crack in the floor? Once repaired, it still looks like a crack in the floor, but add a beautiful MARBLELIFE EnduraChip, EnduraGranule or Marbleized floor and that crack repair is not just gone, but eclipsed by your new floor. Whether seeking a carrera white marble floor to show off your cherry red sportscar or a textured chip coating, the result is something entirely new and fresh, with no crack in appearance.
Concrete Overlays
Give your old, boring concrete hardscape the look of flagstone or brick with a beautiful overlay — without the need for a costly tear-out. Overlays add texture, color and eye-catching beauty to existing concrete surfaces. If you have a pool deck or patio that you'd like to spruce up, consider an affordable MARBLELIFE® EnduraCrete overlay.
Reimagine Your Concrete
Turn your basement into your family's new favorite hang-out. Concrete used to just be what was hiding under your hardwood or carpeting. But with MARBLELIFE's EnduraCrete concrete stains, you can achieve an eye-catching new look without the expense of laying tile or other flooring. You can choose from a broad array of colors and any level of sheen from matte to satin to ultra-high gloss. And our talented craftsmen can create almost any look you can imagine. We can even transform a dull gray, concrete floor and give it the showstopping look of high-end marble.
Or, make your garage a showroom for your vehicles. Our attractive EndruaChip epoxy flooring can cover cracked concrete with a beautiful and durable coating that stands up to heavy foot and vehicle traffic and is easy to maintain.
Call in the Concrete Pros — MARBLELIFE's EnduraCrete Services
Everyone needs a little TLC now and again — including your concrete surfaces! Don't neglect your concrete any longer. Turn your dull, boring floors from utilitarian to upscale in no time — and at an affordable price. Contact your local MARBLELIFE® pro today and schedule a free home consultation to discuss your options for repairing, renovating or reimagining your concrete surfaces.