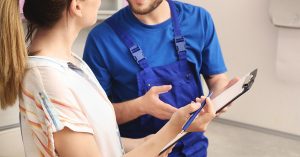 As a commercial property manager, you've got a lot of responsibilities. Ensuring office safety, complying with local codes and tending to maintenance and repairs are just some of the many tasks in your charge. To keep all those plates spinning, you must be able to rely on your service providers and avoid wasting time micromanaging or tracking people down. Keep these tips in mind when hiring and building an effective relationship with your surface care provider.
Think long-term. Establishing trust with your provider is essential. After all, the quality of the work these professionals perform can impact your tenants' satisfaction and renewal rates. If you can cultivate a strong and sustained relationship, your service provider will gain greater familiarity with your property's specific needs and optimize their maintenance strategies accordingly.
Communicate effectively. Set up and maintain clear lines of communication, making sure you and your provider are on the same page about how you'll communicate necessary information. Also, provide a single point of contact for your provider and be responsive to their inquiries. By the same token, you should expect the same from your service provider. Keep in mind the old adage that a picture is worth a thousand words and send photos of spaces, any problems and areas requiring attention to clarify your concerns and needs.
Set clear expectations. Property managers may have their own priorities and preferences when it comes to how to maintain their commercial spaces. Service schedules, areas of focus and special instructions can vary from one manager to the next. For this reason, it's important to establish up front exactly what your expectations are and ensure your provider understands them.
Coordinate with the cleaning crew. You'll get the most mileage out of your surface care provider and janitorial crew if they're operating from the same playbook. We are differentiating between the janitorial crew that comes in for a daily cleaning and your hard-surface maintenance team. Cleaning and maintaining hard surfaces are two distinctly different functions. A quality surface restoration company will make your janitorial crew's efforts easier and less expensive. If you are frustrated because your janitorial company cannot deliver a clean floor appearance, it is likely because the floor is damaged, not dirty. A marble etch looks dirty, but in reality, it is due to marble being dissolved away from the surface. No cleaner will restore the missing marble; it needs to be repolished. Similarly, stained grout can be stubborn to correct. No change in cleaner is going to resolve this issue, yet a single service from MARBLELIFE can correct the problem forever, restoring an easy-to-clean surface that you are proud of, your tenants are happy with, and your janitorial team can clean easily. MARBLELIFE® can help advise your janitorial staff regarding proper cleaning products and techniques to enhance the performance of your surfaces between visits.
MARBLELIFE® can be indispensable for regular maintenance or for as-needed services and even larger, occasional major remediations. Our many services include:
Tile and grout cleaning
Marble polishing
Terrazzo restoration and repair
Concrete resurfacing
COLORSeal transformations
TileLOK high-durability coating
Ultimate Floors
Stain removal
Crack repair
EnduraCrete concrete staining
Mold remediation
Anti-graffiti treatment
Granite countertop restoration
Concrete anti-slip treatment
EnduraChip coatings
Stone and grout sealing
Granite floor polishing
Medical tile and grout care
Spalling repair
EnduraCrete concrete overlays
VinylGUARD
Having one company that can do it all can help save you time and money while preventing many problems before they happen. MARBLELIFE® has offices throughout North America plus Grand Cayman, Dubai and Johannesburg. As such, we can provide an individual building, a national chain or an extended building portfolio with a consistent surface maintenance program.
MARBLELIFE® clients are using our solutions in restaurants, retail stores, hospitals, hotels, office buildings, sports arenas, transportation stations, government offices and parks, just to name a few. Contact your local MARBLELIFE® to schedule a free on-site consultation for your commercial property.