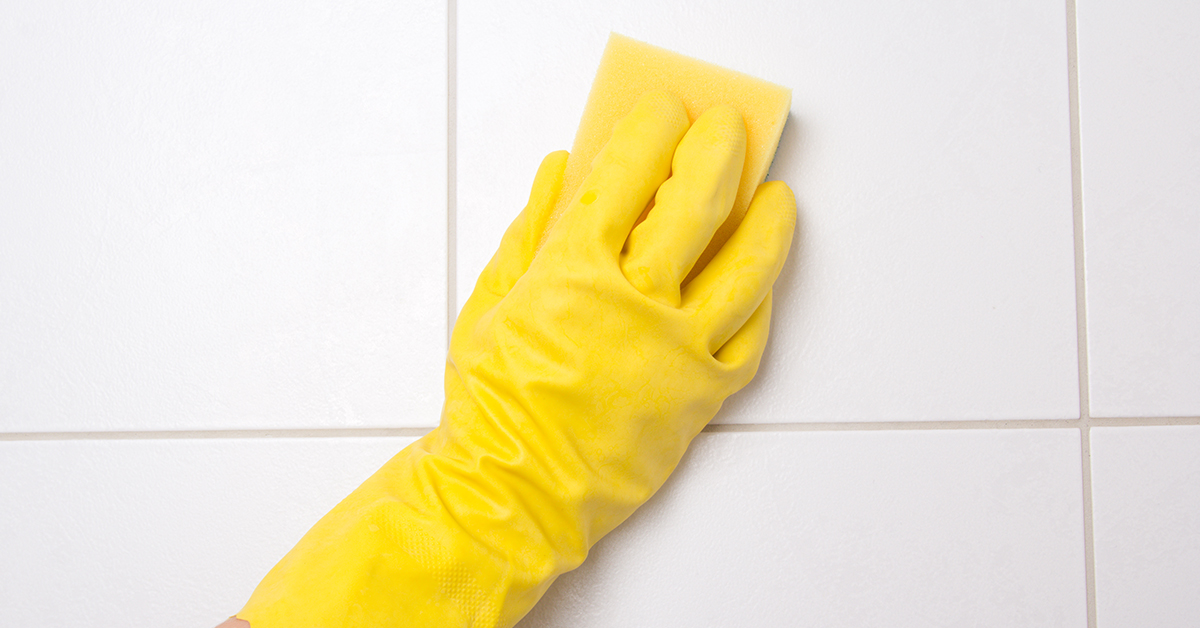 There's no shortage of available cleaning products for tile and grout. A quick Google search reveals all sorts of solutions, including gels, sprays, foams and even homemade concoctions aimed at DIYers. Combine that with an arsenal of tile tools on the market — ranging from scouring pads and sponges to powered rotary brushes and crevice cleaners — and tile cleaning seems like it should be an easy task. But even so, lifting dirt and grime and achieving truly clean surfaces can be elusive. That's because it's often a combination of the things you are and aren't doing that may be working against your best efforts.
With that in mind, we've compiled a list of tile care do's and don'ts to help make cleaning your surfaces easier and more effective, while avoiding things that could actually make a situation worse.
Disastrous Don'ts
Don't mop with dirty water. It's that simple. Why undo all the work you just did? Change out your mop water regularly and always finish with a clean rinse.
Don't use harsh, acidic cleaners. Acids can cause grout to crumble away. Leaving that damage unrepaired not only looks bad but can also create a breeding ground for mold and mildew.
Don't use scouring pads. Abrasive scrubbers may seem like a good idea, but they can actually remove a layer of grout — and you could risk damaging the surrounding tile.
Don't neglect sweeping and vacuuming. Grit is abrasive and will grind in to surfaces if not swept away. Over time, it could even create micro-scratches that mar the appearance of your tile.
Don't waste time trying to clean something that looks dirty but is actually damaged. Oftentimes, grout isn't cleanable, and you can actually do more damage by compromising it even further. Address the root cause by making sure you have an undamaged, truly cleanable surface.
Don't assume cracked, chipped or otherwise damaged surfaces are irreparable. Modern advances in tile and grout repair are remarkable. Even if your surfaces seem beyond repair, MARBLELIFE® service professionals can often bring it back to life.
Definite Do's — With MARBLELIFE
Do seal your grout. So often, we think dingy grout is dirt that can be scrubbed clean, but that's usually not the case. Grout does a great job holding your tiles in place, but it's vulnerable to staining. The best way to prevent dirty-looking grout is to seal it. MARBLELIFE® can seal and protect your grout to help make clean up a breeze by keeping tracked dirt and spills trapped at the surface.
Do protect your entryways. The right kind of mats can reduce floor wear and cleaning requirements dramatically. Interior mats should be close-backed to allow dirt to be emptied periodically, and exterior mats should be open-backed so that particles can pass through and be swept off the surface. MARBLELIFE® offers a variety of mats to accommodate different applications and space requirements.
Do wipe up spills quickly. Because grout is porous, it stains easily. And time lets stains set in even deeper, with wine and tomato sauce being top offenders. Wipe up all spills right away.
Do use safe and appropriate tile cleaners. To preserve tile and grout, clean with a non-acidic solution. We recommend our own specially developed MARBLELIFE® Maxout Grout Cleaner, which helps remove stubborn surface grime without any harsh chemicals or odors.
Do hire an experienced pro to repair damage. MARBLELIFE's qualified surface care professionals can restore damaged surfaces. You can find a complete list of repair and restoration options on our website.
Do let us help you love your tile surfaces once again. You loved your tile surface when you first had it installed. And with MARBLELIFE®, you can love it again!
Don't Despair — Help Is Here
Cleaning your tile can be a breeze if you follow our do's and don'ts. Trust our experts. Your local MARBLELIFE® pro can provide a specialized care plan to keep your tile and grout looking brand new. Don't wait — but do contact your local MARBLELIFE® office to schedule your free at-home consultation.