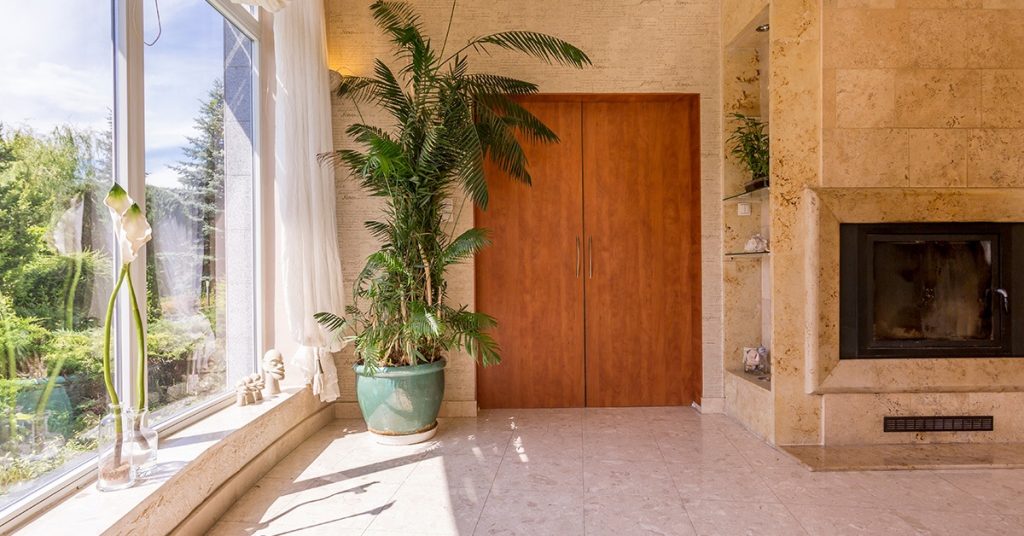 Travertine has a striking appearance and possesses an organic, elemental beauty that can enhance the look of any home or commercial space — indoors or outdoors. Because it's formed by mineral deposits from natural springs and limestone caves, travertine has a look that's unique and distinctive among natural stone surfaces, imparting elegance and timeless appeal to floors, showers, fireplaces, countertops and backsplashes. It's also a popular choice for outdoor patios, pool decks, walkways and fire pits.
Travertine is available in two forms: filled or unfilled. But which is better?
Unfilled: Rustic and Natural
With its distinctive pattern of holes and crevices, unfilled travertine has a rustic, natural charm. Its textured appearance suits many styles from classic to modern, imparting loads of character to your home.
While unfilled travertine is visually striking, the unique look comes with a price, as all those tiny pits easily trap dirt and debris. Moisture can also fill the holes, and trapped moisture can lead to mold and mildew. When there are too many unfilled holes, the structural integrity of the travertine can even become compromised, increasing the chance of cracks and breakage.
Filled: Smooth and Refined
Filled travertine creates a level surface, resulting in a more finished and formal look. Travertine can come pre-filled with an epoxy resin adhesive or be filled after the fact in situ with either epoxy or concrete based materials formulated to blend into the stone beautifully. Once travertine is filled, the surface is honed to an even plane. The finished floor no longer has dust and dirt filling crevices, making it as easy to maintain as it is beautiful.
And because of its smooth, uninterrupted surface, filled travertine is much easier to clean and maintain than its unfilled counterpart.
Travertine Finishes
The most common finishes are gloss or matte, but the satin finish is this author's favorite, offering a subtle sheen that matches beautifully. Your MARBLELIFE® professional is trained to be able to transition the floor from one finish to a new one. Our technology allows us to polish the floor from matte to satin to gloss, and then take it back to satin or matte, if necessary, so there is no risk in exploring a different look.
Protecting and Maintaining Your Travertine
While classically beautiful, travertine is also naturally porous, making it quite vulnerable to stains and damage without proper protection and maintenance. MARBLELIFE® professional craftsmen are available to clean, polish and repair your travertine, whether it's filled or unfilled.
For basic cleaning and maintenance, MARBLELIFE® offers a travertine cleaning service with the proper products and techniques to restore a clean, beautiful surface. If you prefer to clean your own travertine, our Marble & Travertine InterCare Cleaner will get the job done nicely.
MARBLELIFE's professional polishing service can easily remedy light chips, cracks and scratches. For heavier damage, we can hone the surface and fill chips and cracks with a color-matched buff epoxy repair compound so seamlessly that you will be hard pressed to find the repair.
Travertine Conversion
What if you have unfilled travertine, but prefer the look and performance of a filled floor? MARBLELIFE's Traverfil service is perfect for those who want to convert their unfilled travertine into a gorgeous, easy-to-maintain filled surface. Our expert craftsmen fill your installed travertine with a special compound that can then be honed flat and then finish blended with your floor for a stunning effect. As a final step, we recommend regularly sealing to preserve your beautiful new look.
And the Winner Is …
Filled travertine wins hands down for easier maintenance, superior strength and seamless, reflective beauty. But no matter your personal travertine preference, MARBLELIFE® can expertly clean, restore and protect it.