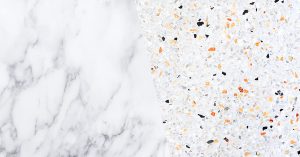 Whether it's new construction or a home renovation, your hard surfaces provide visual interest through the variety of colors, textures and patterns they offer. They can be both utilitarian and decorative, but how do you know which surface to choose?
Let's take it head to head: terrazzo vs. marble — which one is right for your home?
Tantalizing and Trendy Terrazzo
What is it? Terrazzo is a composite material, often comprised of marble, quartz, granite or glass chips held together by a cementitious or polymeric binder. Its earliest form appeared in 16th century Italy and used residual bits of marble remaining from completed stonework projects. But don't think terrazzo is just a fancy name for leftovers! You've probably seen and admired terrazzo surfaces in lots of places, including the iconic flecked tiles on the Hollywood Walk of Fame.
Design use. Terrazzo became popular in the 1920s and was an important design component in the Art Deco movement. Distinctive terrazzo flooring will give you a vintage vibe when paired with mid-century modern furniture. It's ultra-flexible for home décor — you can personalize the colors and patterns in endless varieties. Terrazzo can give a soft wash of color to contemporary spaces while adding a nostalgic touch.
Care concerns. Terrazzo is hard stuff! It stands up well to high traffic, doesn't stain and is easy to clean and maintain. Recently, homes built between 1920 and 1960 undergoing renovation have revealed terrazzo floors hidden under carpet still in good condition. Whether recently discovered or recently installed, a good polish can give terrazzo a glossy sheen, and maintaining the stone's luster is not difficult. For expert jobs, a MARBLELIFE® technician can fill in chips and restore damaged terrazzo surfaces so well it will be hard to find the repair.
Majestic and Marvelous Marble
What is it? Marble is a natural stone formed from limestone put under immense pressure and heat from within the earth until it crystalizes and changes its structure. Marble has distinctive veining, and its coloration can range from pure white to jet black with splashes of other colors from minerals present during the marble's formation.
Design use. Marble is almost synonymous with ancient Greece and Rome, and it remains a popular surface to this day. You can use marble for a stunning entryway, a classic kitchen look or as a dramatic accent wall or hearth, working well in contemporary as well as traditional spaces.
Care concerns. As hard as marble may seem, it's actually a softer variety of natural stone. It's porous with microscopic spaces and gaps, which makes it more susceptible to staining, scratching or chipping. This susceptibility is why marble requires proper periodic sealing to prevent staining. It's particularly vulnerable to acidic substances, such as tomato sauce and wine, making prompt cleaning of spills important to maintaining your beautiful surface.
And the Winner Is….
When it comes to timeless, classic beauty, marble is the hands-down winner. With proper care, its luminescent luster has an appeal unlike any stone, and its variegated patterns give you a lot of versatility in your design choices. But for durability and flexibility, you can't beat terrazzo. It's easy to care for and holds up well while offering almost limitless opportunity when it comes to color and pattern options.
Whichever surface ultimately wins your heart, or matches your design preference, MARBLELIFE® can help you keep it looking its best for years to come. Using our proprietary products and time-tested techniques, your MARBLELIFE® pro is experienced in cleaning and care for both terrazzo and marble. Call today and let us help you pick your winner!