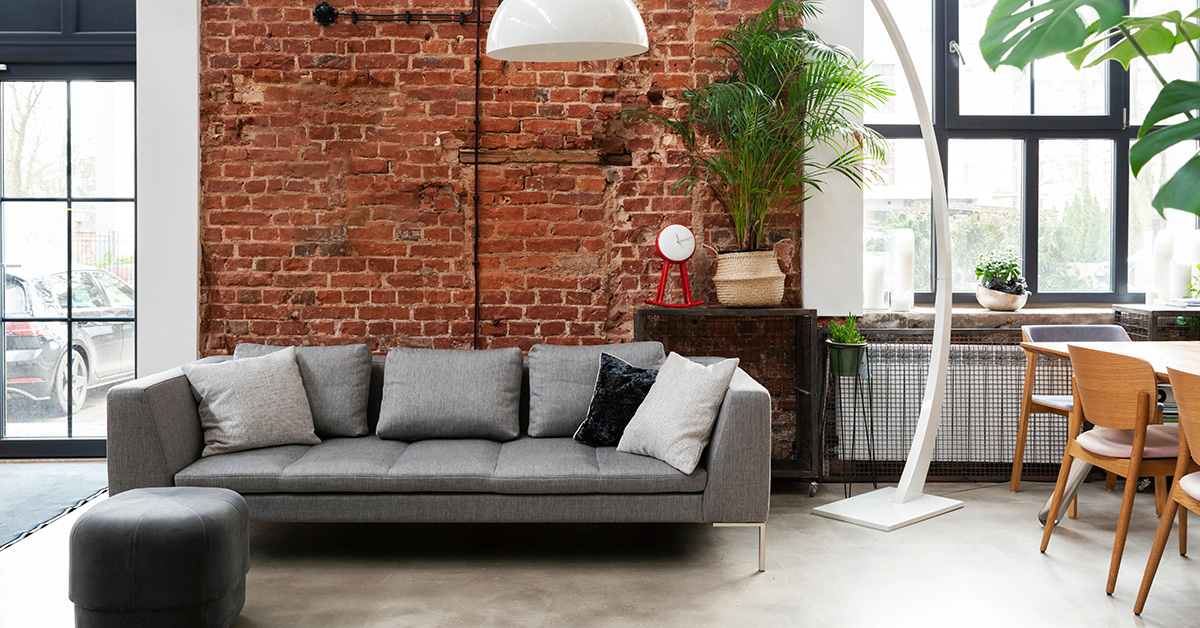 While you can find it almost anywhere — from garden paths to contemporary loft-style homes — concrete can be so ubiquitous that we don't even think about it until we trip over a crack or can't get those persistent and unsightly stains out, even with a power washer. Concrete can be an easily overlooked and undervalued surface. But don't write off its design value just yet! Your dull and dingy concrete surfaces can become the focal point of your interior and exterior living spaces — especially when it becomes the canvas for a custom EnduraCrete design.
It's a surface showdown anyone can win: raw concrete vs. EnduraCrete
Raw Concrete
Advantages. Why do we see so much concrete? It's among the most affordable options when it comes to hard surfaces. It's not difficult to source and relatively easy to install compared to a custom tile floor. It's utilitarian and can be found in many kinds of spaces — outdoor pathways, garages, pool decks, basements and driveways — really, just about everywhere.
Design look. While concrete is highly functional, the design potential of untreated concrete is limited. Unless you're going for a contemporary/industrial look, in most places it's quite frankly just boring — and won't look good at all once it inevitably stains.
Challenges. As hard as concrete seems, it's actually quite susceptible to chips and cracks. Concrete is porous, so it stains and creates dirt and dust as the unsealed concrete surface slowly but surely deteriorates over time.
EnduraCrete
Advantages. MARBLELIFE's proprietary EnduraCrete treatments are versatile, durable, stain-resistant, easy to maintain — and anything but boring! EnduraCrete treatments are installed on top of your existing concrete surface, sealing it to prevent staining while also helping to ward off chips and cracks by keeping moisture out. EnduraCrete staining services add beauty and resilience to your surfaces, making them a breeze to maintain.
Design look. Anything you want! EnduraCrete services cover up unsightly, dull or damaged concrete so your patio doesn't have to look like a truck stop anymore. It can mimic brick, flagstone — even leather and marble — and complement any interior style from traditional to transitional to rustic and more. EnduraCrete concrete staining services open up a world of choices without the expense and effort of a complete replacement. With a rainbow of colors and patterns to choose from, the only limit is your imagination. EnduraCrete treatments can also help prevent mold and other allergens from collecting as they can in carpet and on raw concrete surfaces, which are difficult to keep clean.
You can use EnduraCrete services in many areas of your home: the great room, kitchen, dining room, craft room and more. Convert an unused basement or garage into additional living space. Real estate is expensive these days — turn every square foot of your house into a usable, beautiful space!
Challenges. With MARBLELIFE® EnduraCrete services, we think the biggest challenge would be deciding between the many beautiful treatments and color variations to use on your space.
Everyone Wins With EnduraCrete
Repair cracked and chipped concrete, then add an EnduraCrete stain in the color and pattern of your choice or a decorative overlay that will preserve the surface condition while giving you a brand-new designer look. And if you really just like the industrial, contemporary look of raw concrete — you can keep it with MARBLELIFE® professional concrete cleaning and sealing services. Give your concrete curb appeal with MARBLELIFE®.
Don't replace when you can reimagine your concrete surfaces instead! Call your local MARBLELIFE® team to find out more today.