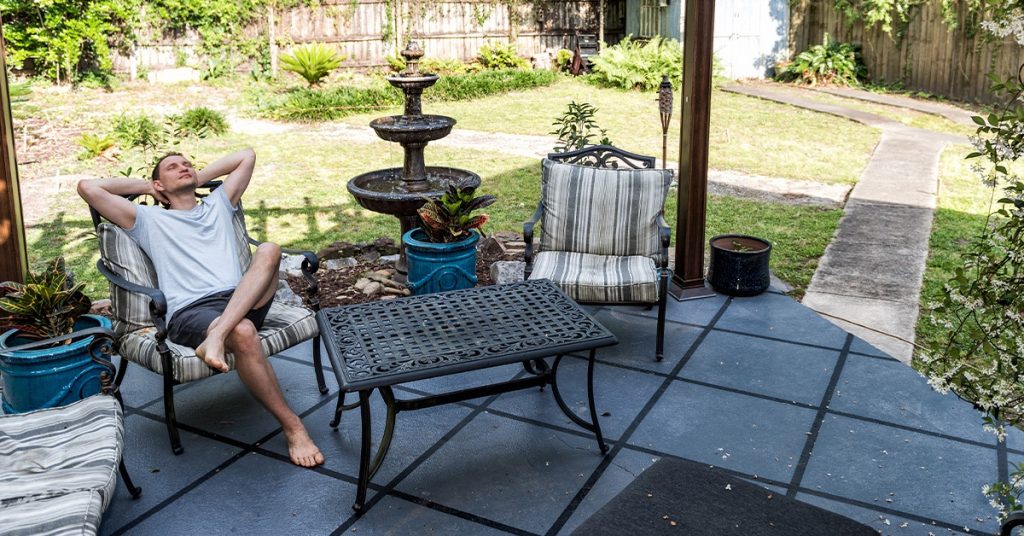 The dog days of summer are well upon us. But with rising gas, hotel and rental prices — on top of busy kid schedules — this might be the perfect time to lay low and enjoy a family staycation instead. MARBLELIFE® has some great tips to make your home the ideal summer holiday retreat.
Your Own, Personal Vacation Home
Start with the basics. Clean up yard debris, pull weeds and get your lawn in tip-top condition. Then, give new life to your outdoor living spaces by creating a vibrant, welcoming atmosphere. Here are a few easy ideas:
Arrange a smattering of pretty plants in colorful pots. Or simply paint your existing clay planters. It's a fun way to involve the kids as a family art project.
Add new furniture or dress up the old. A fresh coat of paint on wicker or plastic furniture (yes, there's special paint for that) and a pop of color with new cushions or throw pillows can go a long way toward creating a vacation-y new look.
Bring the indoors out and add a weather-resistant rug to anchor your seating arrangement. You'll be amazed at how different your patio will look — and feel — underfoot.
Add decorative lighting around your deck while staying green with solar power. Seek out solar Italian twinkle lights, tiki torch-style lanterns or dramatic uplights for your plants. Placing fairy lights in glass jars can make for a magical atmosphere.
Patio and Pool Deck Staycation Refresh
Your hardscape is the foundation of your exterior design style, so check for areas in need of repair. Your MARBLELIFE® pro can fix cracked and chipped concrete and add nonskid, anti-slip treatments to help keep guests upright.
MARBLELIFE® can transform the entire look of your patio or pool deck with our Enduracrete concrete services to create a beautiful, vibrant finish that comes in a variety of textures and patterns.
And on hot, sunny days, the last thing you want to worry about is burning the bottoms of your feet. Speak to your MARBLELIFE® pro about options that could make going barefoot bearable on those hot days.
Check out MARBLELIFE'S online gallery at https://marblelife.com/pages/enduracrete/decks.php to get the real picture on all that we can do.
Creative Ideas for Backyard Fun
Now that your backyard is beautiful, what will you do with it? Try these ideas:
Outdoor family movie night. Set up a portable projector, Bluetooth sound system and inflatable screen to watch your favorite flick.
Backyard camping. Pitch a tent and complete the adventure with a patio fireplace for roasting tasty s'mores. (Portable fire pits are available and affordable at many garden outlets.)
Games in the garden. Hosting scavenger hunts, board games, obstacle courses, stargazing or even a talent show can be fun, inventive ways to enjoy your new-and-improved backyard haven.
Make It Happen
This year, instead of emptying your wallet on pricy gas and expensive resorts, turn your very own backyard into a staycation paradise. Call your local MARBLELIFE® pro to receive a free in-home estimate.