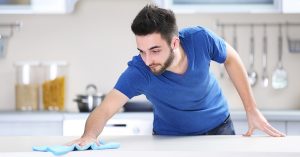 For ages, humans have felt the urge to put winter behind them with a thorough repudiation of the dirt and grime that accumulates during dark months. As the polar axis tilts back toward the sun, bringing longer hours of sunlight and warmer temperatures to the Northern Hemisphere, the impulse inevitably arises. People across the world break out brooms and fill buckets with sudsy cleaners to assault the built-up crud of winter.
Of course, you want your house to be spic and span for springtime. But that doesn't mean you have to personally scrub every surface. This is the perfect time to invite the MARBLELIFE® pros over to lend a hand. They're experts in surface repairs and revitalization, and they use proprietary, lab-tested MARBLELIFE® products and techniques that both homeowners and commercial businesses across the U.S. rely on. And we've got solutions for every room in your home. Other times, what you see as a dirty surface may actually be damaged. If your cleaning is not delivering the desired result, odds are the surface is no longer cleanable and needs to be restored.
Entryway and Great Room
When summer's flipflops and sneakers give way to sturdier footwear, what protects your feet may be leaving a mark on your floors. A single grain of sand, ground underfoot, can create scratches that will require a professional polishing to remove. A good polishing can get marble or granite gleaming again and, if there are any pits or cracks, those can be filled and mended so you'll hardly know there was ever a problem.
Kitchen
Did a splatter of Thanksgiving cranberry sauce soak into your granite countertop? Or maybe there's a chip where the Dutch oven banged the backsplash while you served up the stew. MARBLELIFE® technicians can handle those mishaps — and seal your counter surfaces as well as clean and revitalize your dingy grout.
Bath
Mold can flourish during the dark days of winter. But MARBLELIFE® has a comprehensive line of cleaners that hunt down and extinguish mold stains, and sealers that protect porous surfaces to help prevent a recurrence. Grout, whether in the shower or on the floor, is the common host for this predator and a good cleaning followed by a penetrating sealer can help keep it looking springtime fresh.
Garage and Basement
How much space are you not using in your home? Enough for a pool table, woodshop or crafting room? MARBLELIFE® can stain and seal concrete floors in colors and a variety of gorgeous patterns, as well as apply Endurachip epoxy finishes to make that unused space not just attractive, but a magnet for family fun.
Making the Outdoors Great
With impending garden parties and barbecues, it's time to repair and upgrade hard surfaces outside the house too. The winter can be unkind to concrete, causing chipping and spalling. And less sunlight means more opportunities for mold to take hold. MARBLELIFE® technicians can repair cracks, clean away grime and apply anti-slip finishes to help keep guests on solid footing. We can even make plain concrete walkways and hardscape look like flagstone with an EnduraCrete concrete overlay that beautifies and protects.
You Call, We'll Spring Into Action
Call to schedule your spring cleaning now, before all the fun activities this season brings. And once we've got your surfaces springtime fresh, try MARBLELIFE's full line of cleaning products to help keep them that way. They're scientifically formulated and tested in our own lab, and the best way to keep your home surfaces guest-ready all year long.