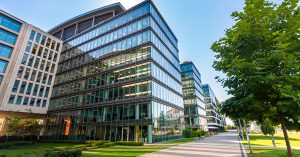 If you're responsible for managing a large commercial property, like a multistory office building, hotel or sports complex, then you know just how much size matters. Sometimes, it seems like there's no such thing as a small problem with a large property. You want to partner with someone who understands that fact — and has experience taking care of supersized spaces and nationwide property portfolios. You want MARBLELIFE®.
Bigger is Better
No one matches MARBLELIFE's presence or experience. With over 50 offices and hundreds of trained craftsmen, we cover over 80% of the North American population with local teams. With 30 years of experience and roots dating back to the original two companies in the industry, no one has more experience. Whether measuring based on calendar years, years of experience from our team members, or number of jobs completed, no one even comes close to our experience for meeting the industry's needs for consistent quality restoration services and stone care products. Today, MARBLELIFE® restores more than 1,000 residential floors, vanities, showers and counters every month. This makes us the largest stone restoration service provider in the world.
But we know what you're most interested in is your property or property portfolio and how MARBLELIFE's experience can enhance your bottom line and simplify your ability to get consistent quality restoration and maintenance service. If you're in the hospitality industry, for example, we can take care of you. MARBLELIFE® services more hotel properties than any other stone care company in the world. And we care for more than 100 hotels every month. If we maintain your stone surface monthly, you'll never need a wear-related surface restoration again. That's our promise, a promise we have maintained for more than 15 years. Yes, that means the clients we took on 15 years ago have enjoyed restored floor appearance consistently without another restoration for more than 15 years.
Not to Brag, But …
If MARBLELIFE® were to drop names, our client list would include Fortune 500 companies, athletic superstars, prominent government buildings and well-known brand names — for a reason — the best-in-class like to work with the best-in-class.
We Have What It Takes
Whether you manage a medical facility, restaurant, retail site, corporate office or entertainment venue, MARBLELIFE® has the manpower, experience and expertise to care for your commercial property no matter its size or needs. If you have a national portfolio of properties, we have the broadest network of service providers in North America with a key difference. Our network is a network of MARBLELIFE® trained members taught from scratch, not a list of independents scattered across the country. Our network provides the same service with our MARBLELIFE® proprietary products and techniques across the country.
Call us today for a free on-site consultation for your commercial property and see why other large-property managers like you trust MARBLELIFE® for their surface care needs.