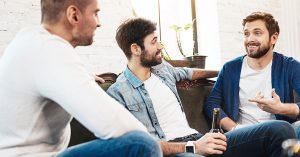 When something is that good, it gets people talking. Here are just three of many, many glowing Google reviews of our services.
Exceeded Expectations: "Marblelife was a referral from my sister-in-law, and they did not disappoint! From booking the preliminary appointment (wonderful support staff) to meeting with our expert (thank you, Mike), the process was seamless and easy. Regarding the outcome - Mike far surpassed my expectations! Scratches, smudges, marks, and water spots were all removed from the marble and a nice, clean new seal has been installed. I could not be happier with the outcome. If you have marble needs, look no further - this is your expert!"
Highlights:
Good service from beginning to end
Results that exceed expectations
Easy and seamless process
Completely Satisfied: "From beginning to end this was a great experience. Received a call soon after request for an estimate. Chris came over and explained the process, gave me a fair estimate and was able to quickly get my project scheduled. Dom, who cleaned and sealed my floors, was prompt, clean, professional and patient. He explained what he was doing and made sure I was completely satisfied with the results. The floors are now beautiful. MarbleLife did an amazing job. The pictures don't do justice to how beautiful the floors are now. Thank you!"
Highlights:
Quick and responsive
Explained the process
Fair price
Prompt, clean and professional
Made sure I was completely satisfied
Professional Perfectionist: "I am very happy with the job Marblelife just did for me. Tyler was the ultimate professional and perfectionist. He spent a lot of time making sure our marble entryway looked perfect. And he made sure the color seal for our grout in the kitchen was the right color by bringing different samples of colors to actually try. It's not going to stain anymore from food spills. I could tell he enjoys the work he does! That makes a big difference. The final look of both floors is exactly what we were wanting and expecting. Thank you!"
Highlights:
Professional perfectionist (we love hearing that!)
Offered many samples
Met all expectations
Could tell the technician "enjoys the work he does"
Read 'Em for Yourself
We don't mean to brag — it's just that we're so proud of our technicians. And the reason that we're hardly surprised when we read comments like these is because, quite frankly, we hear these kinds of things all the time. This is the level of performance we expect from our service and support teams. And it's what you can expect too when you invite MARBLELIFE® to your home or commercial property.
All you have to do is Google the MARBLELIFE® in your area to read all the glowing reviews from our satisfied customers. You can feel confident that when you call MARBLELIFE® that we won't just meet expectations — we'll exceed them. We've worked hard to earn these reviews for 30+ years.
For all your hard surface needs:
Stone restoration
Cleaning and sealing tile and grout
Beautiful EnduraCrete concrete overlays
Concrete staining
Marble polishing
Granite repairs
Ultimate floors
Home and commercial services
… and for so much more, trust MARBLELIFE®.