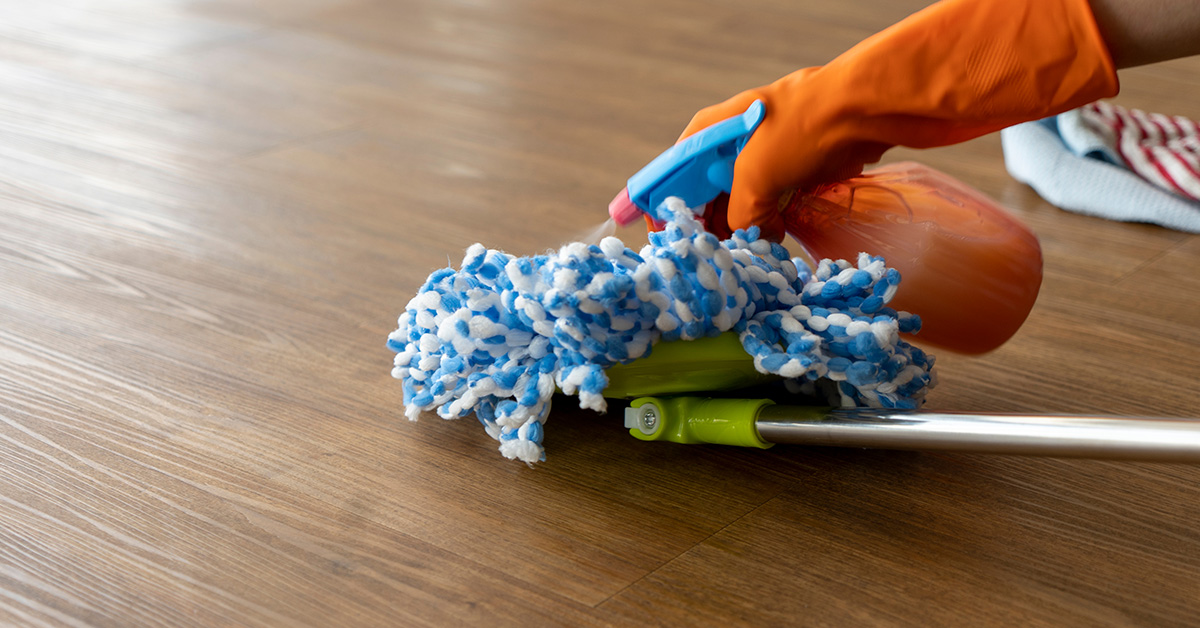 Wear and tear on any flooring is inevitable — dirt, grime and scuff marks will take their toll. And while vinyl remains a reliable, durable and cost-effective choice for many commercial properties, it still requires maintenance if you don't want your customers to see a steady stream of scuff marks and dull floors. If you are still waxing, this means buffing to restore shine, hunting down scuff marks with your tennis-ball-on-a-stick, and periodically stripping and creating a sea of waste a couple of times a year. Feels like the 1950s.
Fortunately, MARBLELIFE® has a solution. VinylGUARD floor coating provides the shine you love without scuffing, buffing or stripping and keeps your vinyl floor looking fresh and clean. With a single application, VinylGUARD brings updated scientific materials to the care and maintenance of your floor. We engineer VinylGUARD specifically for vinyl and PVC tile. It's a pioneering technology that schools, hospitals, businesses, malls, and restaurants across the country rely on. And there are many reasons why.
Wax OFF for Good
While wax is a traditional treatment for vinyl flooring, it can be both ineffective and inefficient over time. The temporary results from stripping and buffing only last so long, and scratches, discoloration and dirt become more noticeable as people walk on the floor. VinylGUARD protects against deterioration and saves time, money and maintenance headaches.
Innovative Technology, Safer Environment
Developed in 2009, VinylGUARD's breakthrough technology is sustainable, durable and environmentally friendly, and VinylGUARD also offers health benefits. Coughs and sneezes release particles that can adhere to dust and debris on the floor, and a common floor buffer can relaunch germs back into the air. VinylGUARD-treated floors don't require buffing, which eliminates the need for mopping and in turn can reduce significant bacteria transfer agents. What used to be a factor of concern for mainly health care facilities is now universal since Covid became an issue for business locations.
It Couldn't Be Easier
VinylGUARD is easy to apply — and easy to maintain. Just one coat makes any vinyl floor less susceptible to damage and scuffing. A simple microfiber cloth or floor duster with MARBLELIFE® FLOOR CLEANER is all you need to keep vinyl floors looking great. Our cleaner is engineered to clean without damaging your surfaces.
Save Money on Maintenance
Commercial property owners know that vinyl flooring is an affordable and attractive alternative to tile and stone. But inefficient and ineffective maintenance protocols can cut into initial cost savings over time — and harsh cleaning and scrubbing can lead to permanent damage. VinylGUARD helps preserve cost savings by protecting your investment and reducing future maintenance costs and frustrations. If you are thinking of replacing your vinyl floor because you can't get it clean, call MARBLELIFE® first. We can help you find a solution for less time, money and hassle.
A Commercial Property Manager's Best Friend
If you're spending time and money buffing and rebuffing your floors, VinylGUARD is the clear solution.
Better protection
Cost savings over time
Easier maintenance
Improved indoor air quality
Fewer scuffs
Increased slip resistance
Less buffing
Time savings
One-coat application
Simple cleaning
Need we say more? Keep your vinyl floors looking and performing their best. Contact your local MARBLELIFE® professional today for a free on-site consultation at your commercial property.