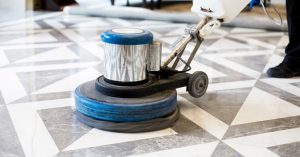 The weather is getting warmer, the days are longer and the sun is shining, yet your marble floors aren't gleaming the way you'd like? You figure all they need is a good scrub, so you grab your bucket and mop — and get to work. But after toiling for hours, your floors still look dull and lifeless. What's going on?
You might think marble is impervious to harm or wear. After all, Michelangelo's David, a marble masterpiece of the Renaissance era, has withstood the test of time after more than five centuries. Of course, he has the benefit of not having anyone walk all over him or even touch him. But eventually, foot traffic bringing in dust, dirt and sand along with normal wear and tear leads to small micro-abrasions that gradually etch the surface of marble like sandpaper, creating a dull, lifeless appearance. While you may think your marble is "hard as a rock," it's actually one of the softer varieties of natural stone, making it more susceptible to this type of damage.
Tracked-in dirt and sand, as well as acidic cleaners, can also play a part in scuffing, scratching or etching your stone. In commercial settings, marble can start visibly showing wear patterns in as little as six weeks without correct maintenance. For this reason, it's important to use the right type of floor mats, as opposed to "décor" mats, to trap debris before it has a chance to damage the finish. In addition, never drag furniture or other heavy objects across an unprotected floor. Once damage occurs, all the cleaning in the world sadly isn't going to bring back the shine it once had. If cleaning isn't working, it's because it can't until it's repaired.
You may notice that your floors appear hazy or have areas that look more dull and scratched. But no matter their condition, MARBLELIFE® has the solution for your stone surfaces. With our expert polishing, restoration and care services, we can bring the luster back to your floors and even make repairs to unsightly cracks and chips while we're on site. Once restored, you can clean it and keep it clean.
With MARBLELIFE's expert residential polishing and restoration services, we can even out your floor's finish whether you prefer a high-gloss, semigloss or matte look. And if your floors are already high-gloss, but you'd prefer a more understated satin appearance, our marble care professionals can do that too.
MARBLELIFE® has the largest network of expert marble craftsman in North America, tracing our roots to one of the first companies to offer professional stone restoration in the U.S. In fact, we introduced many of the techniques used in our industry. While others claim to know how to do this, we differ in training on an understanding of what is needed and tailoring the restoration process based on that understanding.
Don't take any chances with an inexperienced service provider when it comes to the care of your fine marble surfaces. You can rely on MARBLELIFE® to restore the elegance and natural beauty of this timelessly tasteful material. Your space can even appear lighter and brighter with a professional floor polishing. Trust the resource that hotels, office buildings and commercial properties across the U.S. count on for their surface care. Call for a free in-home estimate.
Bring your marble back to life … with MARBLELIFE®.