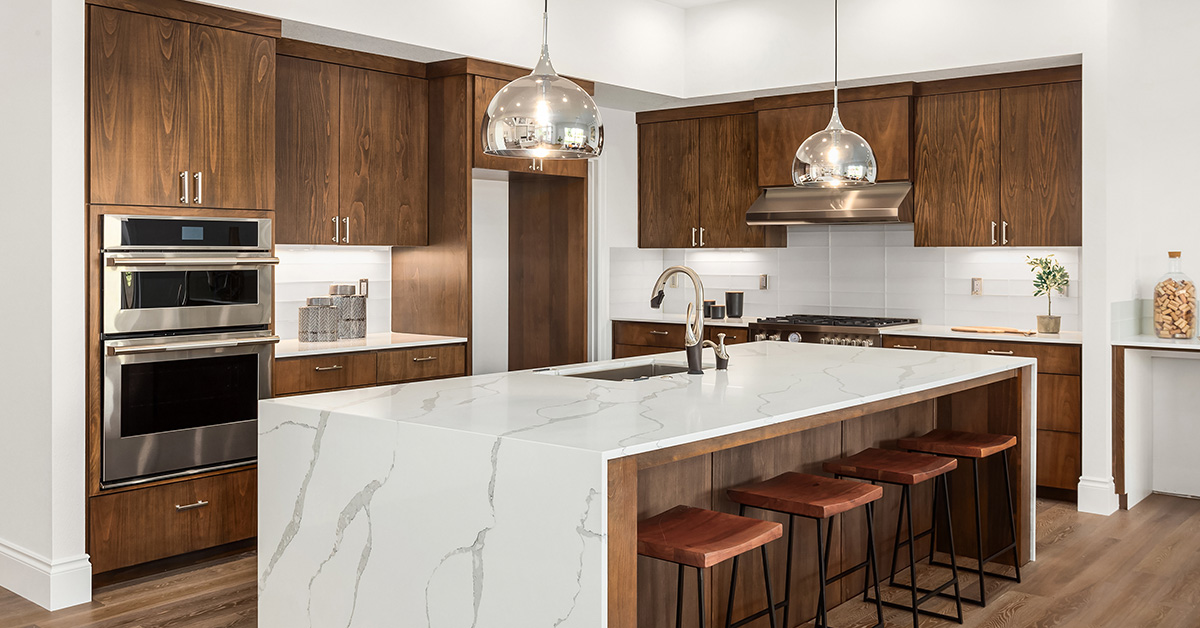 For many Americans, Thanksgiving kicks off the holiday season when family and friends gather together to celebrate the good things in life. Whatever your traditions are, your guests will no doubt spend time in your kitchen assisting with meal prep, eating or cleaning up. And MARBLELIFE® can help make that experience even better.
Impress Your Family and Friends
Has a guest ever noticed your stained backsplash, cracked countertop, dingy grout lines or dull travertine? (Even if they didn't say anything, they probably did.) This year, keep everyone focused on family, food and festivities by having MARBLELIFE® perform some simple surface renewal before it's time to thaw the turkey.
Dress your kitchen to impress by calling a MARBLELIFE® pro to fix cracks and chips in marble, travertine, granite, terrazzo or Corian surfaces. MARBLELIFE® can repair and re-level these unsightly problems to blend naturally with the existing countertop or floor. Once restored, marble, granite and other stone surfaces should receive regular maintenance using MARBLELIFE's specially formulated products for lasting results.
 Shine the Floor Before Stuffing the Bird
Does your floor have areas that are glossier than others? Do you see dull spots, scratches or etches that diminish the natural beauty of your marble? Marble is a hard-crystalline metamorphic rock composed of calcium carbonate that can last a lifetime with proper care and protection. However, acidic substances like vinegar, tomatoes or citrus fruit can easily mar marble's sensitive surface. MARBLELIFE® can polish and re-seal the stone to deliver an even high-gloss, semi-gloss or matte finish.
Cranberry-Proof Countertops
Did cranberry sauce or cooking grease spill onto your countertop or backsplash? These surfaces encounter a lot of potentially staining substances, and un-resinated countertops are especially susceptible to dirt absorption. Prevent accidents by preserving surfaces with sealers that enhance stain resistance by filling in the pores in the stone. Penetrating sealants, such as MARBLELIFE® Stone Sealers, can soak into the smallest pores and crevices. They're easy to apply, and the cost of sealing is substantially lower than that of replacing a stained counter.
Thanksgiving Day should be a festive jaunt — not a stressful, strenuous sprint. MARBLELIFE® can put the shine back into the heart of your home and take the pressure off pre-guest prep. Contact your local MARBLELIFE® pro now for a free in-home estimate before your company arrives. With MARBLELIFE®, a beautiful kitchen is as easy as pie!
And speaking of pie … since you won't have to scrub your kitchen once we're through, you'll have plenty of time to make this easy homemade pumpkin pie for your guests to enjoy!
Thanksgiving Pumpkin Pie
Ingredients
16 oz can pure pumpkin
12 oz can evaporated milk
¾ cup white or brown sugar
1 teaspoon ground cinnamon
½ teaspoon salt
½ teaspoon nutmeg
2 eggs
1 frozen pie crust
Instructions: Preheat oven to 425 degrees. Combine sugar, salt, cinnamon and ginger in a small bowl. Beat eggs in a large bowl. Stir in the pumpkin and the sugar-spice mixture, then slowly stir in the evaporated milk. Pour into pie shell. Bake for 15 minutes, then reduce heat to 350 degrees and bake for another 40-45 minutes or until a toothpick inserted in the center comes out clean. Cool on a wire rack for two hours before serving. Top with whipped cream or vanilla ice cream for extra fun!
Happy Thanksgiving from MARBLELIFE®!