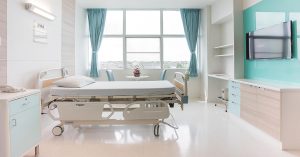 If you're responsible for maintaining a medical facility, you know that nothing is more important than your visitors' health and safety. Effective surface care is mission-critical in medical settings. Surfaces that just look clean are not enough. They need to actually be clean — and cleanable, which is an important distinction. MARBLELIFE® understands your unique needs and can provide best-in-class service for your facility whether you operate a hospital, outpatient clinic or doctor's office.
Quality Care for Medical Tile and Grout
If you can't seem to get your grout or flooring clean no matter how hard you scrub, that's a sign that your grout sealer has failed. More than likely, it was caused by how your surfaces are being cleaned and how the chemicals are being employed. Grout and tile are porous — if dirt has penetrated, expect that germs are in there too. Between 5% and 10% of all patients are likely to acquire a health care-associated infection during an acute care hospital stay. We aim to help reduce those numbers by eliminating one of the hiding places. With an understanding of how these conditions happen, we resolve it with our unique procedures that enhance the cleanability of your surfaces. The best news is that once we have solved your problem, you can use those cleaners and chemicals that created the problem in the first place because our sealer solution addresses the weaknesses of traditional products. That's how we assist your janitorial service in achieving the desired outcome — healthier patients.
Defend Against Mold and Improve Safety
Medical facilities are candidates for mold growth — mold feeds on moisture and organic material, and the only way to truly combat it is to change the conditions where mold can breed. One either fights an ongoing battle seeking to kill the mold, or we change the conditions by creating a surface that will not support mold. MARBLELIFE® Tilelok enables us to reglaze dull, worn tile in its original place without removal, dust or downtime. The key here is the use of inorganic chemistry that robs the mold of the organic material it needs. MARBLELIFE® Tilelok has 5 years of test data demonstrating mold resistance. In fact, we can clean a moldy exterior wall, apply MARBLELIFE® Tilelok and prevent the mold from returning. Engineered to have a Static Coefficient of Friction number of 0.7, it is within the Veteran Administrations optimal range for slip resistance, providing a secondary benefit.
Cures for All Your Hard Surfaces
MARBLELIFE® doesn't just stop at medical tile and grout. A visit from your MARBLELIFE® professional team can improve the look of your lobby, remove graffiti from your building facade, and fix cracked and chipping concrete in hallways and outdoor spaces. Whether it's travertine, vinyl, marble or slate, MARBLELIFE® can provide top quality care for almost all hard surfaces throughout your facility.
Maintain Your Building Health
Partnership with MARBLELIFE® doesn't stop after a professional visit. We'll work with your custodial staff to advise on best practices and products to maintain flooring and countertops between professional services. From evaluation to maintenance and restoration, MARBLELIFE® professionals have your hard surface care covered. Call your local MARBLELIFE® pro today – we'll diagnose what's ailing your hard surfaces and come up with a customized treatment plan that will get your medical facility back in tip-top health.
Source
https://www.ncsl.org/research/health/hospital-acquired-infections-faq.aspx