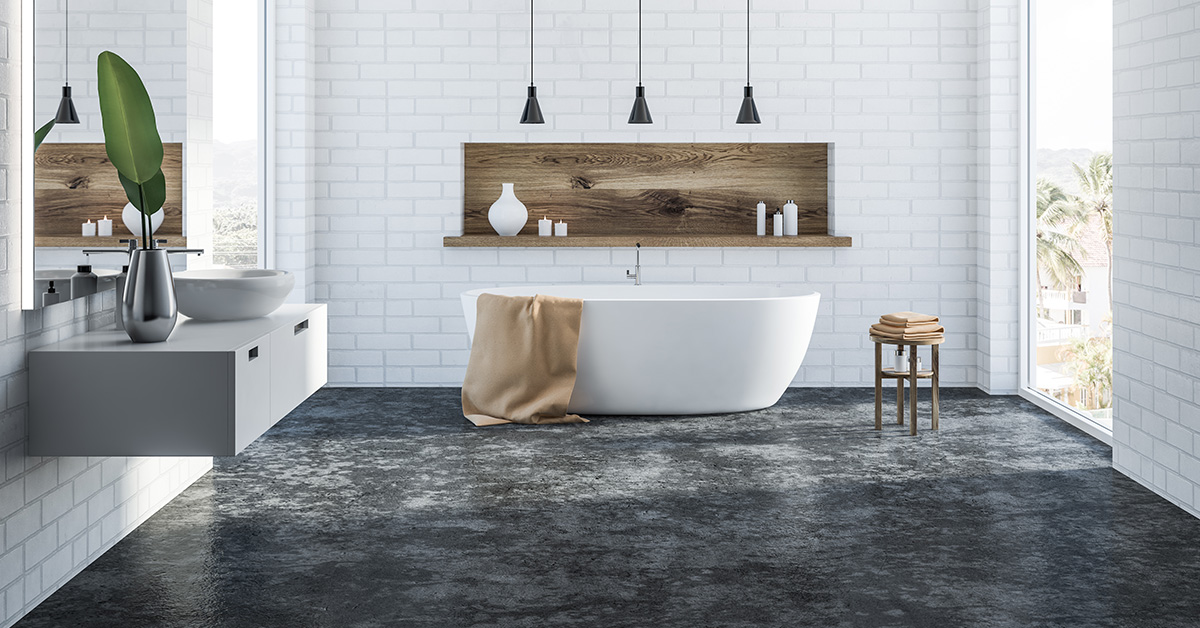 Concrete is one of the fastest growing floor surfaces in America. It's stylish and complements many design styles — from industrial to contemporary to urban loft. And since it sidesteps the chemicals, odors and allergens that can hide in carpet and underlayment, concrete surfaces can benefit your indoor environment.
But concrete is not maintenance free. Being naturally porous, it's highly susceptible to staining. And it can chip and crack, marring the look of your floor, walkway, garage or countertop.
MARBLELIFE® craftsmen can grind, color, polish, coat, texturize and seal your concrete surfaces to complement your decor. Our design and color options allow you to customize your space and can add resale value to your home or commercial property, while promoting a safer and healthier environment.
Concrete Cleaning
Concrete gets dirty — there's no getting around it. But MARBLELIFE® can remove mold, mildew, dirt and stains with powerful cleaners and provide lasting protection through the application of high-quality sealers. In between professional cleanings, use MARBLELIFE's Mold & Mildew Stain Remover — a professional strength formula that's designed to cut through mold on concrete without harming nearby stone surfaces. MARBLELIFE® products and professional services can keep your concrete stain-free longer. But what if you need something more than a thorough cleaning?
Cracked Concrete? We Can Restore It
Got an unsightly crack in your concrete surface? Don't ignore it — restore it! We go beyond just repairing the crack. Filling it is the first step, and then we can make that unsightly repair disappear. Enter MARBLELIFE's options to beautify with an ENDURACRETE chip coating or MARBLELIFE's MARBILIZED coatings. Staining is not the right solution here as it will accentuate your crack's appearance, but a chip coating, a MARBILIZED coating or an overlayment hides the repair under a beautiful new finish tailored to your home's colors and design needs. Cracks are gone without the mess and expense of demolition and replacement.
If you have noticed pock marks or indentations in your otherwise flat concrete that seem to appear suddenly from nowhere, your surface has a spalling problem. Spalling occurs when unsealed concrete is allowed to absorb water just prior to a freeze. Water expands when it freezes (which is why your ice cubes float). If the water freezes while in your concrete, it can pop off the concrete surface, creating that unsightly indentation. Our concrete restoration pros restore concrete surfaces using a proprietary EnduraCrete repair process to remove areas with weakened material and then overlay a new surface to restore that flat uniform appearance. We recommend sealing every 2 years to prevent spalling and other issues.
Safer Surfaces
When mold and mildew overtake concrete, you can have a dangerous slip and fall hazard on your hands. But EnduraCrete anti-slip coatings can help make your surfaces safer while enhancing value and offering easier and less costly maintenance. And you won't have to sacrifice style for safety, because our coatings and treatments can be used in combination with our concrete stains delivering almost endless design possibilities.
Cooler Surfaces
Summer is in full swing. You want to enjoy your pool but dread that stinging hot surface that has you high stepping to the pool edge. MARBLELIFE® can reduce your hot concrete surface temperature by 30 degrees with our cool-deck overlayments that allow you to enjoy your patio and pool even on the hottest of days.
Transformative Decorative Treatments
Our gorgeous concrete overlays are an affordable alternative to replacing or repairing cracked or chipped concrete. EnduraCrete decorative concrete overlay systems can transform unsightly, dull concrete with highlights, a variety of colors and even custom art. Our easy-to-clean overlays can makeover your boring concrete surface and give it the look of brushed concrete, brick or natural stone.
MARBLELIFE® can restore many concrete surfaces in your home, including driveways, sidewalks, pool decks, garages, floors and countertops. Contact your local MARBLELIFE® professional for a free concrete estimate and on-site consultation today. Our technicians are ready to assist you.