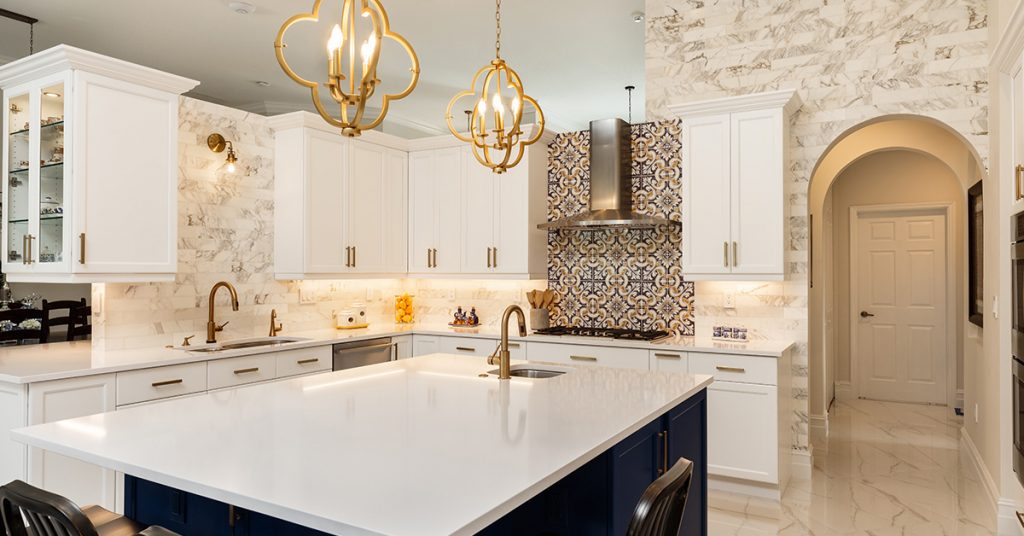 Sometimes, priceless beauty can lie hidden in plain sight. Case in point — about four years ago, a Texas woman purchased an old, dirty marble bust at a thrift store for $34.99. She later discovered that the seemingly unremarkable statute was in fact a 2,000-year-old relic from ancient Rome previously missing for decades. The piece is now heading back to the San Antonio Museum of Art for a yearlong stint before returning to Bavaria, Germany, where it technically belongs.
The 52-pound bust is a testament to the allure and worth of marble as well as a reminder of what can happen to the stone over time. But your marble surfaces don't have to lay dormant for millennia before coming back to life. You too can discover a timeless treasure — in your own home — with help from MARBLELIFE®. We can help restore your marble surfaces, revealing their true elegance and beauty.
Why Marble Wears
While looking at Michelangelo's David, sculpted more than half a century ago, you might think marble lasts forever — but this is sadly not true. It happens to be quite vulnerable among natural stone surfaces. Because it's soft and porous, marble is particularly susceptible to cracking, chipping, scratching, etching and staining. While normal wear and tear is partly to blame, human error also plays a role. Using the wrong cleaner can accelerate the aging process of marble by slowly dissolving and marring its surface over time.
Unfortunately, most people start with the assumption that all cleaners are interchangeable, which is not the case. Cleaners designed to remove hard water stains or deposits are notorious for etching and dissolving marble as hard water precipitate and marble are both made of the same material, CaC03. Similarly, cleaners that seek to do more than one job invariably do neither well. Clean-and-Seal or Clean-and-Shine products cannot do one and then the other and, therefore, will trap dirt and create bigger problems later. Sounds too good to be true — because it is.
How to Properly Care for Marble
To preserve your marble and keep its shine, be sure to avoid acidic cleaners. Even a small amount of acid will create a spot, ring or pit in the surface, so never use a vinegar, lemon or other citrus-based cleaner. The best cleaning options are non-acidic, such as MARBLELIFE's Marble & Travertine Cleaner. It's also important to keep your marble free from grit, sand and other particles that might leave micro-scratches behind. The concentration of a person's entire weight through a single grain of sand creates enough downward pressure in one spot to scratch marble. The presence of dust or sand underfoot is what creates the problem. Be sure to dust-mop your marble regularly and use high-quality floor mats to trap dirt and debris. Unfortunately, dirt lands — and stays — on the top of most poor-quality — or décor — floormats, only to be tracked into the house by the next set of shoes. Having the right mat type reduces the need for dust mopping, as more external debris is captured in the mat before it reaches the floor. The key is a mat that allows material to fall into it versus rest on it. Use a spaghetti mat versus a wipe-off mat which is good for water but not good for dust and dirt and sand.
To maximize dirt-trapping within a home or business, you want closed-back interior mats that can be periodically dumped outside to eliminate unnecessary tracking. However, exterior mats should be open-backed, which will allow rain and snow to pass through. MARBLELIFE® offers a variety of styles and sizes here. Another surface preservation option is MARBLELIFE's hardening treatment, a preventive measure designed to increase marble's resistance to wear. A harder floor surface makes it more resistant to scratch formation.
o Seal or Not to Seal
Since marble is naturally porous, marble countertops should be sealed approximately every two years to better resist staining. Sealing keeps spills, cleaners and other liquids from seeping into the stone. It also keeps dirt and other particles from transferring to it. MARBLELIFE® offers sealing services after installation and beyond. Set up an annual visit to check on surfaces and seals as needed. Since grout is porous too, we offer a quick, easy grout-sealing service for marble tiled surfaces — and we can even change the grout color in the process, if you are thinking about changing the accent of your space.
Marble Care
You want your marble to look radiant as long as possible. And while it may not be a 2,000-year-old relic, we know the marble in your home can be priceless to you. MARBLELIFE® will give your surfaces the care they deserve while protecting them and helping to preserve their natural beauty. Trust your treasured marble surfaces to the experts at MARBLELIFE® — we'll help your investment stand the test of time and communicate the elegance of your home or business. Visit marblelife.com or call today for a free in-home estimate.