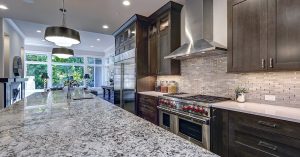 Stone surfaces add elegance, beauty — and value — to your home. Marble, granite and natural stone floors, walls and countertops create instant appeal to virtually any living space and compliment many styles of interior décor.
But once you've invested in natural stone, you also need to invest in protecting it. Sealers play a significant role both upfront after installation — and over time — in preventing stains and maintaining stone's natural beauty. But the wrong sealer, or even the right sealer applied incorrectly, can cause more harm than good. Because of this, sealing stone surfaces benefits from a professional's touch and expertise.
Stone Sealer Basics
There are two types of sealers: topical and penetrating.
Topical sealers basically create a new surface on top of your stone. And they can also affect its appearance, darkening or deepening its color and altering the finish — from matte to satin to gloss. If you appreciate the natural look of your stone, you may not want to consider a topical sealer.
Penetrating sealers, on the other hand, help preserve the natural look and beauty of stone surfaces. Professionally applied MARBLELIFE® penetrating sealers enhance stain resistance by filling in stone's pores. Because marble and granite are not impermeable, they're susceptible to staining. Counter spills and tracked dirt on floors can cause unsightly blemishes that are difficult to remove. It's like trying to clean a test tube with a sponge — you can see the dirt, but you just can't reach it. Better to proactively prevent many of these problems with a top-quality penetrating sealer that keeps dirt on top of the stone where it is easier to clean and remove.
Marble and Granite Countertops
Liquid stains are one of the most common causes of countertop discoloration. From cooking grease to dish soap, and from red wine to toothpaste, everyday substances like these can ruin the look of your countertops — particularly if they're not resinated.
Resination is a process that manufacturers use to fill the capillaries and pores in the stone with a polyester resin, which makes stone slabs more stable during transport by reducing brittleness. This allows your countertop slab to be shipped from the original quarry to your home market without breaking enroute. A side benefit of this treatment is that filling in the stone pores and capillaries also helps prevent liquids from entering and staining. Unresinated stone should be sealed at least every other year, but potentially more often depending on its use. The biggest issue is that one cannot tell if the stone is resinated or not without a destructive test. As such, sealing remains an important element in protecting your stone
Grout
While impervious, glazed porcelain tile doesn't need sealing, the grout around it does. Because grout is so porous, new floors often show stains within a year. It doesn't take long for dirt, debris, and spills to penetrate grout and create a discolored, dingy look that cleaning and mopping alone won't help. Cleaning grout with an acidic cleaner removes the seal, making cleaner selection a key factor in preventing stains. But the good news is, MARBLELIFE® can take stained grout floors and restore a uniform grout appearance with a seal technology formulated expressly to resist acid attack, providing greater cleaner selection freedom and a lasting cleanable surface.
Leave It to the Experts
When it comes to sealing stone and marble — and even grout — expertise and experience count. The wrong product or a poor application can exacerbate problems down the line at great expense. MARBLELIFE's proprietary, science-based products and services are carefully engineered to maintain the natural beauty of stone surfaces — including granite and marble — not cover them up with shine enhancers to merely give the illusion of clean. As the largest provider of floor restoration services in the United States, MARBLELIFE® is intimately aware of the problems, the root causes, and how to restore and prevent future problems. MARBLELIFE's cleaners are formulated expressly to avoid damaging the surface or its seal.
Call your local MARBLELIFE® pro for a free in-home consultation and give your stone and tile surfaces the protection and care they deserve. You'll be glad you did every time you look at your floors and countertops.