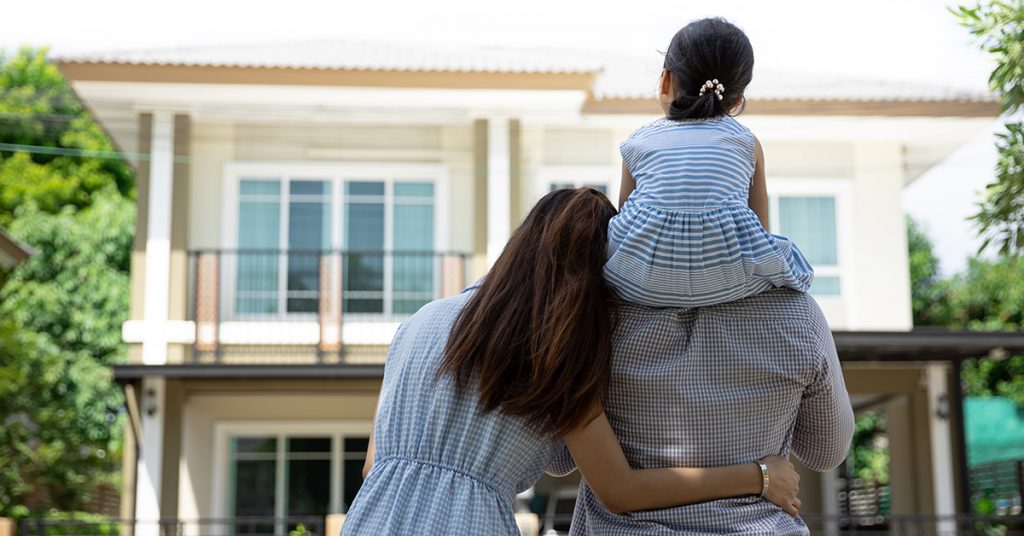 There's nothing quite like putting a key into the lock of the front door and knowing that you're the first person to step over the threshold and call this place home. You probably can't wait to cook big family meals in your beautiful new kitchen or show off your amazing bathroom to your first house guests — your new home is in pristine condition and ready to be a canvas for your lifestyle.
But hanging onto that new-home look can be a real challenge once you move in. And it's not just a matter of cleaning your floors and counters regularly — it's making sure that all the hard surfaces in your kitchen, bathrooms, entryways, garage and even hardscape are protected. They need to be able to withstand daily wear and tear as well as unexpected mishaps. Otherwise, gradually, stained grout lines, spotted counters and dull floors will develop. But with a little help from MARBLELIFE®, you can keep that like-new look you love for years to come.
The Whitest White
Right now, your new tile shines and your grout sparkles. But grout is porous, and over (often very little) time, dirt, grime and soap scum can seep in. Different types of grouts have different needs and risks, and each type requires some care to maintain that new appearance. Unless you specifically asked your builder for expensive high-polymer, stain-resistant grout, what you have between your tiles is largely composed of cement and sand. Concrete is naturally porous. Unless it's properly stained, it absorbs water —even during the cleaning process. In less than a year, your grout can end up looking dingy and dirty to the point that no amount of scrubbing will bring it back to life. That's because the problem is in the grout not on it. Most seals can be removed by acid, and most traditional cleaners contain acidic properties like citrus fruits and vinegar.
If this has happened to you, don't worry. Your local MARBLELIFE® pro can perform a deep extraction cleaning that pulls stains out of grout and follow up with our proprietary sealers to provide a better-than-new solution as they are engineered to be acid resistant and will prevent the problem from reoccurring. Once restored, your MARBLELIFE® pro can also set you up with our proprietary, scientifically designed cleaning products to maintain your fresh look throughout the year. When you clean, the dirt will be on top of the grout instead of inside it and can easily be wiped away.
Natural Beauty
Natural stone surfaces in your new home add the texture and color that make your space unique. And you likely paid a premium price for these premium surfaces. But as hard as stone seems, it's not impervious to everyday spills. And it can be a costly and difficult process to remove etches, spots and ring marks from marble and concrete surfaces, or stains from granite counters. Sealing these surfaces regularly is far less expensive than fixing them later. Have your local MARBLELIFE® pro over to assess your surfaces and, if needed, seal your natural stone before an unfortunate mishap with a bowl of chili becomes a lifelong memento of your Superbowl party.
Inside and Out
Your hardscaping, garage floor and basement look practically perfect the day you purchase your home, though you know what they can eventually look like. But their decline doesn't have to be inevitable. Preserve your pristine concrete with polishing and sealing services from MARBLELIFE®. Your local pro can help you prevent ugly grease stains in the garage or even add an anti-slip treatment by the pool to enhance safety. If you are thinking it's too late for your floor or your floor is too cracked, think again. You can even completely change the look and style of your builder-grade utilitarian concrete floors with an EnduraCrete or ENDURACHIP treatment, giving them a stylish, easy-to-maintain upgrade.
We can customize the floor to look like marble or granite, match your show-car's color or appearance, or transform your floor into a sports themed fun space with logos. We recently installed logos for a client who planned on buying a fancy car to park over the logo when he sold his business. In another home, we transformed a client's basement into a Caribbean Ocean with beautiful blue floors with the light playing on the surface in the distance and the ability to look down and see sand ripples under the "water."
Keep your home looking as new as the day your bought it with a visit from your local MARBLELIFE® pro. Consider us the last step in your move-in process. Call for a free on-site consultation and learn how MARBLELIFE® services and products are the best housewarming present you can give yourself.