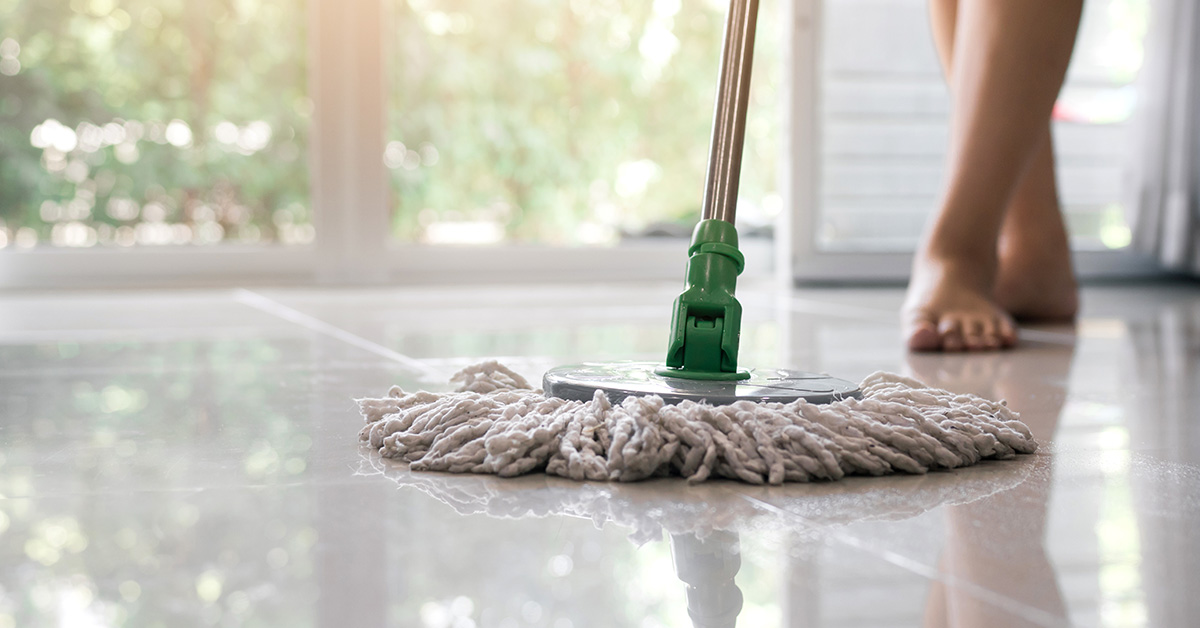 Earning your diploma is a big achievement, and it's nice to think that your schooling is behind you as you step out to take on the world. But as most people quickly find out, the need for learning never stops — particularly when you become a homeowner. Whether it's figuring out the mysteries of your HVAC system or discovering how to battle termites, there's always something new you need to learn to maintain your home in good condition. So, in the spirit of continuing education, let's go back to tile school to better understand how to properly care for one of the most common hard surfaces found throughout homes.
Tile 101: What Is Tile?
Any tile, whether it's porcelain or ceramic, is made the same way. It starts with clay that is formed, flattened, pressurized, often glazed and fired at an extremely high temperature. The glazing process creates a glass-like surface that is dense and nonporous, making most tile quite durable, impervious to staining and easy to maintain. There is little difference between porcelain and ceramic tile except that porcelain uses more refined raw materials and is fired at a higher temperature. The result is almost the same, and you may not even know what kind you have if it is already installed.
Tile is highly durable and versatile. Glazing can add color, pattern and sheen that can be made to match any décor. Whether you're going for a classic white-on-white spa look in your bathroom, or you want a kitchen to be reminiscent of your Moroccan vacation, tile can add color, interest and that "wow factor" you're looking for — unless, of course, it has become dingy and stained.
AP Tile Care: Maintaining Tile Surfaces
While very little can damage your tile unless you mistreat it, grout is another story altogether. Grout is a compound of hardened sand and polymers that is used to fill the gaps between tiles to create a level surface and help hold the tiles in place. It can also prevent dirt from collecting in the spaces in between. Grout comes in several grades, but contractors sometimes use the lowest grade — and that can lead to problems down the road. When bathrooms and kitchens start to get that grungy look that no amount of scrubbing can clean, it's because dirt, mold or mildew have penetrated the grout's porous surface. Also, grout can dry out, chip, crack and streak if you are using acidic or harsh cleaning products and methods — especially things like "all-natural" citrus-based products.
Masterclass: Call MARBLELIFE!
You can close the book on tile school because when it comes to care and maintenance for your tile and grout, no one does it better than your local MARBLELIFE® technician. The pros at MARBLELIFE® are experts in cleaning, restoring and specially treating grout so you won't have problems in the future. MARBLELIFE® Deep Extraction Cleaning services lift the accumulated dirt from your grout, restoring it to a like-new condition. A professional ColorSeal treatment using MARBLELIFE® state-of-the-art equipment and proprietary, scientifically developed line of care products will ensure your fresh look stays that way. A ColorSeal treatment can even change the color of your grout without the time and effort of replacing it to give your tile surfaces a renewed, fresh look that matches your décor — and won't stain in the future.
Call your local MARBLELIFE® office today for a free in-home consultation, and go straight to the head of the class with MARBLELIFE®