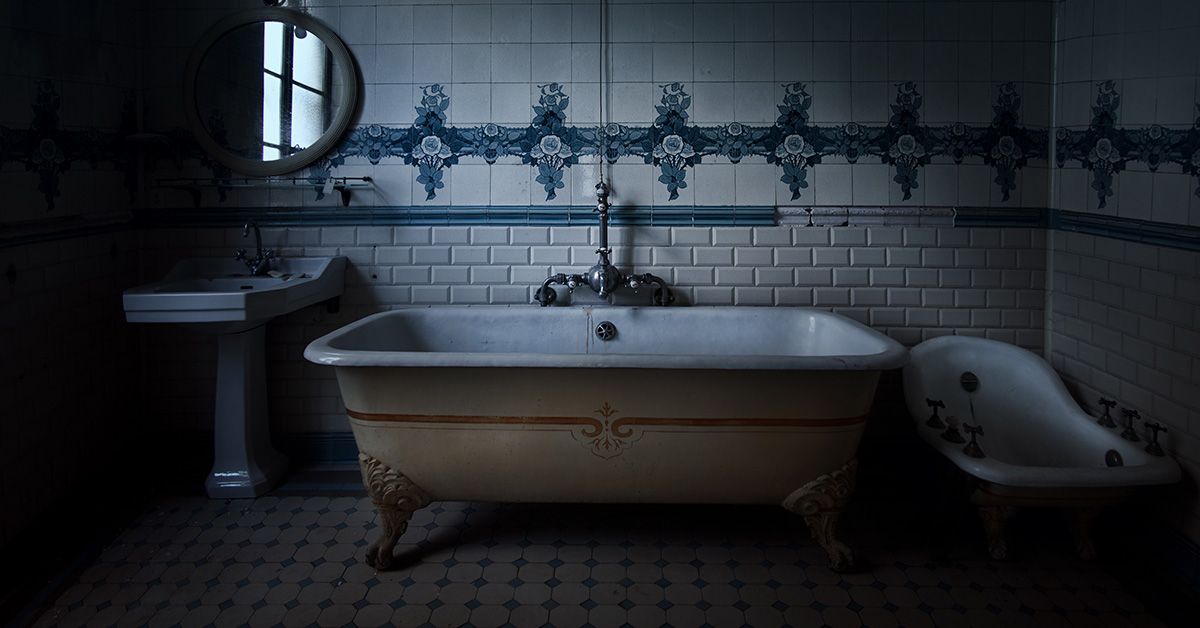 It's the end of the evening, and the last trick-or-treater has wandered back into the darkness. The house is oddly quiet, even the dog went to sleep an hour ago, and there's something about the stillness of the night that's more disturbing than comforting. You push aside the anxiety (after all, there's nothing to fear in your own home, right?) and flick on the bathroom light. You recoil in horror — the floors, sink, walls, tub — everything is teeming with creepy, crawly, slimy, oozing things! Is this Nightmare on Elm Street real? You just cleaned the bathroom!
You might think we're exaggerating (OK, maybe we are just a little), but the truth is there's surface cleaning, and then there's the kind of deep-down cleaning that tackles mold, mildew, bacteria and the countless of unseen germs that accompany them. Here's our MARBLELIFE® spooktacular guide to killing the monsters living on the floor, on your countertops, in the garage … and keeping them out!
Killer Kitchen Crud
Your marble and granite kitchen countertops might be teeming with germs and bacteria, especially if your natural stone surfaces are not sealed. Natural stone, as hard as it may seem, is actually a porous surface with millions of microscopic holes where dirt, mold and bacteria can get trapped, so you might have big trouble brewing in the deep, dark crevices inside your countertops.
MARBLELIFE® is better than ghostbusters when it comes to banishing visible and invisible invaders from your natural stone surfaces. MARBLELIFE's penetrating sealers fill in those microscopic holes in your countertops, making them inhospitable as a breeding ground for kitchen crud. Your local MARBLELIFE® technician can also repair chips and cracks — another place where bacteria like to grow — and our professional polishing services can bring your dull and lifeless countertops back from the dead.
Bathroom Boogeyman
Even if you clean your bathroom until the tile shines, you can't get rid of the boogeyman in the bathroom that takes the form of dirt, mold and mildew embedded in grout. Grout is a sandy, porous compound, and scrubbing won't help once dirt takes hold deep inside. You'll know you've got an alien invasion going on if your grout looks dirty and streaked no matter how hard you scrub.
Banish bathroom demons with MARBLELIFE® ColorSeal. First, your MARBLELIFE® technician can do a Deep Extraction cleaning and lift out the creeping crud from inside your grout. Then a professional ColorSeal application fills in the microscopic pores to keep your grout protected from evil outside forces. You can even change the color of your grout to ghoulish green, vampire red or any color of your choosing.
The Ghoul in the Garage
That big, ugly crack on your garage floor looks like it might be taking on a life of its own! Send that garage ghoul packing with MARBLELIFE® concrete services. Create an entirely new look in your dark, dingy basement with an EnduraCrete or EnduraChip surface renovation. With MARBLELIFE®, you won't have to fear going down into the basement ever again … at least not because of the floor …
Who You Gonna Call?
This Halloween, call your local MARBLELIFE® pro for a free, in-home consultation, and exorcise your surface demons once and for all.
Happy Halloween from MARBLELIFE®!