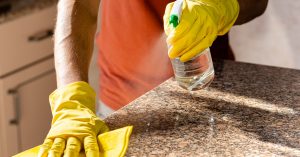 Natural stone, like granite, is an elegant addition to a home, providing durable beauty and functionality. And you'd think its rock-solid strength would stand up to all kinds of mishaps, like spilled wine or your kid's science project. But as hard and resilient as natural stone is, it's not impervious to stains or build-up. In fact, all natural stone is porous, which can make stains difficult — and sometimes impossible — to remove once they set in. But you can protect your natural stone with a few simple steps.
How Stone Gets Stained — and What You Can Do
Staining occurs when a substance is absorbed into the stone. Things like cooking oils and human skin oils from repeatedly leaning against the counter in the same place can cause staining that appears as an area of darkened surface. No matter what you do, you can't clean it away. You can easily wipe down the surface, but getting into the pores is as difficult as cleaning a test-tube with a sponge — you just can't get down in there. To prevent stains, you need to seal your stone surface — filling in the pores and tiny crevices within the granite or marble to prevent liquids and oils from penetrating. Sealing is fast, easy and far less expensive than stone replacement or the endless string of stain removal treatments that could be required without any guarantee they will work. Seals are wipe on – wait – wipe-off products designed to penetrate the pores and then cure to seal them, keeping spills up top where they are easy to remove. Your hardest task will be remembering to re-apply each year or two.
And you definitely want to avoid stains rather than having to treat them. Granite stain removal can be a lengthy and involved process requiring the application of a poultice for 24-hours to draw out the stain. Poultice solutions can be highly odorous, can take 1 to 12 or more applications to work — and there's no guarantee the stain will be entirely eliminated. MARBLELIFE® offers stain removal services, but we'd much rather help you avoid the problem altogether with periodic seal applications as part of a regular maintenance plan, which will prevent problems and cost less than stain removal. No one is happy with a service that offers no guarantee of success.
To enhance the strength and flexibility of granite and marble slabs so they're less likely to be damaged in transit, some manufacturers use a process called resonation to vacuum resin through the stone, filling in its pores. Resonation has only recently become more common, so if your natural stone was installed more than five years ago, there is a good chance it isn't resonated and remains vulnerable to staining until properly sealed. That said, resonation is done for convenient shipping purposes, not for sealing. Slab manufacturers do not advertise whether they are resonated and offer no warranties on the resonation as sealing was not the intended purpose. As the resonation is designed to not mar or alter the appearance of your granite, it is not easy to determine if a granite has been resonated.
Stone Surfaces Need Special Care
Our technicians can evaluate your stone surfaces, fix minor damage and use specialized equipment and techniques for the very best results. But if you're looking for a DIY solution, MARBLELIFE® manufactures our own proprietary line of cleaners, sealers and polishers — all of which can be purchased from our online store.
Before sealing, any buildup of wax, dirt and oils from within the stone need to be removed. Our technicians get your surfaces sparking clean before sealing. But if you want to take on this project yourself, MARBLELIFE® Granite & Quartz Cleaner is designed to break down oils, acids, dirt and other residues. It penetrates the stone's crevices and pores to lift oils and grease to the surface, so you get a really thorough clean, not just a surface treatment that won't remove deeper stains. There are no unnecessary acids, waxes or oils — nor bleach or ammonia — in our cleaner.
Once the granite surface is thoroughly clean, it's time for our stone care specialist to apply the appropriate sealer. And DIY-ers can apply MARBLELIFE® Granite Countertop Sealer Spray for easy protection against future staining. Our simple spray treatment takes less than 10 minutes. It's a powerful, proprietary formula MARBLELIFE® developed to quickly penetrate countertops and prevent oils and dirt from moving deeper into the stone. With regular applications, you can keep your granite fully protected — assuming normal use and conditions.
A Finishing Touch
MARBLELIFE® Granite Countertop Conditioner is not a polish but it will give you a lustrous shine after surfaces have been cleaned and sealed. Your granite counters were polished during fabrication, and unless you're walking on them or otherwise abusing them, you shouldn't have to polish them. Instead, a conditioner applies a light oil to the surface that temporarily fills in microscopic crevices to give the counter a glossy sheen. Entertaining tip: Use conditioner just before guests arrive for that extra bit of sparkle on your cleaned and sealed granite surfaces.
Call your local MARBLELIFE® pro for a free in-home consultation to protect your investment and keep your granite and stone surfaces looking new for years to come.