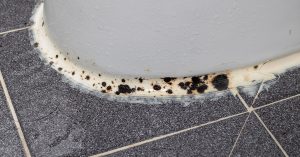 Spring is finally here. Winter's chill has yielded to warmer days, gentle rains, blooming flowers and unfortunately … mold. While you may enjoy singing in the rain, you won't be singing any love songs to unsightly mold and mildew on your tile and grout — or on your driveway, patio or walkway. Not only is mold disgusting to look at, but for some it can aggravate or cause health problems. What you don't want to do is apply a Band-Aid solution to a situation that's only going to get worse without proper treatment.
What Is Mold, Anyway?
Interestingly, mold is neither a plant nor an animal. It's actually a microscopic organism that lives in colonies. And if it sort of sounds like an invader — that's because it is. Mold feeds on moisture and prefers darkness to grow and expand its hold on the surfaces in your home. Mold likes any space that's damp and dark, and it can even grow below your tile surfaces in the space between the subfloor and tile, creating a more difficult problem to solve.
Mold can appear black or green, and it sometimes emits an unpleasant odor. It's tempting to ignore it, but you do so at your own peril as this is a problem that tends to get worse over time. Most people do not realize that what we see isn't the mold but the mold's waste by-product. As such, simply cleaning away the waste is not the same as removing the mold. If you wait too long, you may even need a more extensive — and expensive — remediation. And if you don't get rid of mold properly, you'll find yourself retreating the same areas again and again.
MARBLELIFE vs. Mold
The good news is that MARBLELIFE® pros are experts at getting rid of mold and mildew on most hard surfaces. For more than three decades, MARBLELIFE® technicians contended with mold when performing surface restorations inside on showers, bathrooms, and kitchens and outside on driveways and walkways. Those experiences highlighted the many failed cleaners on the market and the ineffectiveness of separating cleaning from assessing the surface conditions that allow mold to flourish. Selling cleaners that can remove the mold waste without solving the problem creates ongoing business, but that's not the best for our customers.
MARBLELIFE's mission is different. We aim to work with clients to solve the problem. A cleaner is needed for sure, but our goal is to assist in changing the conditions in order to reduce or eliminate mold's return. Thirty years of field experience, coupled with an effort to understand the situation, have allowed MARBLELIFE® to develop our own Mold & Mildew Stain Removal Cleaner, perfect out surface treatments, and provide guidance on real changes that can make a surface less mold-inducing.
MARBLELIFE® Mold & Mildew Cleaner is formulated to be safe even on more vulnerable surfaces, including marble and travertine — traditionally sensitive surfaces. We also learned that most mold and mildew cleaners lose efficacy over time, which means that they are less effective the longer they sit on the store shelf or under your counter. Ordering online direct from the manufacturer provides the freshest product and likely the best performance.
While our proprietary mold and mildew cleaner is highly effective, if you have mold over large areas, or if it's progressed to a very advanced state and has penetrated deeply into the grout, a visit from a professional MARBLELIFE® technician can be the solution to restore your surfaces to a pristine and clean condition and to understand what changes might be made to reduce the mold-friendliness of the current space.
If you've been trying to fight off mold on your own for some time with cleaners containing acid, you may have inadvertently removed the protective sealer (if there was one) from your floor. And if this is the case, there's nothing in place that will help prevent a recurrence. But once MARBLELIFE® cleans away the mold, we can apply one of our many solutions to your situation to restore your surface, keep mold from returning and advise you on ways to create a less mold-friendly environment.
Don't Let Mold Be a Repeat Offender
It's also important to remember that mold is environmentally driven. That means if you don't remediate the environment, you're allowing the conditions that encourage its growth — and a recurrence — to remain. The best way to prevent mold is by altering that environment. Repairing undetected leaks, sealing areas of water intrusion, letting in more sunlight, increasing air circulation and keeping dampness at bay by using a dehumidifier, exhaust fan or air conditioner can all help. And this is critical, because you can transport the mold on your clothes or shoes from the affected area to other parts of your house and spread the problem to previously unaffected areas.
Don't let mold take hold! Call MARBLELIFE® today.