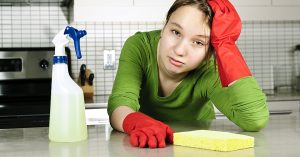 Have you ever "cleaned" a surface just to find it dirty again only a few days later? This issue is more common than you may think. The problem is that many surface-cleaning products and services don't provide lasting results. In fact, they can even make the situation worse when they use oils that attract even more dirt, acids that damage seals, waxes that create buildup or abrasives that cause micro scratches in tile and stone. The true test of clean is whether it lasts — and that's where MARBLELIFE® scores an A+.
No More Stained Grout
For nearly 20 years, MARBLELIFE'S ColorSEAL has corrected stained grout problems and restored a new appearance that is maintainable. Many grout applications start developing a stained or spotty look within six months of installation. Just because a seal was applied doesn't mean that the floor was properly sealed. MARBLELIFE can recognize and correct this situation. In fact, our solution delivers a better than new performance that is easier and less costly to maintain. Not all seals are alike, and many cannot survive the cleaning process. 30+ years of floor restoration experience has allowed MARBLELIFE® to understand the root causes of stained grout and develop a solution that can survive post-installation use and cleaning. Our technicians visually determine areas of the grout that are more porous, remove existing sealants, clean thoroughly and then apply ColorSEAL. Once ColorSEALed, grout becomes highly resistant to future staining. Dirt remains at the surface, where it's easier to clean away. This means cleaner appearances and reduced janitorial time. Most of all, it signals your building visitors how well the building is maintained. A clean floor is presumed to signal a safe environment.
Granite Clean and Seal Services
Despite granite's hard, resistant surface, it still needs protection, proper maintenance and care. Since granite stain removal can be a lengthy and arduous process, it is more cost effective to prevent staining than to repair it, and periodic sealing is recommended for this purpose. If you have not had your granite resealed in the past 2 years, consider doing so because the seals are not permanent and can wear away faster when acidic cleaners are used. MARBLELIFE® provides expert cleaning and sealing treatments, and we also manufacture our own proprietary blend of surface care products that are available for purchase online.
Ultimate Marble and Stone Floors
Take your floor to the next level: Ultimate. What's the difference? A traditional marble tile floor has distinct, recessed grout lines, while an Ultimate Marble or Ultimate Stone floor treatment polishes the surface down to a singular plane, eliminating crevices that trap dirt and grime. Because these floors are level with grout lines, they're much easier to clean — even with a simple dust mop. The surface is elegant, beautiful and highly reflective with a jaw-dropping shine. This same treatment can be applied to convert your 1970 slate with a textured surface into a single smooth surface with exquisite style that only a true stone professional can deliver — without damaging the stone in the process.  If you are redecorating and looking for that wow factor, ultimate can deliver.
Anti-Graffiti Treatment
In some places, graffiti is considered an artform. But on your surfaces, it's, well … graffiti. While you can't always prevent this form of vandalism, you can make it easier and less costly to remove. Like a white board, MARBLELIFE® protected surfaces allow permanent pen and spray paint to be wiped away by in-house janitorial staff with no need for reapplying the coating afterwards. Traditional anti-graffiti treatments are superficial. MARBLELIFE® Anti-Graffiti treatment is designed to be a permanent solution. In fact, in Portland, MARBLELIFE® Anti-Graffiti treatment protects full side art murals on over 20 buildings from re-tagging and has done so for over 10 years.
Commercial Use
Research shows that one of the main reasons retail customers won't return to a place of business is unclean bathrooms. This attitude is even more prevalent since the Covid-19 pandemic began. Cleaning grout isn't enough: stained or dirty-looking grout can send a message that management isn't attentive to hygiene, even if the floors and surfaces receive regular attention. Once grout seals fail, the only way to restore them is to address the root of the problem. MARBLELIFE® experts can assess the problem and restore the damaged area and bring back the cleanability of the surface.
Protect Your Surfaces
Your home or business deserves to make a positive and lasting impression with a long-lasting clean. Call your MARBLELIFE® professional today for a free, on-site consultation.