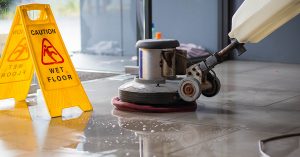 Top commercial property owners go the extra mile to maintain their facilities and keep tenants happy. And they set the same high standards for their service providers as they manage large buildings, multiple properties, everyday maintenance orders and occasional repairs. MARBLELIFE® has a tradition of exceeding customers' expectations, and you can be certain that we'll provide the best-in-class surface care your commercial property deserves. Those aren't just words. They are derived from service based on application of technology to resolve root cause issues, making maintenance and care more efficient. We aim to resolve issues that create a "dirty" appearance because we understand that no amount of cleaning will restore a clean appearance to a damaged surface. Consequently, we frequently deliver a better-than-new result with a surface set up to facilitate daily cleaning and happy tenants.
Hygiene Is Key
Building hygiene remains the bedrock of property owner-tenant relationships. According to the Building Owners and Managers Association, dirty bathroom grout is the No. 1 complaint of office tenants. And cleanliness will be on many tenants' minds as they employ new hybrid office models — and renegotiate their contracts.
Fortunately, MARBLELIFE® is a leader in hard surface restoration and grout-cleaning and maintenance. We're a science-based company that develops specialty products and processes for a wide variety of specific cleaning challenges. For example, we employ deep extraction cleaning with pressurized water that separates surface-level dirt from grout. Yet, we know that doesn't cure the problem that required this type of treatment in the first place. This is where we begin, but we go way beyond cleaning. Where other companies end their service, we are just beginning. Once this first step is addressed, and surfaces have been freed of dirt and oils, we want to prevent the surface from collecting these materials in the open pores again. Enter MARBLELIFE® ColorSeal and TileLok technologies. Against deeper stains, our ColorSeal treatment can return grout back to a like-new appearance with a consistent unchanged color — or change the grout color to one of our custom color options. When finished, there will not be any open pores to collect dirt and oils, decreasing the need for future
deep cleanings. With proper maintenance, the new sealant protects the tenant's grout color for years. TileLok goes even further, restoring a clean, scratch-free, glossy appearance to worn ceramic tile with an in-place reglazing that avoids any tile removal, dust or downtime. After office tenants have left for the day, a bathroom can be serviced and appear as if a new floor was installed overnight on their return the following morning. Engineered for rapid turn-around, our technology enables us to complete a treatment and restore a bathroom to use within a few hours in operations that run multiple shifts.
In a Covid concerned world, where demand for hygienic appearances and easy to disinfect surfaces is at an all-time high, MARBLELIFE® delivers, because we have been developing such systems for years with our application of science to create easier-to-clean surfaces. We are your janitorial service's greatest aid, as we enable them to deliver on the day-to-day demands you have for your tenants.
What about other surfaces? MARBLELIFE® offers restoration and maintenance solutions for marble, concrete, vinyl, granite and travertine. The dingy appearance that many tenants complain about often comes not from dirt, but from damage caused by foot traffic and inappropriate cleaners that eat away at sealants over time — or products that provide a temporary shine but fail to clean. Our technicians can restore floors and other surfaces, bringing them back to a like-new appearance and often a better-than-new state based on the engineered solutions we provide, while avoiding the high costs and operational disruptions that come with complete renovation and resurfacing. We understand that dust and disruptions are a big deal. That is why we have focused on quick turn-around and root causes to extend the life and enhance the performance of existing surfaces in a manner that reduces overall building maintenance costs.
MARBLELIFE® can also assist you with determining the appropriate products to use that minimize trade-offs between performance and surface damage. Our 30 years as the ONLY service provider who manufactures cleaners and care products give us an enormous advantage as we are tasked with repairing the damage caused by other cleaners. We engineer what we learn into each product. Consequently, when we say these are the best, we say it with a storied history of understanding that is reflected in our product offerings and performance.
MARBLELIFE® technicians tackle regular maintenance on an ongoing basis, or they can provide periodic service while advising your current maintenance staff on best practices between visits. Floors need more than just a periodic cleaning. Our focus is on maintaining the surface at a condition that makes your daily cleaning team more efficient. We work in conjunction with your daily cleaning staff and providers. While we are often perceived as their competition, in truth, our business enables them to work more efficiently and enhances the results that can be delivered. A restored floor still needs to be cleaned — we just make it "cleanable" again. Whether your property's floors need a full restoration or just some extra TLC, we have you covered with a refreshed surface that can help convince tenants to renew their lease.
Tradition of Excellence
We've been around a long time — since 1988! With decades in business, we've amassed a distinguished clientele. Whether it's for an established, high-profile client or a small business that's just starting out, our commitment to excellence remains the same. We are so confident in our maintenance services, we guarantee that if we are maintaining your marble floors, you will never need another restoration. We have honored this guarantee for over 15 years. This compares to competitors who require a restoration after 2 years of maintenance. We extend this guarantee to you: If MARBLELIFE® maintains your stone surfaces per our maintenance program, you will never need to restore your surfaces again.
Our longevity and client portfolio are possible because of our consistently superior services and products. We stand by the quality of our work and provide free on-site consultations. When one of our technicians answers your call, you can be confident that your property and your tenants will benefit from the best-in-class service that is the MARBLELIFE® promise.