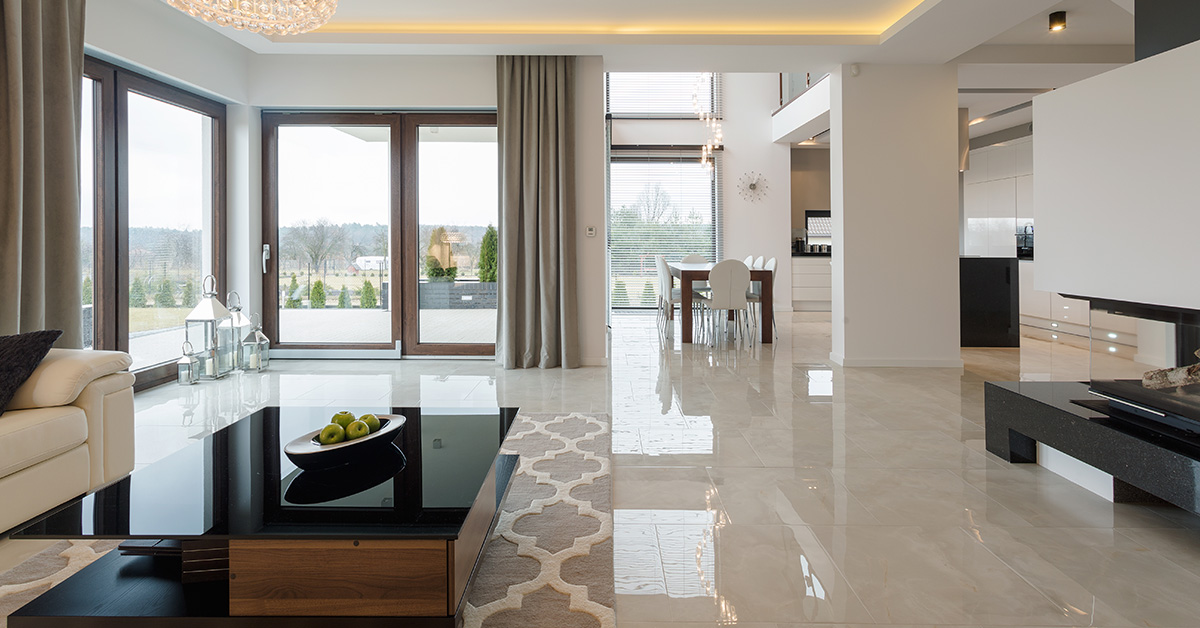 Do you look at your dull or damaged marble floor or stained grout and think "It would take a miracle to fix this mess?" With MARBLELIFE®, no divine intervention is necessary to make your floors sparkle this upcoming year.
MARBLELIFE® can restore dull and damaged surfaces, remove waxy buildup, fix cracks and other damage, eliminate stained grout (forever), re-polish surfaces and seal them to prevent future staining. There's a reason why we're an industry leader in tile and stone care. Thirty years of research and development on effective ways to not just fix but also create better-than-new solutions applied by our highly trained craftsmen who will determine whether your surface is damaged or dirty before making it right. We will even explain what led to the issue and how it can be avoided in the future. Did you know that 20% of restoration work is the result of inappropriate cleaner use? In fact, MARBLELIFE® developed our own line of stone and tile care-products out of necessity, as we could not recommend commonly sold products that were contributing to the very problems we were there to correct. Click through the slideshow to see for yourself and then give MARBLELIFE® a call to find out what we can do for you.
Marble Restoration and Polishing
Has your marble floor lost its luster? Does it look past its prime because of surface scratches and visible wear? We can return your floor back to its former glory. The fix is simple for our experts at MARBLELIFE®: We'll assess the cause of damage before creating a customized plan for your surface to restore its luster and sheen. We formulate all our in-house cleaners, sealers and polishes to be safe and effective, with a commitment that our products will not create your next service need. Learn more about our restoration services here.
Crack Repair
Cracks can appear because of wear and tear, fallen objects, poor installation, natural building movement or acts of God. They can range from hairline cracks to larger fractures with missing pieces. Whatever the cause, leaving them untreated can lead to water damage and the need for even more extensive repairs. MARBLELIFE® can fill cracked surfaces and seamlessly blend the repair to match the surrounding stone. Don't think you need an ugly concrete patch? We replace these too, with color and pattern matched repairs you will be hard pressed to feel or find. Learn more about our crack repair services here.
Recolor and Seal Grout
Dirty grout says a lot to guests and customers — and none of it is good. If you're a business owner, dirty grout can make people second-guess their decision to patronize your establishment. This blemish can impact whether a patient feels safe, a diner will return, a hotel guest will change hotels or an office client renew their lease. MARBLELIFE® is in the business of developing solutions designed to enhance the relationship between people and their buildings and either their business or their lives. We can help. All is not lost. Our tile care experts can transform your dingy grout back to its original bright white, or one of 250+ custom colors, in no time. Plus, our COLORSeal® technology will help keep it looking like new longer. And it'll be easier to maintain too. Learn more about MARBLELIFE® grout care here.
It's easy to talk the talk, but at MARBLELIFE®, we stand by our expertise and our years of experience. Our technicians receive extensive training to restore tile and stone surfaces. They aren't just following recipes; they know the science behind what happened and how to prevent a re-occurrence. Why renovate when you can simply restore with MARBLELIFE® — and save time and money?
So, is it a miracle … or is it MARBLELIFE®? See for yourself with a free in-home restoration consultation with one of our experts. We can't wait to make your stone and tile surfaces shine this new year. Contact your local MARBLELIFE® professional today and take the first step in restoring your surfaces to their natural beauty — no miracles necessary.