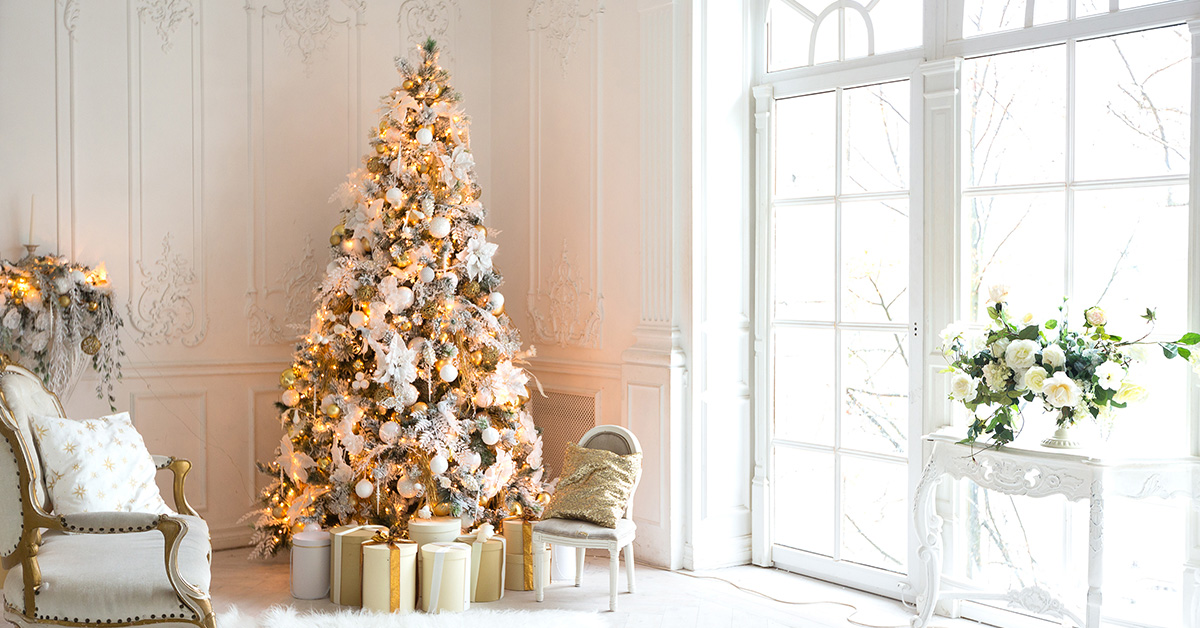 MARBLELIFE® has tips to help you deck your halls in style — and without breaking the bank! Remember that this time of year, it's really all about the light. And adding shimmer and sparkle is the easiest way to give your home a fun and festive atmosphere.
Amp Up the Candlepower
Even if your home is blessed with abundant natural light, add some extra holiday twinkle at night. Use realistic flickering LED candles throughout your home (reserve the real ones for when you can keep your eye on them). You can place inexpensive pillars, tapers and votives on decorative platters and in glass containers to magnify the sparkle. Many varieties also automatically turn on when the sun goes down or operate on a timer. Give your marble and granite surfaces something to reflect, a seasonal sparkle.
Mirror, Mirror
Candles and mirrors are the design equivalent of peanut butter and jelly: One just makes the other so much better. Place candles in front of mirrors to double the glow over a fireplace or in an entry hall. Or arrange multiple votives atop a mirror tray on a cocktail or dining table for a virtual BOGO effect! Purchase a second-hand mirror for just a few dollars at a tag sale or thrift store and paint the frame a shimmering silver or gold.
Get Stranded
Strand lights are available in every shape and size, but be sure to use lights appropriate for indoor or outdoor use. Fairy lights on thin wires create a subtle twinkling effect, and battery-operated models are good for illuminating a holiday centerpiece. These days, you don't even have to commit to a single color as some brands change color at the push of a button or fade and twinkle in a rainbow of hues to create a magical, entertaining show.
The Magic of Metallics
Sprinkle touches of shiny silver and gold throughout your décor. Cluster Christmas balls in bowls and festive containers. Sculpt metallic wire-edged ribbon into beautiful bows and tie them onto banisters, dining chairs and wreaths. A little glue and glitter can turn simple, natural elements like pine cones and branches into decorations for pennies. Rummage through your drawers and cupboards for trays, candle sticks, picture frames and other decorative items that you can polish up and add to your holiday display.
Make Your Floors Shine
MARBLELIFE® can take your dingy marble or stone floor and make it shiny and bright in time for the holidays. We can clean and restore marble, granite and travertine floors and polish them back to their former glory, so they can add their reflectivity to the seasonal spirit your lighting has created. We'll polish, repair cracks and reseal surfaces so they'll look great well into the new year. If you're having family and friends over to celebrate, we can clean and restore the tile in all of your guest and powder baths to enhance their stay. Give yourself an early Christmas gift and let MARBLELIFE® have a look. We'll assess if it's dirty or damaged. Give us a few hours and we will restore your surfaces' cleanability. It's time for your guests to marvel at your immaculate home.
Call your local MARBLELIFE® professional to schedule your pre-holiday service today. We can provide an estimate in person or with an emailed photo. We wish you all a merry and bright holiday season!