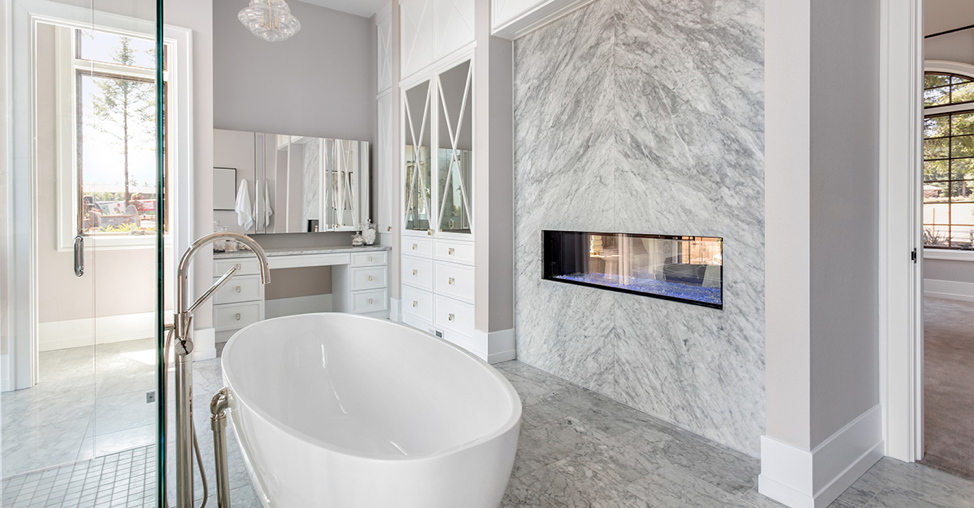 Week after week, you use cleaners to beat back bathroom grime. But it seems that nothing can fully stop the dirt, mold, and soap scum from returning — and eventually your area for personal hygiene can feel like the filthiest part of your home. Before pulling out your credit cards for a total and costly replacement project, consider how MARBLELIFE® can help you for less time, effort, and money.
Maintain Surfaces With a Nonacidic Cleaner Tailored to Your Surface and Problem
With the right cleaner for regular chores, you reduce the amount of intensive cleaning that's necessary in the first place. The simple solution may be to pick up a bathroom cleaner during your next trip to the grocery or big-box store. But many of these commonly available products contain oils, waxes, or acidic ingredients that can damage your grout's integrity in ways that lead to color fading and damage. A common indicator is lemon fresh, citrus, orange scent, or vinegar references.
MARBLELIFE® Marble & Travertine Cleaner cleans tile and grout effectively, without harmful additives, while leaving behind a beautiful, mirror-like shine. The application process is simple: just spray and wipe away. Our proprietary cleaner is safe for sanded and non-sanded grout, man-made tile, and even granite, marble, limestone, and terrazzo. Be sure to maintain a consistent cleaning schedule to achieve the best results.
Do you have soap scum? Power your efforts with MARBLELIFE® Soap Scum Remover. Quick and effective, the results will not only amaze you, but they will also make you feel like you are getting something accomplished, because you are.
Reseal Grout for Added Protection
Extensive grout staining requires a stronger treatment — MARBLELIFE® MaxOut Grout Cleaner. Simply treat your stain darkened grout by applying Maxout to the grout line and work the area with a soft bristle brush. You can use a wallpaper brush or trusty spare toothbrush for those tricky tight spots. Make sure to remove all remaining MaxOut product before continuing. MaxOut is so effective you will see the liquid darken as it pulls out stains. Up close, you can literally notice sand crystals gleaming back at you when done.
Once a clean appearance has been restored, the next step is to preserve your work with MARBLELIFE® Grout Sealer. This solution keeps your grout lines clean longer by filling in grout pores where dirt gets trapped, preventing that stained look. Cleaning with an acidic cleaner can damage most grout seals. To extend your protection, we recommend you reseal annually. If you don't want to take on cleaning and sealing work yourself, you can always schedule a trained MARBLELIFE® Service Professional to handle the task for you.
Seeking the perfect permanent solution? Want to restore a uniform color cleanable grout surface? Call MARBLELIFE® and request their COLORSEAL treatment. So effective, it is guaranteed to provide a more uniform color consistency than when your grout was installed. MARBLELIFE® can restore your original color, change the color, or re-accent your grout to better reflect your remodeling plans. In each case, MARBLELIFE's next generation's seal technology will provide you a non-staining grout solution that can withstand acidic cleaning going forward.
Contain the Mold Menace
Do you have black gunk lining the crevices of your bathtub? If so, MARBLELIFE® Mold & Mildew Stain Remover is your answer. While many mold removers can harm delicate marble surfaces and grout seals, our product efficiently removes the stain without doing surface harm.
Our superior stain remover is about six times stronger than leading store brands, yet it leaves behind a less-intense, fresher scent. You can apply this cleaner in a variety of ways on marble, travertine, and slate showers. Quick and efficient products and service—this is what MARBLELIFE's teams employ across the nation to quickly restore showers and bathrooms to their fully designed, cleanable glory.
A Lasting Clean
Damage from time, wear, and mold can happen in any home, but there is a solution. Investing in proven products that provide long-term results will make regular maintenance easier and reduce the need for more costly restoration and replacement. MARBLELIFE® is the only service provider that develops and manufactures cleaners. Our cleaners are formulated based on the restoration rescues we have been called on to make. Fully 20% of our work is the result of addressing damage caused by inappropriate cleaners. If you are still trying to reclaim a "cleanable" surface, consider MARBLELIFE®. We will also provide excellent restoration services for those areas that are badly damaged beyond the use of our products. Call a MARBLELIFE® representative for a FREE consultation today.
Rejuvenate. Restore. Reimagine. MARBLELIFE®.
Call MARBLELIFE at (888) 524-3372 or visit us online to secure your FREE ESTIMATE at www.MARBLELIFE.com or to www.MARBLELIFEPRODUCTS.com to secure the care products appropriate to your surface, and your desire for an easy effective cleaning solution.