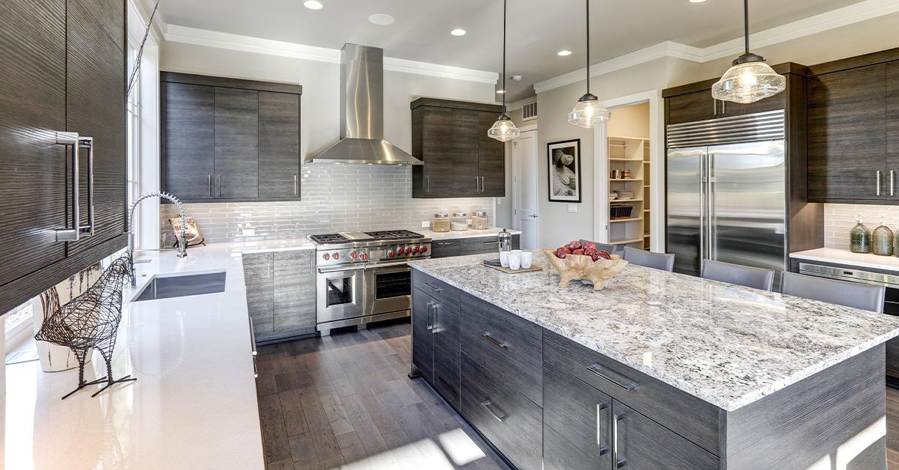 Three different surfaces — granite, quartz and tile — blend seamlessly in the warm monochrome of this contemporary kitchen. A rich, neutral color scheme of soft gray, cream and brushed, stainless finishes creates an inviting feeling in a room that's comprised largely of hard surfaces. A glossy gray linear tile backsplash builds visual interest without overwhelming the eye.
Flat-panel slab-style cabinet doors in variegated gray are adorned with oversized pulls. And the clean lines of an elegant gooseneck faucet, industrial-style lighting, and under mount sink complement the look perfectly.
A painted ceiling ties the room together in a calming, unified environment. This space needs only minimal accessories to finish it off: black and white photography on the wall and a wirework accessory on the countertop.
You wouldn't want stains or dirty grout to get in the way of this clean contemporary look, which is why it's so important to maintain surfaces like these properly. MARBLELIFE® is an industry leader in the care of fine stone, concrete and tile.
When you seal your tile and grout backsplash properly, you prevent the discoloration and staining that could compromise the beauty of this design. MARBLELIFE® offers our own line of proprietary sealers formulated to increase stain resistance, facilitate cleaning, and prolong the clean life of your tile and grout surfaces.
Many popular sealers on the market are susceptible to acid attack from cleaners containing vinegar and citrus. Our acid-resistant sealers are engineered not to fail over time due to acid attack. This is important because when your seal fails, your grout will begin to absorb dirt and stain easily. The very act of cleaning will transfer dirt to these now porous grout surfaces. Once stained it is virtually impossible for homeowners to remedy on their own. A professional service will be needed.
MARBLELIFE® technology makes us different. We've been solving these problems for over a decade, and the sad reality is that it is a 100% avoidable issue if MARBLELIFE® Colorseal sealer has been professionally applied. Did you know that 80% of buildings suffer some degree of grout staining? But MARBLELIFE® can eliminate these stains in one visit.
Don't fret if you already have significantly stained tile surfaces; MARBLELIFE® can bring your grout back to a like-new appearance sealed to help prevent future staining. When done, your grout will have greater color uniformity than the day it was installed. Want a different color? MARBLELIFE® can do that as well with the same final benefits - a grout line that will retain its appropriate unstained color.
To keep granite like this looking great, simply clean with MARBLELIFE® Granite & Quartz Cleaner and use a micro-fiber cloth for maintenance. Don't use soap as it tends to leave soap streaks and residue behind. And don't clean with just plain tap water, which often contains dissolved solids such as minerals or contaminants that can build up over time and leave deposits that are difficult to clean. Be aware—many cleaners include waxes designed to enhance shine, but which build up over time to have the opposite effect, dulling your appearance and requiring a professional service to reverse.
MARBLELIFE® products use purified water to avoid dissolved solid contamination. Be sure to avoid "clean-and-shine" products, which typically contain oils or waxes for a superficial shine that gives dust and dirt the ability to adhere to your granite. Seal your granite with MARBLELIFE® STONE SEALER every other year or as recommended by your MARBLELIFE® stone craftsman. Like insurance, your seal can save you thousands in stain damage and frustration. Once sealed, there is no guarantee a stain can be removed. Don't risk your unique natural granite surface, as these natural products vary in color, and replacing one counter section will have subtle color differences from your match set quarried at the same time.
Stained granite and dingy grout can compromise the beauty of even the most well-designed kitchen. Don't let an unplanned stain sneak in to disrupt your beautifully assembled design. Let MARBLELIFE® protect your investment. Bring out the best in your stone, quartz and tile surfaces.
Call MARBLELIFE at (888) 524-3372 or visit us online to secure your FREE ESTIMATE at www.MARBLELIFE.com or to www.MARBLELIFEPRODUCTS.com to secure the care products appropriate to your surface, and your desire for an easy effective cleaning solution.