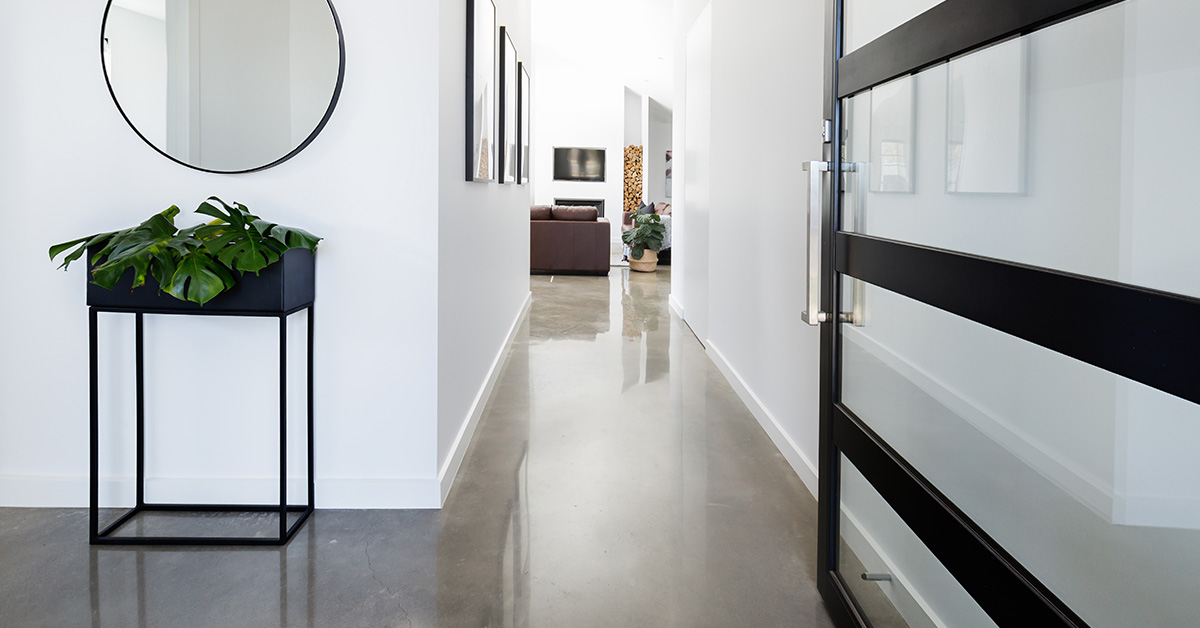 We're excited to introduce MARBLELIFE IMAGINATION — our new concrete design and renovation service. Now, we can take your old, tired concrete floors and transform them with custom colors available in a variety of finishes to suit any taste and interior style.
Whether you have a basement, garage, rec room, office, retail space or restaurant with a concrete floor — MARBLELIFE can completely transform it.
With MARBLELIFE IMAGINATION, you can match your garage floor to the color of your sports car — or your office floor to your company logo. Our finishes range from matte to ultra high gloss, so whatever look you're going for, we can help you achieve it. Check out this recent blog post https://marblelife.com/posts/07-26-19-the-luxury-garage-trend/ to see how MARBLELIFE IMAGINATION transformed a ho-hum garage into a virtual showroom. 90% of the garage floor coatings being selected now are MARBLELIFE Flake floors offering a variety of variegated colors and anti-slip traction with exceptional oil resistance for a beautiful, easy to maintain surface. Your floor will not only look amazing, but it will also have a durable finish that's much easier to clean and maintain.
MARBLELIFE also offers concrete polishing services (some locations have a limited capacity for large-scale jobs, so check with your local MARBLELIFE professional about your specific project). And we are rolling out a new line of specialty concrete coatings this fall, so there's a lot of new services you can look forward to as a MARBLELIFE customer.
Now with MARBLELIFE, you have the ability not only to restore your concrete floor, but also to completely reimagine it. If your floor has cracks, pits or spalding, don't just patch it. For a little more, you can make it beautiful. This opens up a whole world of design possibilities for both homes and businesses. Homeowners can have the garage or basement they've always dreamed of, while business owners can enjoy a durable, beautiful finish in their lobby, boardroom or restaurant that enhances their brand identity.
With our new concrete renovation services, we're proud that MARBLELIFE will now be one of the few companies in the industry that will be able to provide concrete polishing, staining and marbleized coatings.
For more than 25 years, MARBLELIFE has expertly cared for and restored stone and tile surfaces in homes and businesses across the United States. We've been your trusted source for marble and stone maintenance for years. MARBLELIFE has continued to its expand its services with new solutions designed to enable you to benefit not just from MARBLELIFE RESTORATION but now MARBLELIFE IMAGINATION as well. MARBLELIFE IMAGINATION can help you transform your space to the designs and colors you really want. And we can protect, maintain and restore all your other stone and tile surfaces. MARBLELIFE has a lot of truly exciting changes in store, and we can't wait for you to experience them.
Call MARBLELIFE at (888) 524-3372 or visit us online to secure your FREE ESTIMATE at www.MARBLELIFE.com or to www.MARBLELIFEPRODUCTS.com to secure the care products appropriate to your surface, and your desire for an easy effective cleaning solution.