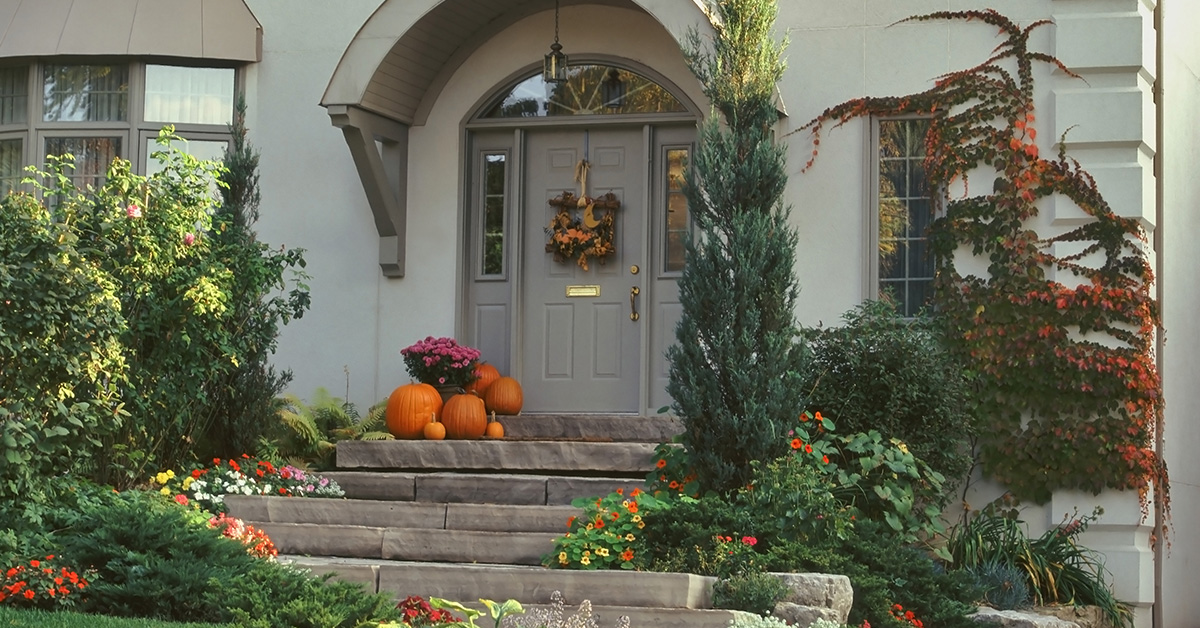 Your front entrance, walkway and patio are your guests' first impression of your home. Now that the holidays are approaching, you're probably planning out your seasonal decorations. Here's some advice to make your fall and Halloween curb appeal spooktacular!
Start your makeover at the curb. Make sure the path leading up to your house is neat and tidy. If your stone walkway is less than inviting, let the MARBLELIFE® pros bring it Back-to-Life. Mold and mildew are not only unsightly, they can also become a slipping hazard if you let it go too long. MARBLELIFE® gets rid of the mold and can reseal your walkways to help protect them for the months ahead. We can take care of all your stone and concrete exterior surfaces, including porches, patios and driveways. Our experienced technicians can repair cracks and damage so it's hard to tell there was ever even a problem. Keep your concrete driveway spauling-free with a periodic sealing. Spauling occurs when moisture penetrates the concrete surface and then freezes and pops off the top of the concrete. Keep your concrete looking its best with your pre-winter sealing.
Now that your walkway and front patio are freshened up, brighten up your landscape by planting inexpensive annuals in the areas around your entrance. Choose mums or other flowers with autumnal colors to carry you from the beginning of fall until Thanksgiving. If you don't fancy digging in the dirt, add plants in economical terracotta pots. Just be sure to water potted plants a little more frequently to prevent them from drying out.
Pay special attention to your door. Just a little touch, like an autumn leaf wreath, can add a homey, holiday touch. And while you're at it, polish up your door hardware, house numbers and mailbox. Finally, if your doormat is looking tired and tattered, it's time to pick up a new one. While it can be fun to have a holiday-themed mat, remember that it won't do nearly as good a job preventing tracked-in dirt as a MARBLELIFE spaghetti mat. A spaghetti map enables dirt and dust removed from shoes to fall below the tread surface INTO the mat's mesh so it is unavailable for the next pair of feet to march into the house. A spaghetti map translates to less inside dirt and less wear and tear on your floors. Investing in a high-quality entrance mat is one of the best things you can do to protect your floors, and they look great.
Now that the days are getting shorter, you'll need a little tech assist to light up your front entrance. Luckily, solar-powered lights are available in every finish and style these days. So, grab some path lights to illuminate your walkway and a spotlight or two to highlight your wreath and front porch decor.
Halloween decorations are lots of fun and don't have to break the bank. For a tasteful and timeless look, add groupings of pumpkins on either side of your door. But if you want to do something a little more, well … macabre, then go for it! After all, it's the only time of the year when people won't give you strange looks for adding a coffin or an inflatable Dracula to your front yard. From black cats to light up bats, skeletons and scarecrows — let your imagination and all your spooky inclinations run wild.
And if your front entrance is looking a little scary for all the wrong reasons, trust MARBLELIFE® to vanquish the monstrous mold and creepy cracks that haunt your dreams.
Happy Halloween from MARBLELIFE!