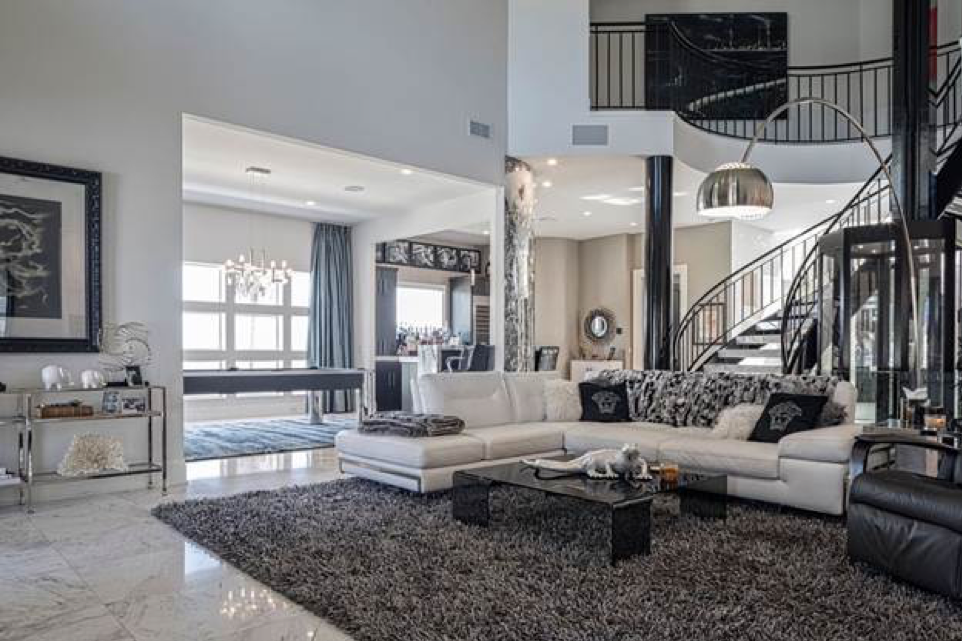 This isn't your grandmother's marble — not by a long shot. And if you thought marble floors were just reserved for traditional and formal spaces, think again. Check out this marble masterpiece complete with a slew of fun, throwback retro touches.
We love how the shaggy gray, deep-pile area rug sets off the larger-format polished marble tile floors in this contemporary living space. It's not an obvious pairing, yet works beautifully. Marble also plays well with stainless and chrome accents, including an oversized arc floor lamp and open-shelving decorative console.
A low-slung cream leather sofa looks trendy and timeless against a classic marble floor. Note how modern materials like chrome lacquer, leather and glass mingle effortlessly with marble.
The textured throw blanket and toss cushions on the sofa add a softer touch to offset the harder surfaces. It's important to include elements like these when you're decorating around a stone floor. Deep pile rugs, textured pillows, floor-to-ceiling draperies and even plants add those warmer, softer textures that play against the hard, shiny expanse of marble. And while this space uses a monochromatic color scheme, you could easily add colorful punches of an accent color such as turquoise, lime green, orange or fuchsia to amp up the energy.
The lesson here: Don't hesitate to infuse a space with a traditional marble floor with some funky vintage mojo. In fact, it's often the juxtaposition of different design styles that really brings everything to life. And if you don't believe us, you can ask that iguana sitting on the cocktail table.
This room proves that you can be chic without taking yourself or your space too seriously. So bring in those fun textures, vintage accents, whimsical accessories, fun colors and your own personality. Interior style today is all about creating an eclectic mix that's fun and reflects your personal aesthetic.
Lastly, if you are looking for a marble finish, you are not limited to installing marble tile. In fact, today MARBLELIFE can create your custom marble with their MARBLELIFE MARBLIZED grout line free systems providing you with a continuous custom-colored marble and complete freedom in your color selections. Take a blank concrete canvas and turn it into the marble floor of your dreams, free from the limitations of Mother Nature.
Maintaining Your Marble
The look in this space is crisp and clean, and you certainly don't want a dirty floor to take away from the pristine look. That's why it's so important to properly seal, maintain and care for your fine marble floor.
Read what we recommend in order to protect your floor from normal daily wear and tear and the common household cleaners that can cause damage. MARBLELIFE has more than 25 year's experience in marble restoration. We also restore granite, limestone, terrazzo and travertine. MARBLELIFE does more marble floor polishing than any company in the world. Businesses and homeowners across the country trust us to properly care for their fine marble surfaces.
Call MARBLELIFE today for a free consultation for your home or commercial property.
Source: https://marblelife.com/posts/03-04-15-caring-marble-floors-can-easy-right/
Call MARBLELIFE at (888) 524-3372 or visit us online to secure your FREE ESTIMATE at www.MARBLELIFE.com or to www.MARBLELIFEPRODUCTS.com to secure the care products appropriate to your surface, and your desire for an easy effective cleaning solution.