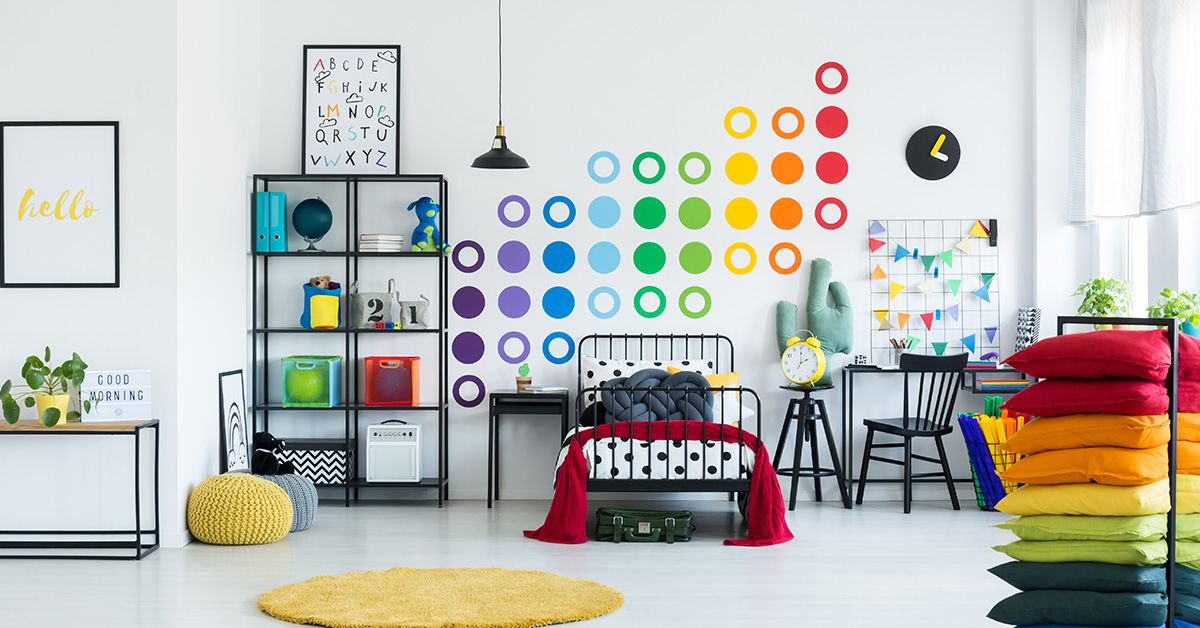 Many students across the country are doing some form of remote learning. It's important to create a home environment that's conducive to both concentration and creativity. Here are five easy tips for designing a functional and productive kid's space that looks great without breaking the bank.
1. Have a desk serve double duty as a nightstand. If you're tight on space with multiple kids (and even a partner) working from home, you can easily carve out an additional workspace by using a desk as a nightstand. The desk lamp can even serve as a bedside lamp. Having a private space to work where you can close the door can be especially useful when more than one child needs to be in a Zoom class at the same time.
2. Choose a neutral color background and add playful pops of color. Consider a white porcelain plank floor and ivory wall paint. That way, you can easily add punchy accents like the round yellow shag rug above, a pile of rainbow floor cushions, fun polka dot bedding, curtains and posters or wall art in whatever colors your child enjoys. A neutral backdrop also makes it easy to change things up as his or her tastes change.
3. Add functional work lighting. A desk lamp is a must, but a good overhead light is important as well. Ambient light can come from an overhead fixture or smaller pendants dropped over the desk, bed or reading chair. Adding a dimmer lets you easily customize light levels for work, play or rest.
4. Use open shelving for organization. Keep shelves open so books and other supplies are easy to find and convenient to access. Use colorful baskets and boxes to contain smaller items. Open cube storage shelves, like those shown in the picture above, lets favorite photos and other items easily and artfully comingle with school supplies. A cork, wire or cloth bulletin board above the desk keeps important papers in sight at all times.
5. Choose easy-maintenance materials. Tile flooring, slipcovered upholstery and machine-washable bedding all help make maintenance a breeze while providing a cleaner and healthier environment for study and play. MARBLELIFE® Tile & Grout cleaners can keep even the whitest floor looking bright. If you're having trouble getting your floor A+ clean, call in the pros. We can clean, restore and seal your grout and get it looking new again. In most cases, if you are having difficulty achieving a clean look, there is a secondary cause, and often it is damage. Damage makes things look dirty or stained. There are no super-cleaners for damage, and no amount of cleaning will fix it until the root cause is addressed. Call MARBLELIFE — we can help you RE-achieve a "cleanable" floor.
An organized and beautiful workspace can help kids stay focused while working from home. Get creative with color, create ample space for work and organization, provide good task lighting and keep surfaces clean with MARBLELIFE® products and in-home service.