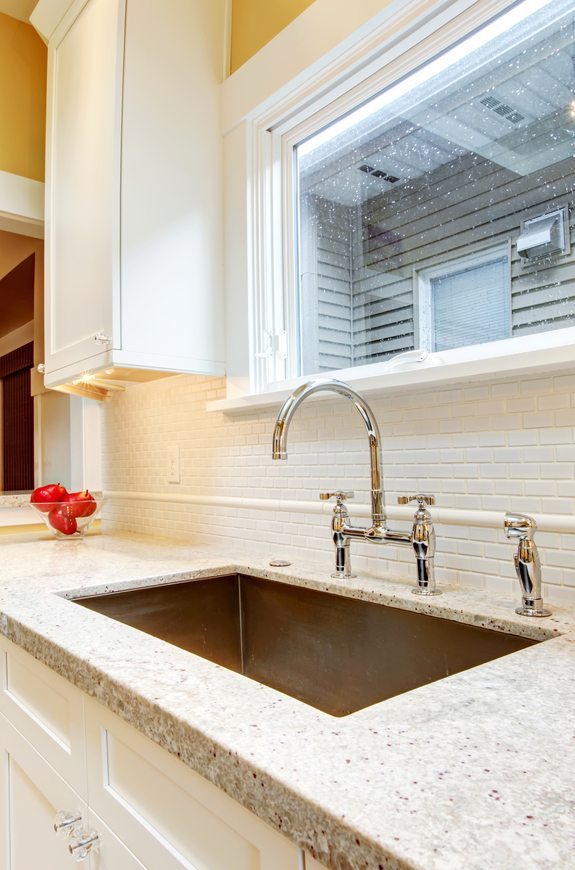 Many argue that granite and other stones do not need to be sealed. This, however, really is not the case. All granite should be sealed. In saying this, remember though, that all granite is not created equal and there are many factors that need to be considered when preparing to chose a sealer for your granite countertop. The purpose of this article is to help guide you to a proper choice for the correct sealer so you can enjoy your granite countertop for years to come.
One of the first factors to look at is has your granite been sealed before or is this going to be the initial application? The next big factor is to find out how porous your granite countertop is. This basically means how fast will it absorb a liquid. The higher the absorption, the harder it will be to seal the granite. You can do what is called an absorption test by placing several drops of water on the surface and watch to see how long it takes for the water to disappear. If the water disappears quickly then it is considered to be highly porous. If it takes more than 3-4 minutes than it would be considered less porous or slightly porous. The last factor to consider is the location of the granite. Is it in a kitchen or in a bathroom? Now, what does all this mean?
The finish on granite affects its absorption rate. If your granite had already been sealed but fails the water test than a re-application is needed. Sometimes a finish or sealer is worn down due to the types of cleaning products that are used. You should be careful not to use harsh chemicals when cleaning the surface. If you are looking to refinish or reseal a countertop that has been previously sealed than a water based sealer should be easy to apply. However, if you are going to be sealing your granite countertop for the first time than a solvent based sealer would be better. Your local home improvement stores will sell both products near the tile and stone section of the store. Make sure when using either type of sealer you have proper ventilation for the area. Also remember to allow enough time for the sealer to penetrate into the granite and follow the instructions of the sealants manufacturer when applying the product.
By applying a sealer you are giving your granite countertop added protection against stains. Remember you must still take proper care of your granite and wipe any spills up in a timely manner to ensure it will not stain. If you are still not sure than ask a professional for help. You can never go wrong by asking questions.
Call MARBLELIFE at (888) 524-3372 or visit us online to secure your FREE ESTIMATE at www.MARBLELIFE.com or to www.MARBLELIFEPRODUCTS.com to secure the care products appropriate to your surface, and your desire for an easy effective cleaning solution.