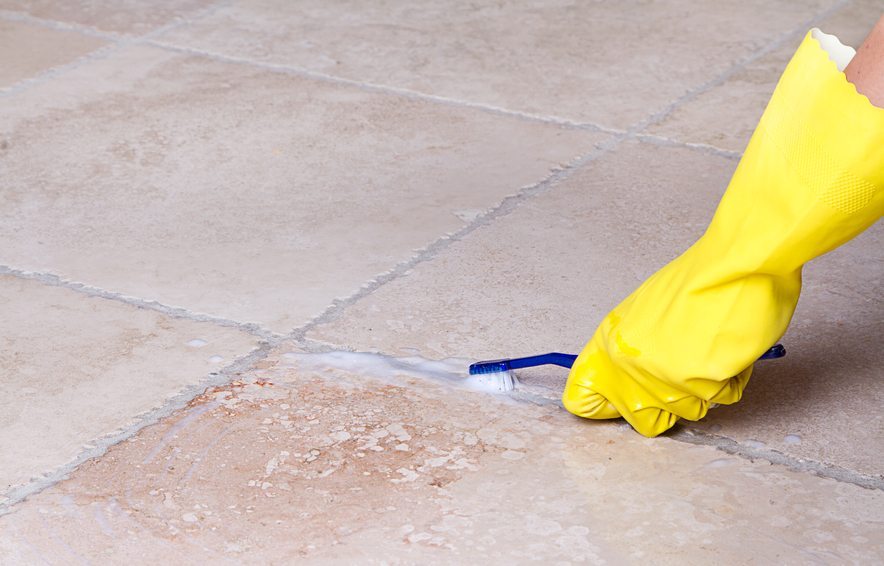 Grout is an important part of your tiled area whether it is a floor or wall. Sometimes you just get tired of the color of your grout and want to change it. Other times your grout looks dirty and you just want it to look fresh. Do not worry, this is a fairly easy process that when done properly can improve the appearance of your tile. One thing to keep in mind is that it is fairly easy to change light colored grout to a darker color but sometimes changing dark grout to a lighter grout does not work. In this case you may have to replace your old grout with new.
Before you can change the color of your grout, you must first clean the old grout really well. Clean the existing grout with an oxygen based bleach solution. You can also use 3 part baking soda to one part water for cleaning the existing grout. Make sure you allow time for the solution to penetrate before scrubbing. After cleaning, allow the grout to dry completely before trying to change the color.
Once the existing grout is clean and dry, you are ready to try the grout coloring adhesion test. Apply a small amount of the new grout coloring with a thin paintbrush to a small area. If any coloring gets on the tile, wipe it clean immediately with a towel or rag. Once applied, you can dry the new grout coloring with a hair dryer. It is suggested that you allow the grout to dry over night whenever possible. Once the color is dry, place a piece of masking tape over the area and run your finger over it. Remove the tape. If the color does not rub off onto the tape then your grout can be recolored.
Congratulations, you are now ready to color the rest of your grout. One very important thing to keep in mind is that it is better to apply two small coats of coloring than to over apply one heavy coat. Use a thin paintbrush to apply the new coloring. Be careful not to get any coloring on the tile but if you do just wipe it clean with a rag or towel as soon as possible. Allow the new coloring to dry completely. It really is a simple process, just take your time and be as thorough as possible.
Now that you have changed the color of your grout and it looks new again, maintenance is important. You need to avoid any harsh cleaners. Use a neutral cleaner that is not alkaline or acid based. This is extremely important if you have dark colored grout.
Call MARBLELIFE at (888) 524-3372 or visit us online to secure your FREE ESTIMATE at www.MARBLELIFE.com or to www.MARBLELIFEPRODUCTS.com to secure the care products appropriate to your surface, and your desire for an easy effective cleaning solution.