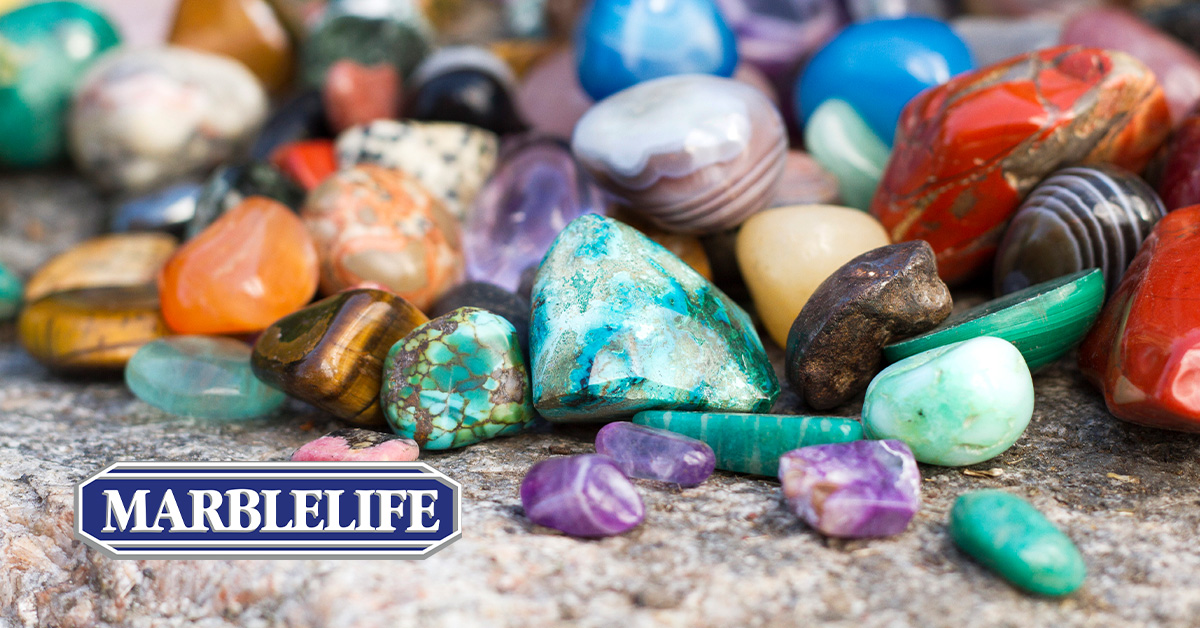 Exotic and semiprecious stones are crown jewels in the world of home surfaces. Onyx, jasper, labradorite, agate, amethyst, lapis, carnelian and tiger eye are among the choices for these unique and highly prized materials used to beautify homes.
The Glam Factor
Semiprecious stones offer sparkle and radiance, and some materials are even purported to have mystical and healing properties. (We promise MARBLELIFE cleaners will not damage any mystical or healing properties within your gemstone surfaces.)
Exotic materials infuse a radiant and earthy energy into countertops, vanities, floors and other decorative accents. They're nature-made works of art for the home. But for the substantial investment you'll make in these high-end surfaces, you'll want to give them the best care possible. If you're ready to get your glam on, keep reading.
Caring for Your "Jewels"
The good news is that semiprecious surfaces are often quite durable. Nevertheless, you still want to avoid using sharp knives or overly-abrasive cleaners and scouring pads on them. Contact with high heat surfaces can scorch any resins used for fabrication or transport, so never set hot pots, pans or other objects directly on your counter.
Some cleaners, over time, deposit a buildup of waxes, oils or other substances that can eventually dull the beauty of the material. And while any resins present in these surfaces tend to be quite hard, they're not indestructible. To minimize the risk of cracking or breaking, you should avoid standing on your counters or dropping heavy objects on them. Also, get any warranties in writing from your fabricator and/or installer and keep them in a safe place just in case any future problems should arise.
And remember that products resonated for transport are treated in one direction, from back to front, which can leave any pores that don't penetrate the entire slab vulnerable to permanent staining. The only way to guarantee a protected surface is to seal it before use. It's also a good idea to ask for some extra material to keep on hand (or use as a trivet) should you ever need to make a repair. Remember: The more exotic the material, the more difficult it can be to find a replacement that matches the original slab.
The MARBLELIFE Difference
MARBLELIFE's proprietary cleaners are safe for all stone surfaces and won't leave a dulling residue behind. We've based our products and cleaning methods on more than 30 years of experience in caring for tile and natural stone surfaces across the United States.
Whether your floors and counters are semiprecious or not, we know that they're always precious to you, and we promise to treat them that way. Call MARBLELIFE today for a complimentary on-site consultation. We have the experience and expertise to properly take care of all the tile, stone, concrete and semiprecious surfaces in your home.
Source:
https://www.hgtv.com/design-blog/design/interior-design-trend-gemstone-countertops
Call MARBLELIFE at (888) 524-3372 or visit us online to secure your FREE ESTIMATE at www.MARBLELIFE.com or to www.MARBLELIFEPRODUCTS.com to secure the care products appropriate to your surface, and your desire for an easy effective cleaning solution.