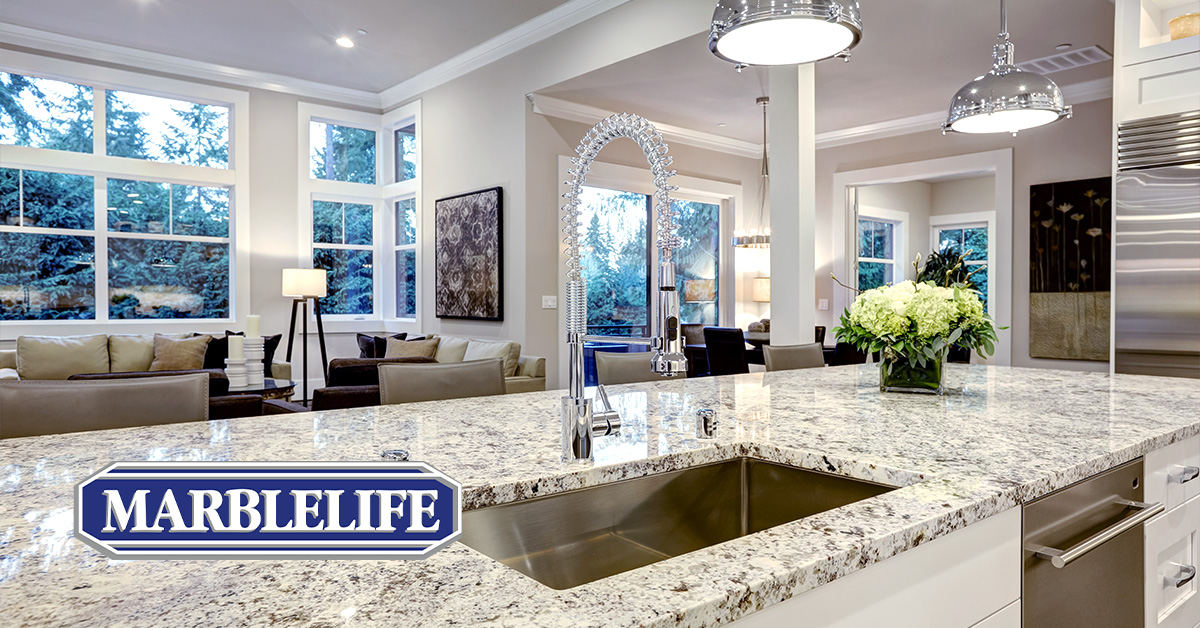 According to the National Association of Home Builders, granite and natural stone are the top picks among 57% of respondents to their 2019 What Buyers Really Want survey. HGTV.com says, "Go for granite." No matter the price range of your home, buyers want to see granite countertops." This luxury finish is desirable to house hunters and can add resale value, so you always want your granite looking its best — especially if there's any chance you'll put your house on the market.
The kitchen is the heart of the home where everyone naturally congregates. And your countertops are a focal point because they're right at eye level, often highlighted by under-cabinet lighting. You can accessorize them to show your design personality, and they're what you're looking at most often when using your kitchen. If you're lucky enough to have an island, then the visual impact of your countertop is even greater.
What Is Granite, and How Do I Care for It?
Granite is a type of igneous rock composed of quartz and feldspar. It's a very hard substance, and it has relatively low porosity, although it's more vulnerable through any cracks and fissures. You may have heard that granite fabricated more recently does not need to be sealed because of how it's treated for shipping. This is not true — failure to seal granite countertops, whether recently manufactured or not — can lead to permanent damage and staining. The stone's treatment, which is called resonating, is a one-dimensional process from back to front. As a result, any pore on the top surface that doesn't travel through the entire thickness of the slab remains untreated and vulnerable. This is why you must always seal your granite countertop before any staining occurs.
What we've found over and over again in customers' homes is improper cleaning products contributing to dull, lifeless countertops. Many cleaners contain ingredients that promote shine rather than remove grime. Over time, the waxes and oils in such cleaners can build up on the countertop to the point where they create a dirty, lackluster appearance. In fact, many times what clients really need isn't cleaning per se — it's the removal of these accumulated products.
Trust MARBLELIFE
What MARBLELIFE provides is a truly clean and cleanable surface. That's why we developed our own proprietary line of marble, granite, tile and grout cleaners — to provide our customers with effective products to maintain their surfaces while avoiding the aforementioned problems.
For more than 30 years, our highly trained experts have been cleaning, sealing and restoring granite floors and countertops across the country. And we maintain our own tile and stone cleaning and restoration research facility to further our efforts to provide the most advanced and cost-effective services to our clients. Call MARBLELIFE today to discuss your granite care needs.
Sources:
http://nahbnow.com/2019/02/what-home-buyers-want-in-2019/
https://marblelife.com/posts/09-09-13-should-my-granite-countertop-be-sealed/
https://www.hgtv.com/remodel/kitchen-remodel/remodeling-a-kitchen-for-resale
https://marblelife.com/posts/10-31-17-dont-take-it-for-granite/
https://marblelife.com/posts/03-27-19-what-you-dont-know-about-granite/
Call MARBLELIFE at (888) 524-3372 or visit us online to secure your FREE ESTIMATE at www.MARBLELIFE.com or to www.MARBLELIFEPRODUCTS.com to secure the care products appropriate to your surface, and your desire for an easy effective cleaning solution.