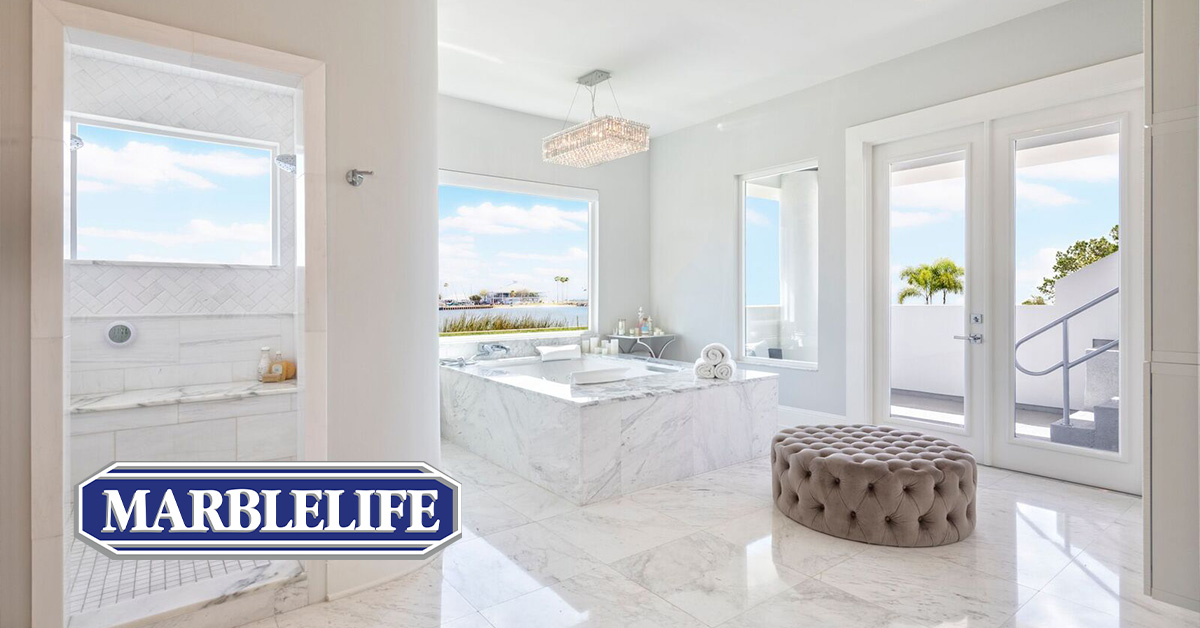 With its indoor-outdoor breezy charm, this stunning master bath is a timeless coastal classic. Luxuriously spacious and flooded with natural light, the wall-to-wall white marble with subtle gray veining provides a look that's clean and bright without feeling sterile. Walls painted in a light heathery hue add softness without darkening the mood one bit.
The elegant marble flooring and tub surround provide a luxurious backdrop for other design decisions, including a deeply tufted ottoman and contemporary chandelier suspended over the deep soaking tub.
The Natural Beauty of Marble
When you choose a material like marble, it needs little embellishment. In fact, you really don't want to distract from its simple elemental beauty. Running the same stunning material into the shower and just varying the format is all you need to do to complete the look: smaller squares on the shower floor, large rectangles going up the wall and transitioning to an elegant herringbone pattern around the window.
You can see how, in this case, just one smart decision in material selection can do most of the design work for you. Just roll up a few soft cotton towels and add a tray of beautifully displayed toiletries, and your bath will be magazine-worthy in no time.
Marble Care and Maintenance
Now, all you need to focus on is keeping all that gorgeous marble as sparkling clean as the day it was installed. While marble can be a very durable surface, it's far from invulnerable — especially to acids in improper cleaning products. And while you might think, "That can't happen to me: I only use all-natural cleaners," you could be making a very costly error in judgment if your natural cleaner is one of many that contains lemon, citrus or vinegar.
These highly acidic substances react with the calcite in the marble, damaging and degrading it. The etching you sometimes see is a result of this reaction. Left untreated, this cleaning problem turns into a full-on restoration project after the stone dissolves away. When this happens, you could have a clean surface, but until it's been re-polished, the counter will continue to look dirty, dull or marred.
Give Your Marble MARBLELIFE
Your best bet is not to take chances with your marble care. MARBLELIFE has more than a quarter century of professional experience in caring for natural stone in residential and commercial settings. We can clean and safely maintain marble surfaces and offer corrective restoration services for existing damage.
Marble is one of the most beautiful materials in interior design today — it's no surprise that some of the world's greatest masterpieces are carved from it. And with the right care, there's no reason not to create a work of art right in your very own home — so create your art, and let MARBLELIFE take care of all the work.
Call MARBLELIFE at (888) 524-3372 or visit us online to secure your FREE ESTIMATE at www.MARBLELIFE.com or to www.MARBLELIFEPRODUCTS.com to secure the care products appropriate to your surface, and your desire for an easy effective cleaning solution.