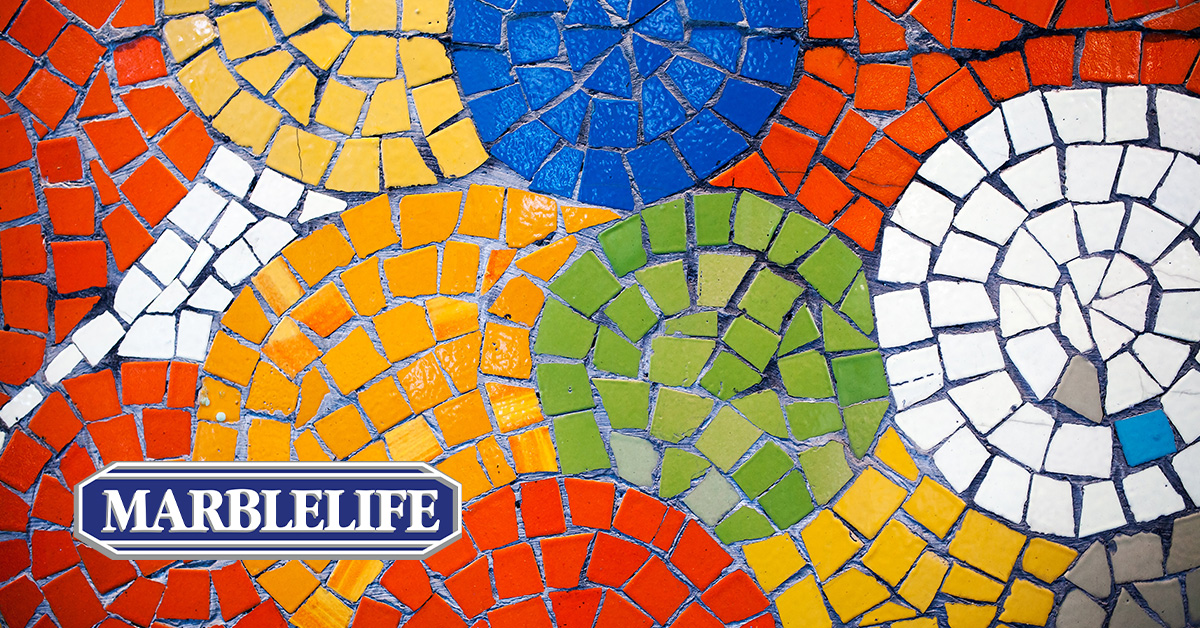 Mosaics have truly withstood the test of time. They're a decorative art form originating in ancient Mesopotamia that dates back to the 3rd millennium B.C. At that time it was primarily palaces and temples that featured these intricate stone-based patterns, but today any homeowner can use mosaics to add charm and style to their abode.
Magnificent Mosaics
Mosaics are inlaid compositions of small tiles (ceramic, porcelain or stone) and sometimes other materials such as pebbles or glass. They can be installed as backsplashes, on shower walls, and as floor accents both inside and outside.
Whether it's a medallion accent in your foyer or a vintage-inspired bathroom floor, mosaics are guaranteed attentions getters. And for sure, you want your mosaic to look good and stand up to that level of scrutiny. Unfortunately this can be a bit of a challenge, since along with all those little tiles, you have a lot of little grout lines to keep clean. Additionally, depending on what type of stone or stones your mosaic is made of, each type of surface may have its own special needs.
Protect Your Investment
Mosaics constructed of mixed materials (e.g., porcelain and granite; or porcelain and marble) present unique challenges that can result in damage if not addressed. This is because the materials often need to be treated and handled differently, which can be difficult when they are installed so closely together. This is why it's so important to have an experienced and qualified professional like MARBLELIFE care for your fine mosaic surfaces.
Mosaics often represent a splurge in a design budget. The last thing you want to do is turn a design feature into a failure with improper maintenance and cleaning techniques. If you're planning to or have installed a mosaic feature, talk to us about how to seal it properly and protect it for years to come.
Consider sealing the final step in your mosaic installation process. We recommend that you speak with a trained MARBLELIFE craftsman, versus your installer. The installer is an expert at installing, whereas MARBLELIFE's expertise is in restoration and care of installed surfaces. When it comes to how to best seal your mosaic. It's a lot easier (and less expensive) to seal properly the first time than correct problems later on.
Think MARBLELIFE for your Mosaics
We've spent the last 30 years developing proven products and techniques to clean and protect stone, tile and grout surfaces. We've had to create our own proprietary blend of cleaners that won't damage marble, travertine, granite and other stone surfaces in order to provide our clients a replacement for the daily cleaners that often contributed to the reason we had to meet in the first place. We even have our own lab devoted to developing, testing and improving our products and methods.
Caring for your stone and tile surfaces is our passion, and we think it shows. Call us today to schedule a free in-home consultation with one of our trained stone and tile care specialists. We'll keep your mosaic worthy of all the attention it's going to get.
Call MARBLELIFE at (888) 524-3372 or visit us online to secure your FREE ESTIMATE at www.MARBLELIFE.com or to www.MARBLELIFEPRODUCTS.com to secure the care products appropriate to your surface, and your desire for an easy effective cleaning solution.
Source:
Wikipedia