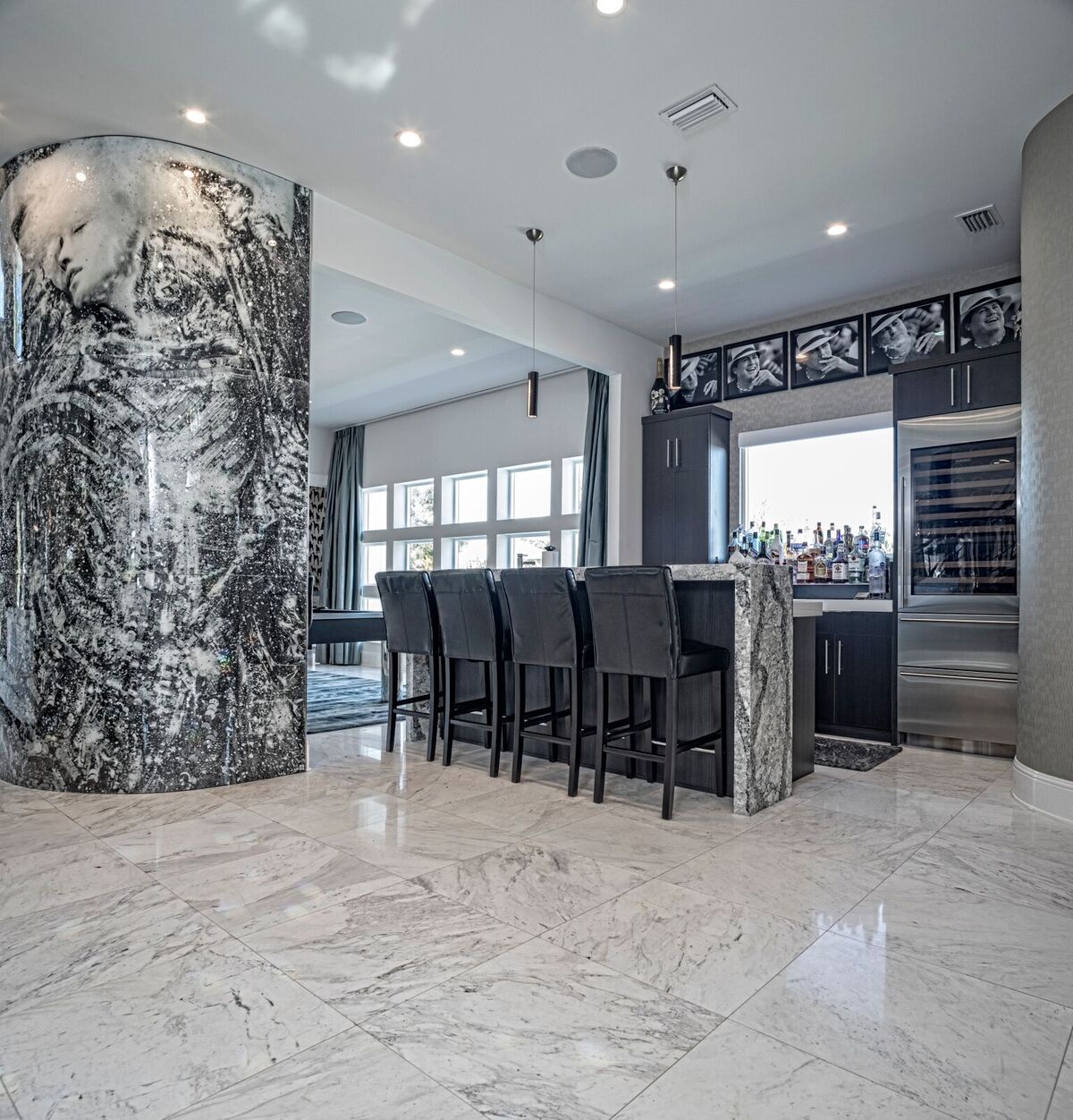 Larger-format marble tile with a waterfall countertop deliver just the kind of bold, clean lines that takes a classic material in a contemporary direction. This handsome installation showcases the more masculine side of marble.
We love how it pairs with the vintage black-and-white photography, tailored leather seating with saddle-stitched details, sleek bar pulls and contemporary tube pendant lighting. White marble contrasts smartly with the espresso-toned bar cabinetry and stainless appliances, while keeping a versatile neutral color scheme. Sleek floor-to-ceiling curtains and dove-white paint finish off this stunning look.
This is marble for today's modern living. Cool, sleek, contemporary and timeless — we know you'll love it. And if you already have it, then you'll want to keep it looking it's absolute best.
Proper Care of Your Marble Floor
Technically, marble is a metamorphic rock, which develops over time under high heat and pressure. The conditions that create it may make you believe that it's virtually indestructible, but this is far from the case.
Marble can, in fact, easily chip and scratch, and it's particularly vulnerable to acid degradation. As a result, cleaners with vinegar as an ingredient, often touted as "all natural," can actually damage marble and should never be used. The wrong cleaner could quickly take a space from haute couture to horror show.
With a look that's as clean and minimal as the one above, there's no place for dirt to hide, so it's important to keep your stone in pristine condition.
To avoid damaging your modern marble masterpiece, learn what our stone-care experts say should be avoided during installation and what you should do soon after to keep it looking good for years. Read what we recommend to protect your floor from everyday wear and tear and what common household substances can damage your marble floor.
The Bottom Line on Maintaining Marble
Most importantly, trust MARBLELIFE professionals to properly clean and, if necessary, restore your fine marble floors. We have the products and expertise to get the job done right the first time. We can help preserve and protect your marble floors and keep them looking great for years to come. Call us today for more information or to schedule an appointment with one of our knowledgeable technicians.
Call MARBLELIFE at (888) 524-3372 or visit us online to secure your FREE ESTIMATE at www.MARBLELIFE.com or to www.MARBLELIFEPRODUCTS.com to secure the care products appropriate to your surface, and your desire for an easy effective cleaning solution.
Source:
MARBLELIFE Blog