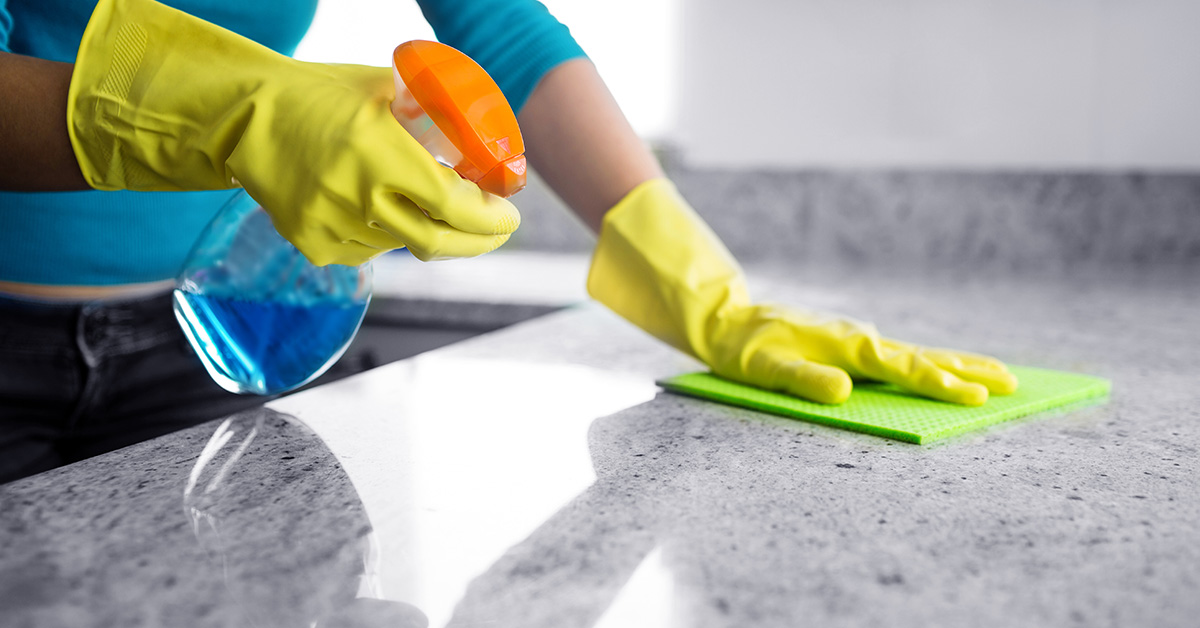 Many inferior products and surface care services can make your floors and counters look clean. And some can do a decent job cleaning them. But MARBLELIFE® can make tile and stone better than clean. Here are a few reasons why.
Clean without damage. Some products can make your surface look clean … temporarily, but it comes at a cost. Harsh abrasive or acidic cleaners may get a stain out, but they'll take part of the surface along with it, slowly eating away the sealer, the finish or the material itself. Marble and Travertine are the most sensitive to these "cleaners" as their acid will dissolve pits into the surface, breaking its light-reflecting smoothness and slowly reducing the clean shiny finish to leave a dull dirty appearance.
Acid cleaners will say "tile safe," but they are not grout safe and certainly not grout seal safe. Most grout is sealed on installation to prevent the naturally porous grout from absorbing dirty mop water. Unfortunately, acid will dissolve most grout sealers on the market, removing your protection and opening your grout to being stained. Our cleaners are engineered based on 30 years of restoration service correcting and understanding these problems. Not only is our clean a TRUE clean, with a commitment not to do damage, but if we encounter grout staining, we have developed services to correct this problem with novel sealers that are impervious to acids. MARBLELIFE® clean is better than clean because it won't leave you needing a costly restoration — or replacement — down the line.
Clean without Abrading. There is a place for scrubbing and a way to do it effectively. MARBLELIFE® Soap Scum Remover is a miracle worker when removing soap scum from glass or dried food from oven tops or microwave surfaces. Its "abrasive" substance is engineered to cut through soft soap but fracture into powder when reaching the true surface. This is a quite different abrasive than the sandpaper-like grit seen in aggressive scrubbers that can damage and dull surfaces from marble to granite. It is rare that one needs an abrasive to clean a hard surface. What is generally needed is a strong but gentle type of degreasing cleaner.
Clean below the surface. Some products just add oils to create the superficial look of a glossy, clean surface, but that's not really clean. The oils collect dust more easily and turn it into dirt. A vicious cycle is formed as you add more oils to remove the dirt. MARBLELIFE® takes the extra step of removing waxes and oils that can prevent cleaners from penetrating surfaces. Our products and techniques provide a deep-down clean. We focus on eliminating the elements that allow dirt to stick to the surface, which means effectively removing oils, so that the true natural surface can shine. When you order our products from the internet, you will receive cleaners that have fresh materials, unlike store-bought cleaners that have been sitting in warehouses and on store shelves, losing their efficacy. This is an important factor when fighting mold. MARBLELIFE® doesn't just bleach out stains and mildew, we eliminate them.
Clean that's easy to maintain. When you know how to clean properly and deliver a thorough, deep-down clean, it makes your upkeep a whole lot easier. And when we add an appropriate high-quality sealer to your stone or grout, you won't believe what a breeze it is to keep those surfaces looking great. Easy to apply, with our wipe-on wipe-off products, the result is a surface that is less susceptible to staining. The sealer ensures that any dirt or substances that would otherwise set in as a stain are kept on the surface, where they are much easier to remove. A MARBLELIFE® clean saves you time and effort.
Clean that lasts. Does it ever feel like you keep treating the same stains over and over again? That's because you probably are! When cleaning isn't done right, the problems just keep coming back. And with the one-two punch of our cleaning techniques along with the application of a high-quality sealer, you'll have a clean that's protected to last. If you have a marble or travertine surface with a spot that "keeps coming back," we can help, and we start by explaining why this appears to happen. We can fix the problem, and you can use our knowledge to maintain the area going forward.
Clean that rejuvenates. Do you have a stained tile floor that you'd like to reimagine without the expense and mess of a major renovation? MARBLELIFE® has the solution. We can turn your dirty gray grout bright white, blue, beige or any color you can imagine with our proprietary COLORSeal technology. And when we're done, your new grout color will be highly stain-resistant and a breeze to maintain. Why just clean when you can clean and recolor with MARBLELIFE!
You don't want a superficial clean, a damaging clean, a short-lived clean, or a tough-to-maintain clean when you can enjoy all the benefits of a MARBLELIFE® clean. You've got better things to do with your valuable time than work on the same stain over and over again. Call your local MARBLELIFE® professional today to book your complimentary in-home consultation. We've confident that once you give MARBLELIFE® a try, you won't settle for anything less than "better than clean" ever again!