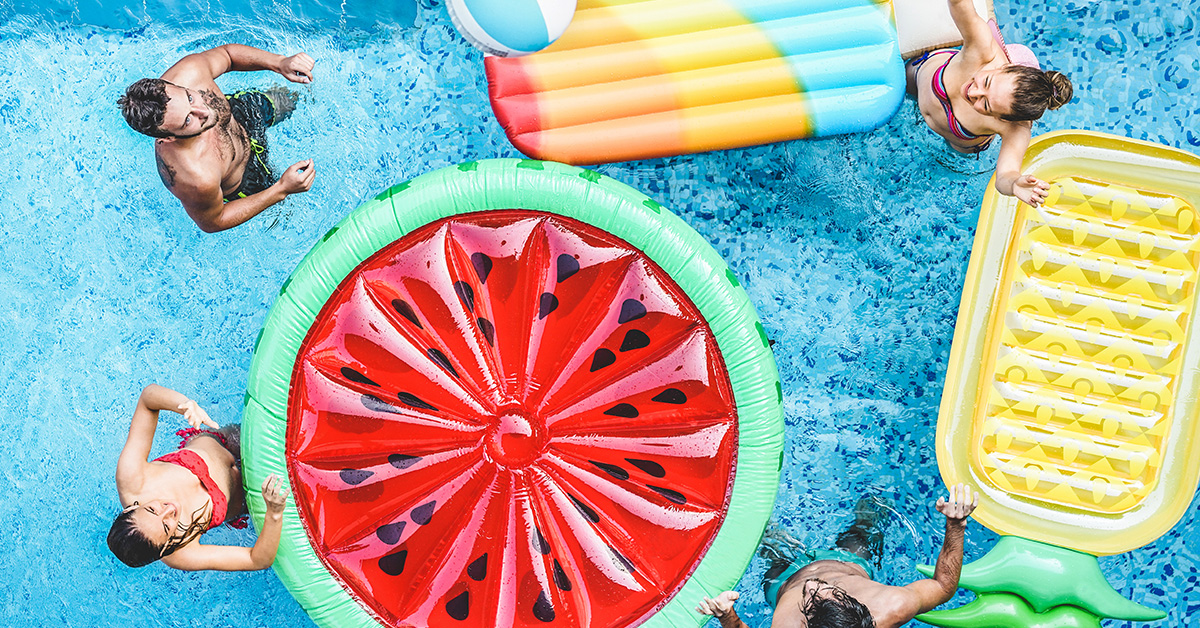 Everyone loves a pool party! And now that summer is in high gear, we thought this would be the perfect time to give you a few tips to make your next one the best yet.
Set the scene. Make sure you have enough places for friends and family to hang out. Create small seating clusters around your pool where people can gather for conversation when they're not taking a dip. Place small tables nearby so guests don't have to eat and drink on their laps.
Make dining casual and fun. A backyard barbecue is the perfect complement to your pool party. But if you don't want to man the grill, pick up a 6-foot hoagie sandwich at your local delicatessen. Pack an oversized, galvanized tub with ice and a variety of beverages. Give your guests a show by blending specialty drinks on an outdoor bar. Add chips and big bowls of potato or macaroni salad, and you're all set.
Create a festive environment. There's not much needed when it comes to decorating for a pool party, but setting a few beautiful potted plants and flowers on your deck is a lovely touch. If you're entertaining in the evening, flickering LED candles and flameless tiki torches can provide beautiful nighttime ambiance for your guests to enjoy.
Supply fun activities. Pick up inexpensive, colorful beach balls and floats to scatter around the pool. Grab some water volleyball equipment, pool noodles and super soaker water guns for the little ones. You can even find floating "pool golf" sets online! Don't forget a stack of fluffy beach towels for everyone to dry off with.
Program a pool party playlist. It's easy to enjoy music outside with all the terrific Bluetooth speaker options out there — including water-resistant models. So, use your music collection to create a playlist to fit your pool party theme. Obvious choices would include the Beach Boys, Hawaiian favorites and Caribbean tunes. But your music should reflect your tastes and the preferences of your guests. Crank up the cool jazz, classic R&B, country music, oldies or whatever else you like.
Prep the deck. There's nothing that'll wreck the mood of a pool party faster than yucky mold and mildew covering the hardscape. Not only is this unsightly, but it can also create a nasty slipping hazard. Luckily, MARBLELIFE® can take care of this problem in a jiffy. We can clean up your concrete pool surround and walkways, get rid of the grime and apply a sealer to keep your surfaces looking great all season long and beyond. And if you'd really like to upgrade your staycation destination, consider an Enduracrete concrete overlay to give your dull, old, chipped and cracked concrete surface the look and character of flagstone or brick.
Extra touches. Purchase an inexpensive pool fountain to infuse your next party with some drama and excitement. There are also floating, color-changing LED lights available to add sparkle to nighttime festivities. But the most important thing of all is to create a warm, safe, easy and welcoming environment where everyone — you included — can just chillax and enjoy.
MARBLELIFE® wishes you a Happy Summer! Give us a call to help make your next poolside celebration one for the history books.