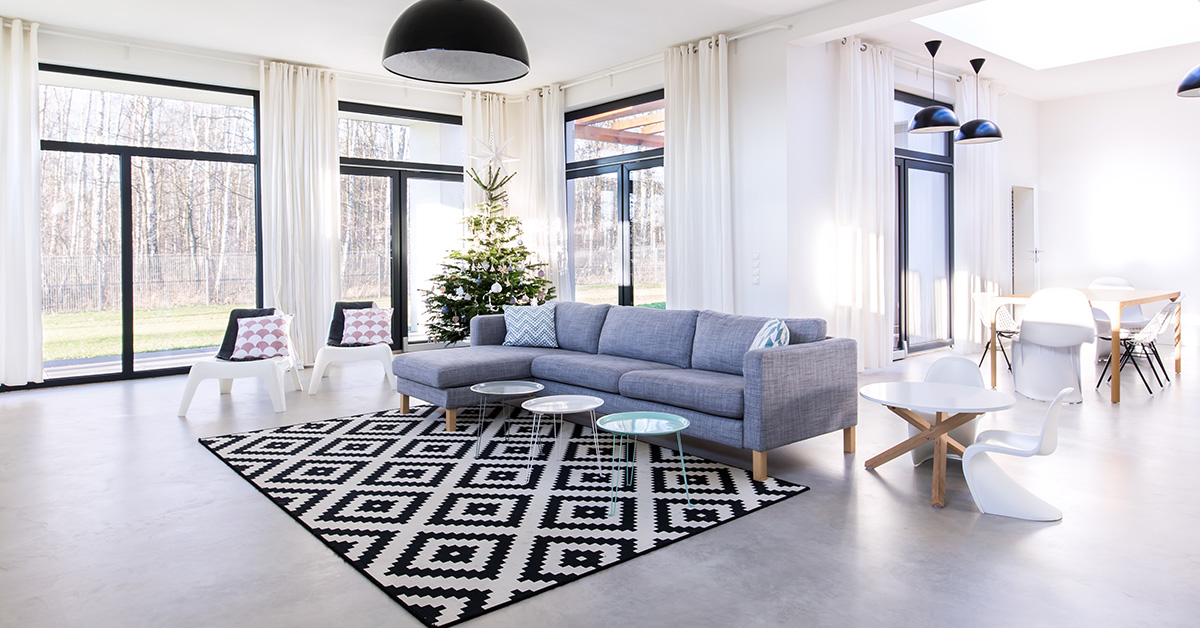 Attention homeowners and renovators who want a fast, easy and affordable upgrade for your home or investment! Our concrete overlays cover up unsightly imperfections and are an affordable, attractive alternative to replacing old, stained and cracked concrete. A fixed crack still looks like a crack until you give it the cosmetic repair it really needs, and overlays will make you forget where the imperfection was.
MARBLELIFE's EnduraCrete decorative concrete overlay systems transform dull or damaged concrete using a variety of colors and patterns, custom highlights and graphic art that can personalize and complement your home or commercial space. EnduraCrete overlays can renew many types of flooring to give it the look of elegant brushed concrete, stone or brick.
What's an overlay, anyway?
Many of today's overlayments combine polymer resins with cement and sand to increase wear resistance. These durable coatings adhere strongly to existing concrete and can withstand damage from salt, chemicals, UV exposure and extreme temperature shifts for years.
MARBLELIFE's experienced craftsmen apply high-quality EnduraCrete overlays over many types of surfaces, including cement, vinyl, tile and wood. Our experts know the importance of preparing the base by cleaning existing coatings and using shot blasting, grinding or sandblasting to resurface them to ensure proper adhesion.
Our overlay specialists can then incorporate patterns using hand-trowels, rakes, saw cuts and score lines to create beautiful designs. After a 24-hour curing period, a sealer adds stain protection, durability and easier maintenance. Sealers enhance the intensity of the overlay's color and finish, which can range from low-sheen satin to high gloss.
Benefits of an EnduraCrete Overlay:
Requires minimal maintenance to keep it looking great.
Affordable alternative to tearing out and replacing old concrete with new hardscape.
Fits into many spaces that other materials can't.
Enhanced skid resistance.
Ideal for high traffic areas, particularly around water.
Durable and highly resistant to erosion from stains, moisture and abrasion.
Practically endless design possibilities to complement any style.
Less environmental impact than ripping out existing surfaces.
Cost-effective way to add texture, character and beauty.
Reinvent Your Space with a Concrete Overlay
Give your tired concrete patio a facelift with the look and character of hand-laid brick. Or, reimagine your cracked, stained pool deck with the appearance of stunning flagstone. Transform your dated lanai or screened-in porch into a gracious, low-maintenance entertaining space. Makeover your driveway or walkway — extend your style all the way to the property line to enhance your curb appeal. And if you're a business owner, you can add your corporate logo in your lobby or boardroom to boost your brand.
Concrete overlays add a vibrant finish with a variety of textures and patterns to existing surfaces. We'll design your overlay to be both aesthetically appealing and highly functional. Contact your local MARBLELIFE® professional for a free on-site consultation. Your property can benefit from the detail-oriented passion of MARBLELIFE's craftsmen.
Source