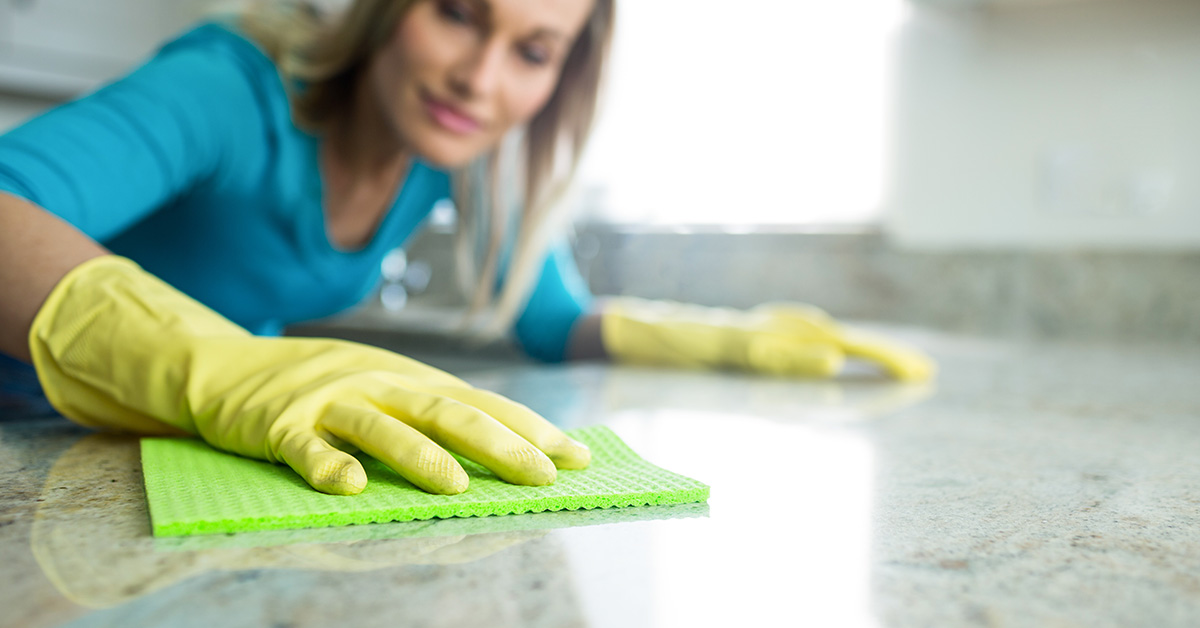 MARBLELIFE® offers science-based hygienic services that use research-proven anti-bacterial, anti-viral and anti-fungal technologies to improve the health of your home and business. We go beyond surface cleaning to seek out pathogens where they hide and use chemical, mechanical and ultraviolet light technologies to destroy them. We don't just clean; we provide defensive protections and services designed to make cleaning easier and more effective for a healthier home.
MARBLELIFE is not just a service provider; we have a suite of technologies, including our own line of proprietary products that we researched and developed in our own labs. Our services, now with new safety protocols in place, are available to small residences, retail businesses and large commercial buildings.
Put Down That Clean and Shine
Many off-the-shelf cleaning products promise to clean and shine your surfaces. If you only want a shiny home, they may suffice. But if you're trying to kill SARS-CoV-2, the virus that causes COVID-19, you should use something else.
MARBLELIFE cleaning products effectively prepare surfaces for disinfection — without introducing any harmful acids. Clean-and-shine, clean-and-seal or clean-and-scented products are engineered to deposit something on surfaces. Such products can't clean first and then deposit — therefore, they can leave behind some things you want to remove.
For the best clean, you want a product that only removes substances from surfaces instead of depositing them. Use of clean-and-shine products is one reason we get calls to repolish a counter when, in fact, we need to remove the hazy build-up. MARBLELIFE's products are designed to remove EVERYTHING from surfaces — which is exactly what you want when trying to clean. If clean is the absence of foreign materials on your surface, then, by definition, it is also disinfecting your surface. We understand it is better to remove everything than to kill most of the bacteria but leave them behind. When you want the best outcome, you want to clean, disinfect, and clean again to remove the lingering disinfectant.
The Marblelife Family of Products
While MARBLELIFE is leading the way in cleaning and disinfection, we also have a research-proven suite of products and services for your home or business. We recognize that cleaning is only the first step in defending your home from bacteria and viral attack. In order to effectively disinfect, we need to ensure we can reach everything. This makes sealing your porous surfaces a key element in your defensive home care strategies. This is why MARBLELIFE also has effective silicone-based sealing solutions to seal grout, tile and stone which can make future cleaning and disinfecting more effective, keeping everything on top of your surface where it is easier to disinfect that IN your surface. We don't stop there either. MARBLELIFE offers topical treatments certified for 5 years to resist mold growth for tile and concrete surfaces.
Click on each product to learn more or purchase online:
MARBLELIFE understands that this is a challenging time. Our very definition of clean is being challenged and redefined. Our levels of required building hygiene have been elevated with good cause, impacting how we care for our homes and the level of care we require from the buildings we visit. We want to help you create a cleaner and safer environment for your family and wherever they need to visit. Ask us about our CLEAN-IT-FORWARD Campaign and learn how you can help take the fight to Covid on a daily basis.
For more than 30 years, MARBLELIFE has expertly cared for tile and stone surfaces, and we're not stopping now. We remain open and ready to assist you with new safety protocols in place for providing in-home services.
Contact your local MARBLELIFE professional to ask any questions you have or to set up a complimentary consultation for your home or business. We're all in this together — and that's how we'll get through it.