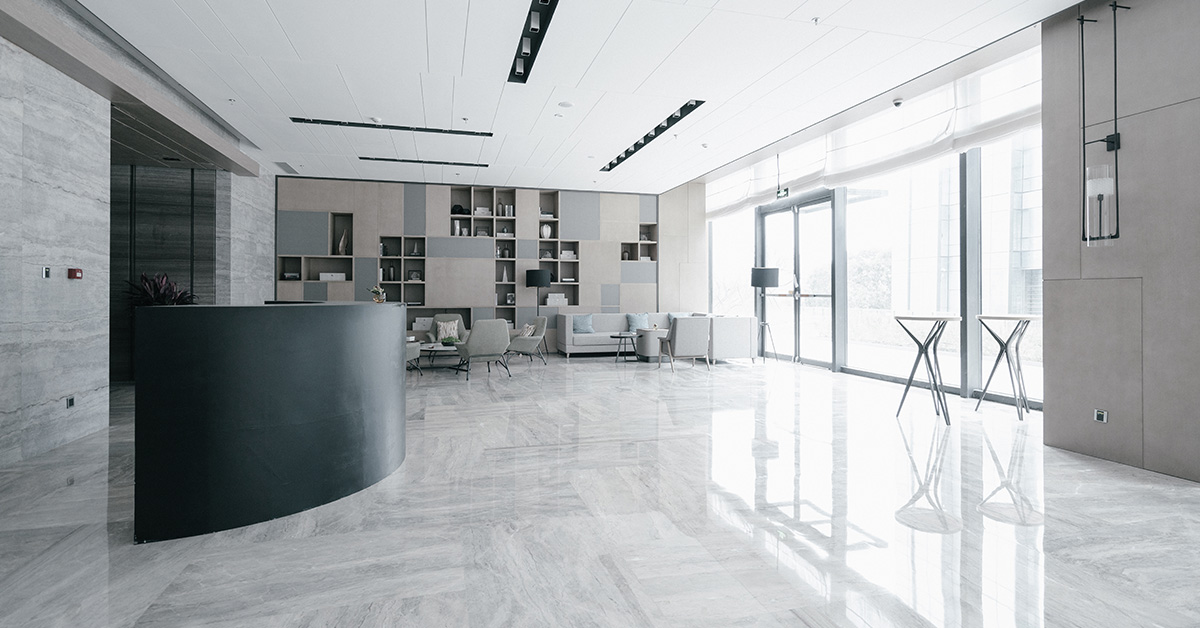 Does your lobby floor look drab and yellow? Waxing has traditionally been used to boost shine or hide the wear on a floor with the illusion that it is protecting the floor from scratches and scuffs. In reality, it can't hold up to scratches or wear or help with disinfection routines. Because wax requires regular maintenance for its often-subpar performance, it is a labor-consuming problem. At MARBLELIFE® we aim to resolve problems, in a manner that is maintenance efficient and hygiene friendly while creating a beautiful first impression. Wax only accomplishes that for one minute.
Just The Wax Facts
Shoes scuff floors right after a waxing.
Waxes lose their appearance with age.
The soft coating requires constant maintenance through re-melting and buffing.
Stripping is labor-intensive and creates non-green waste.
Wax surfaces are incompatible with many disinfectants, resulting in a need for increased dry buffing that blows dust and debris back into the air, where it can be inhaled. The very act of trying to disinfect creates the airborne particles one is seeking to prevent from spreading.
A Better Set of Solutions
Compared to MARBLELIFE's advances in surface maintenance technology, waxing is an expensive, unnecessary and environmentally unfriendly process. Based on the type of material we are working with, we tailor the optimal treatment and service, employing the latest in technical advances, many of which we have pioneered or advanced. MARBLELIFE® TileLok works on concrete, terrazzo, marble and granite floors, and our VinylGuard protection was developed for vinyl floors.
On ceramic tile surfaces, MARBLELIFE® leverages chemistry developed by NASA for its rocket re-entry applications. Not only can TileLok and VinylGuard handle your building guests' foot traffic, but they also impart anti-graffiti and anti-mold properties. This advanced technology can be deployed in one shift, requires no buffing or stripping and demonstrates exceptional anti-slip performance. Your floor looks brilliant; your care costs drop; your building is greener, and your tenants are safer with our easier-to-disinfect surfaces.
"Wax Off" Forever with MARBLELIFE®
Maintenance cost and time savings versus repeated waxing.
More eco-friendly with less need for bleach cleaners.
Enhanced slip resistance.
Non-porous barrier prevents moisture from penetrating the surface to feed and nourish mold.
Makes hospitals and doctor's offices safer by reducing hiding places for germs and bacteria.
Specifically for vinyl and PVC tile, MARBLELIFE® VinylGUARD is a single application, cost-effective, durable floor coating that eliminates the need for waxing and also offers advanced anti-slip performance.
MARBLELIFE® treatments save money for many commercial and public facilities — including universities, hospitals, airports and office buildings — while delivering superior and lasting results.
One case study at the University of Florida (UF) treated 170,000 square feet of high-traffic dormitory floors with TileLok and reported savings of over $50,000 per year in maintenance costs versus the use of waxes. For the first time, UF could release their maintenance crew over the winter break when they usually had to strip and wax the floors. To top it off, they also won a Green Award.
With all the advantages of being wax-free, the real question is "Can you afford NOT to TileLok your floors? Don't let wax keep you in the past.
Call MARBLELIFE® and learn how you can reduce costs and maintain a superior finish while saving time and money. Contact your local MARBLELIFE® for your free on-site estimate.