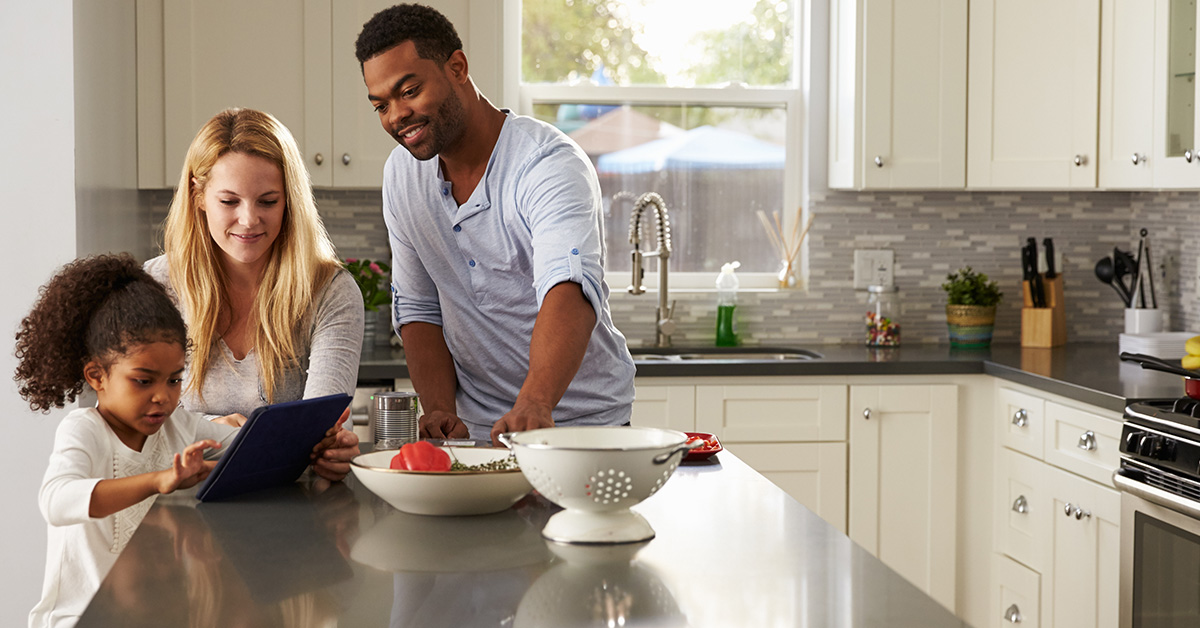 In the second installment of our Shelter to Sanctuary series, we're providing ideas to spiff up your kitchen now that it's getting more use than ever before. This week, we're offering easy, low-cost ideas to give the heart of your home a quick facelift and make it a place where everyone will want to congregate.
1. Clear Counters. Your kitchen may now be doing triple duty as a homework station, remote office and meal prep hub, and it may be accruing a little more clutter than it used to. The first step to a more beautiful and organized kitchen is corralling and managing that clutter to give you more workspace and a cleaner look. Something you probably have on hand that can be useful for this purpose are the oversized trays that you typically bring out for entertaining. If you don't want to put away items for your work or school project, simply load them up on a tray and relocate them when you want to prepare a meal or sit and eat. Use trays to contain cereal boxes and other go-to breakfast items or make an instant beverage station for your coffee, tea and other accoutrements. You'll be amazed at how much tidier your kitchen looks just by clustering and grouping items on trays.
2. Artful Accessories. Now that you've done such a good job decluttering, the last thing you want to do is bring too many knickknacks back in. However, a few well-placed accessories and pops of color can infuse a lot of personality into this functional space. Consider bringing in small pots of herbs on protective saucers to add a living touch — an added bonus is that you get to use them in your favorite dishes. Or how about a vintage chalkboard where you can leave notes for the family or announce the dinner menu (so, no more fielding questions about "what's for dinner").
3. A Beautified Backsplash. If your backsplash is taking a beating with so much cooking going on, it may be time to show it some love. If you have a tile backsplash, splatters from tomato sauce and cooking oil may leave your grout looking less than great. Fortunately, MARBLELIFE® has a simple solution for you: Try MaxOut Tile & Grout Deep Cleaner for stubbornly stained grout. Once you get stains out, it's important to seal your grout to help resist re-staining. It's always easier to clean something OFF the surface than OUT of the surface. MARBLELIFE has implemented new safety protocols during the crisis and is taking appointments for cleaning, sealing and stone restoration services. Find more information at https://marblelife.com/pages/covid-19/response.
4. Creative Containers. The trick for creating a beautiful kitchen is to find ways to combine beauty with utility by displaying beautiful objects that also have a functional purpose. Use decorative bowls, tins, baskets and jars to create artful displays for the things you want to keep handy. Be sure your containers are safe for food use and have lids to prevent pesky pests from causing problems. A square wicker basket can hold napkins. A beautiful tin can store your teabags. A colorful ceramic pitcher can house your spoons and spatulas. And never underestimate the simple beauty of a fruit-filled glass bowl on the counter.
Even while stuck at home, you can enjoy baking cookies with the kids, preparing a delicious family meal, sharing a Zoom lunch date with a good friend, setting up an informal backyard picnic or savoring a cup of hot chocolate with a dash of cinnamon. We hope our tips help you make the best of your time at home. Remember that we're all in this together — and from the MARBLELIFE family to yours, we wish you well during this challenging time.