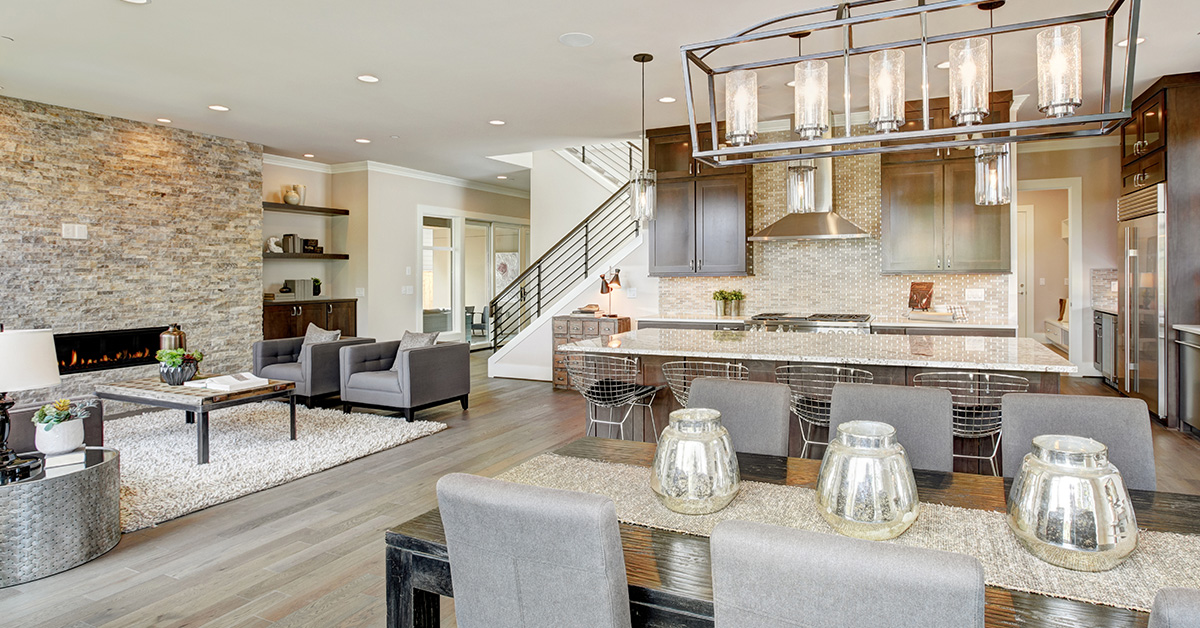 Stone is the perfect organic element to work into the warm, contemporary design styles that are so popular right now. And the most impactful way to use stone is to go big with it. In this gorgeous great room, a handsome stone feature wall with a modern fireplace creates a stunning focal point to anchor the entire living space.
The natural stone is echoed in the backsplash in an open-concept kitchen. When you keep your color palette neutral, it's easy to mix in rich grays, browns, taupes and creams to create an inviting ambiance. The chestnut-stained cabinets tie in with the wood tones of the shelving and furnishings throughout the space. Taupe upholstery and a fluffy flokati rug add warmth and texture.
When you design with stone and other natural elements, it's a great idea to mix in a few metallics to add a touch of sparkle and help reflect the light around the room. Here, those touches appear in the oven hood, light fixtures and a few, well-placed decorative table accessories.
Bold scale, simple forms and clean lines make this room feel substantial, sophisticated and serene at the same time. If you want to emulate this style in your own home, look for boxy furniture in deep, rich earth tones. Make sure the pieces are generously sized. Leave lots of space between your furniture groupings and add a few metallic accents for sparkle. Resist at all costs any urge to clutter up your space with lots of fussy, little accessories; just a few amply-sized statement pieces are all you really need.
Stone behind a cooktop or around a fireplace may become stained over time, so it's important to maintain these surfaces properly. The pros at MARBLELIFE® know how to take care of all your stone surfaces, from floors, to walls, to countertops and more. We can remove stains and then seal your surfaces to keep them looking great longer.
Many homeowners think all stone is low maintenance, but low does not mean no maintenance. Proper and timely care and maintenance is the key to maintaining the "wow." Stone can stain, chip, break and be susceptible to damage from acids and inappropriate cleaners. It's important to protect your stone surfaces from the stresses of excessive heat and weight. For example, use trivets for hot plates, and never stand on stone countertops.
MARBLELIFE can expertly maintain, restore, seal and protect:
Marble
Granite
Travertine
Slate
Other natural stone
If it's a grouted stone surface, we can clean and restore your grout too — and even change its color while providing better-than-new durable protection from future staining with our proprietary COLORSeal technology.
Stone is a significant investment for your home that can enhance its beauty and its value. So, you want to be sure to protect that investment by treating it right. Contact your local MARBLELIFE® to schedule a complimentary in-home estimate. We'll evaluate your stone and recommend any cleaning or restorative treatments needed to make it look great again. We can then seal your surfaces and even suggest the right products to safely and effectively maintain them. Call our stone care specialists today at (888) 212-9150 in the US and (844) 368-7214 in Canada.