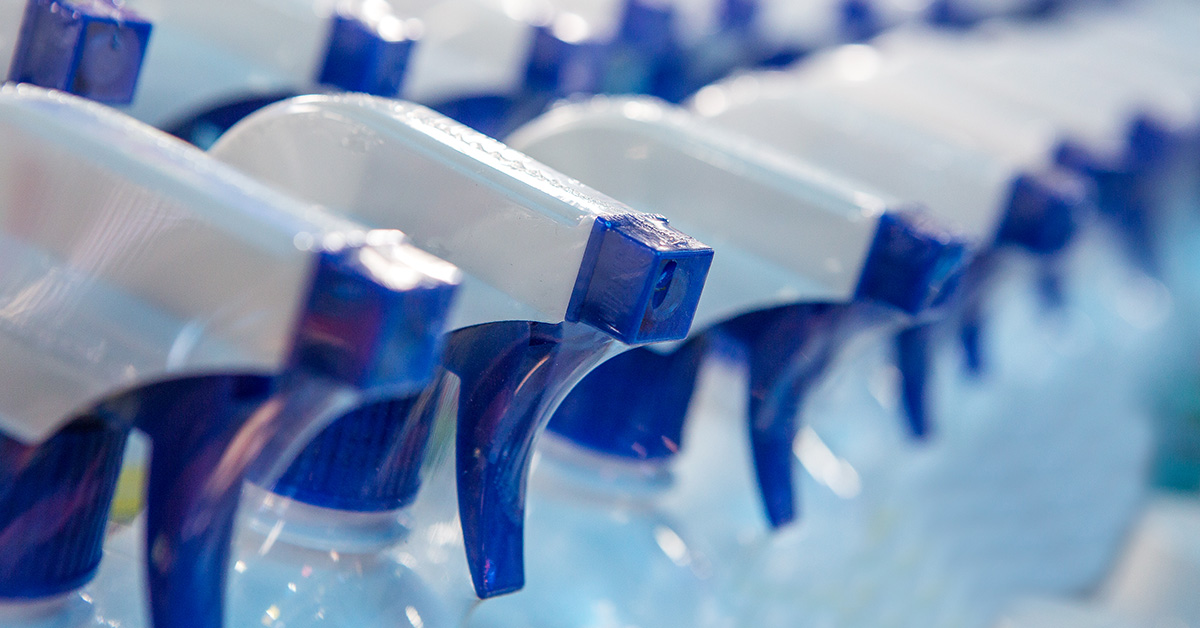 There's no shortage of stone and tile care products in the cleaning aisle of your local supermarket. But, unfortunately, some of them may be ineffective or even damaging to surfaces. Even "all-natural" cleaners can contain corrosive acids that have the ability to etch delicate marble and eat away at the seal on your grout.
To offer our clients a better alternative, MARBLELIFE® has spent 30 years refining the science of surface maintenance like no other company. No other company can base their research on live in-the-field everyday restoration of surfaces damaged by other types of cleaners. With this unique research and restoration experience guiding us, MARBLELIFE® formulated a line of proprietary tile and stone care products in our own lab that safely clean and remove stains while protecting the stone and tile in your home or office. We learned by helping people restore their floors that were damaged by inappropriate cleaners.
With our proprietary line of products, you can safely and effectively clean and protect your surfaces in between MARBLELIFE® professional services. You won't have to worry about damaging your floors, countertops or backsplash when you use our products according to the directions. Each is specially formulated for its intended surface to be effective without causing damage. We know there are a variety of ways to clean based on the surface and the target.
Marble and Travertine
MARBLELIFE® Marble & Travertine Cleaner doesn't contain harmful acids that can etch and pit. It's the starting point of your marble maintenance regimen. MARBLELIFE® Stone Sealer is an ultra-high-quality penetrating sealer that repels both water-based and oil-based substances. It's durable and healthy for your stone, providing breathability and superior protection. For small isolated etches — that spot of dirt that just won't go away and is probably acid damage to your marble — we like to recommend MARBLELIFE® Marble Polish, a service professional in a bottle, because it allows you to genuinely polish marble with safe abrasives. MARBLELIFE® Marble Gloss Conditioner beautifully enhances marble's depth and beauty.
Granite and Quartz
Granite and quartz looking dull and lifeless? Oil and wax buildup is the likely culprit. As these are often introduced by a cleaner, we formulated MARBLELIFE® Granite & Quartz Cleaner to remove oil and fatty deposits. Our MARBLELIFE® Granite Sealer is a wipe-on, wipe-off application that provides easy and convenient stain resistance and protection for your granite. This process will save you the problem of spending more money and losing time repairing your counters in the future.
Mold and Mildew Products
The biggest problems in showers are the buildup of soap products, mold and mildew. Many of the harsh chemicals sold to treat these problems only make things worse or create a new problem. Grout throughout your home may look dingy and may even have mold growing in it. The grout should have been sealed to close off its pores when the tile was first installed. This prevents mold from getting a foothold. But harsh cleaning chemicals can damage and strip the sealer from your grout and allow mold to penetrate, growing not only on the surface, but also deep within the grout itself. Our suite of mold- and mildew-fighting products include:
MARBLELIFE® Mold and Mildew Stain Remover is safe and effective for natural stone, ceramic, porcelain tile, sanded and non-sanded grout, as well as glass, metal and plastic enclosures. It rapidly removes the stains mold leaves behind to restore a clean appearance once again.
MARBLELIFE® Soap Scum Remover is a unique product — this abrasive cleaner removes soap scum without scratching marble, slate, travertine, or natural stone showers, including metal, glass, and plastic shower enclosures or fixtures. It does not contain acids that can etch and pit marble surfaces. Engineered to be harder than soap but softer than tile, it cuts through soap like butter. Use it once and you understand. This product tells you when it's done with the soap as you can hear and feel the change as you wipe through it, meaning no extra work and beautiful results. This is how the MARBLELIFE® professionals cut through these problems with ease.
MARBLELIFE® MaxOut Deep Grout Cleaner is specifically designed to emulsify grease and dirt from your grout. It's safe, effective and won't harm ceramic, porcelain, Saltillo, terracotta or stone tile surfaces. When a floor or tile surface has gotten away from you, as evidenced by stubborn, stained grout, this is the product you turn to. MaxOut is referencing its engineered purpose to break water tension, penetrate pores and emulsify and float out the staining dirt and grime.
MARBLELIFE® Tile & Grout Cleaner acts like a liquid sponge, absorbing oil and grease, from countertops, walls and floors. Formulated to be safe on tile and grout but also the seal protecting your grout, it's gentle on the surface as it aggressively pulls oils, dirt and residue from deep within the pores of the grout and crevasses of textured tiles.
MARBLELIFE® Grout Sealer
Once you have restored a clean surface, you want to make future cleanings quick and easy. This means closing off those pores that trapped dirt, made it difficult to clean and led to your stained appearance. By sealing your grout, dirt stays on the surface where it is much easier to clean. This doesn't require a professional, a power washer or an outside service — just a good quality cleaner from a company that knows what's going on your floors and counters.
For a number of our products, MARBLELIFE® offers the choice of convenient spray bottles for countertops as well as larger sizes and concentrated formulas for driveways, sidewalks and other big projects. There's no substitute for a MARBLELIFE® professional on-site treatment. But after our specialists have done their magic, keep everything clean and shining with our scientifically formulated stone and tile care products.