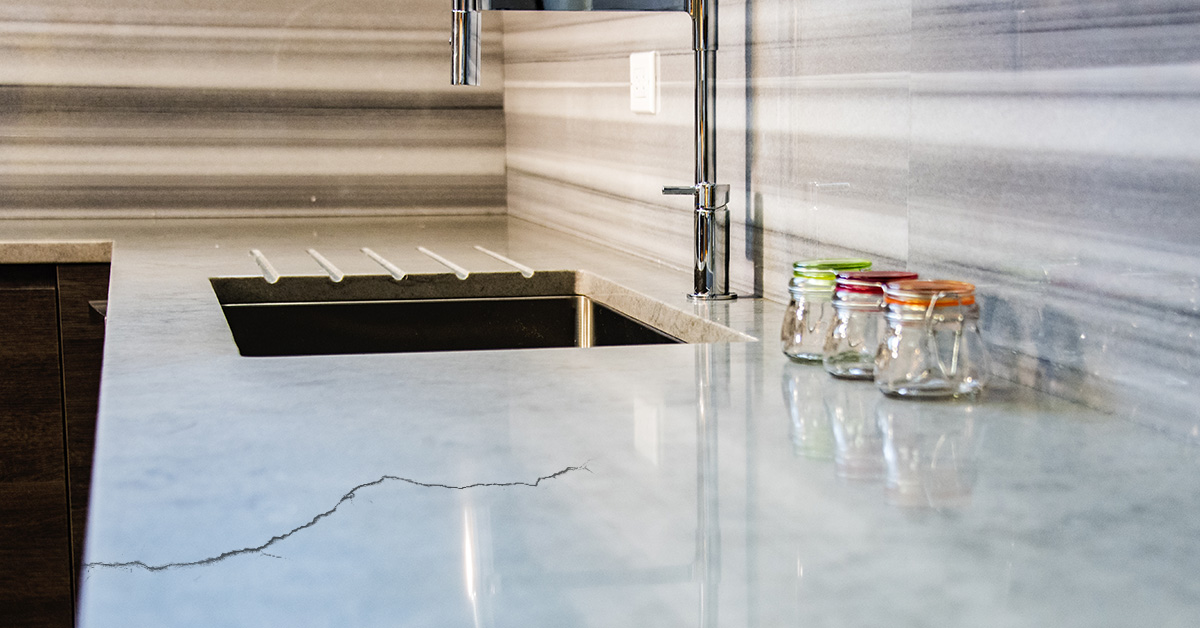 Do you look around your kitchen and wonder: When did that crack appear in my countertop? Building movement, fallen objects, standing or sitting on the edge, and even everyday wear and tear can cause cracks in floors, counters and other stone surfaces. Homeowners should address damage as quickly as possible, for even a hairline split can expand into a larger one.
Your house is not only a home, but also a major investment, and cracks can be a slippery slope that can lead to water damage or costly repairs. But don't worry: In most cases, MARBLELIFE® can restore their appearance for far less than the cost of replacement.
Many Types of Damage
Stone damage ranges from barely perceptible hairline to larger, fully-separated cracks. A hairline crack cuts through intact and aligned stone. Causes vary from installation issues to impact damage to subtle movement in the building's foundation. Damage can also come from standing on the counter to replace a light bulb.
Separated cracks are more serious with a visible gap in the stone and potentially complicated by missing pieces. This situation requires immediate repair as you don't want to risk moisture penetrating the surface over time or additional material loss. Providing both residential and commercial solutions, MARBLELIFE can mend even this kind of damage so that you'll hardly know there was ever a problem. When dealing with separated or broken stone, it's important to remember to never throw away the fragments as a professional craftsman may be able to use them in the repair.
DIY or Not?
This is a job that is best left in the hands of a skilled professional if you want the best possible results. Fixing a botched repair generally means a higher cost as one may need to remove the repair material used and perform a thorough cleaning before effecting the appropriate repair. We have all seen the concrete-patch-on-a-terrazzo floor, but virtually no one is aware of a properly performed and blended repair. What appears to be art is really a science. When facing a chipped, cracked, or broken floor or counter, contact us for a free in-building estimate, or get started by sending us an image. We will still need to see the repair in person to determine the cause and verify the type of support required. We know stone. We deliver WOW results for our customers daily.
Additionally, MARBLELIFE offers a variety of cleaners and other protectants to maintain your investment, particularly MARBLELIFE's Stone Sealer that offers superior protection against staining. Many are surprised to learn that 20% of MARBLELIFE's residential business is driven by repairing the use of inappropriate cleaners such as vinegar or acidic cleaners which can etch stone, diminish gloss, or destroy stain resistant seals.
Now that we're spending much more time at home, this is a great opportunity to take care of overdue home maintenance tasks and seal your counters if it hasn't been done in a while (remember that even most granite needs to be sealed). If you have not sealed your counters in the past 2 years, odds are they're in need of some TLC. A little application now can save a costly visit later.
A crack is like a cut — it's healable. A stain is like a virus — you hope to get better, but a portion will succumb to permanent staining. Visit www.marblelifeproducts.com to find the cleaning and stone care products appropriate for your needs.