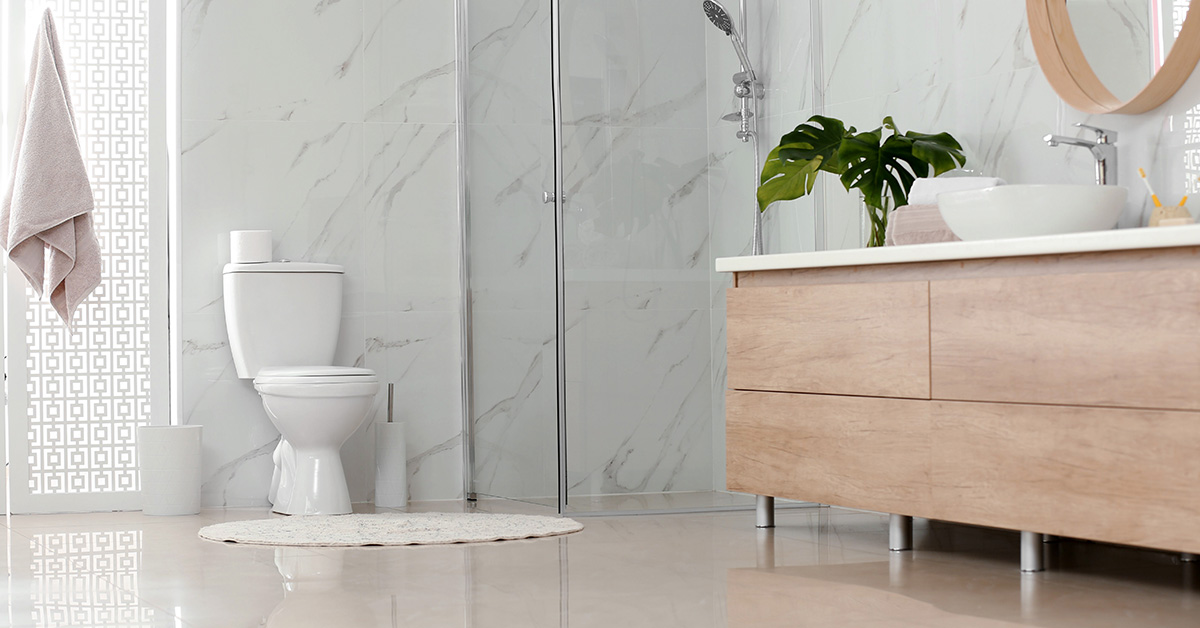 Are your houseguests noticing your less-than-lovely bathroom floor? Even the most polite of company is put off by dirty grout — even if they never say a word about it. Like it or not, we make inferences based on floor health. We decide whether to return to a business or restaurant based on the floor's appearance in the bathroom. Floor cleanliness sends a message. Office tenants rate it as the number 1 complaint when evaluating their office building. Hotel secret shoppers rate it as the number 1 factor for whether they will return. Yet, it is so slow and insidious we often fail to realize when it's happening in our house. One of the most overlooked aspects of bathroom remodeling is often the floor as we tend to focus on eye level features like cabinets and counters.
MARBLELIFE lets you almost magically change the color of older grout without the mess, time and high cost of demolishing and replacing the existing floor. And our proprietary COLORSEAL technology applies a durable seal to sanded grout that can not only alter color, but also provide a superior seal so that it's less susceptible to future staining. You can even go as extreme as white to black, or black to white — whatever works best for your design — but most of all you get to say bye-bye to stained grout and hello to easy floor cleaning.
The floor is the anchor of your remodel because it visually connects all of the other design elements. Tile sizes can range from 1" to more than 24", which dictates the amount of grout necessary and its overall impact on the look of the floor. Smaller tile = more grout and even more possibilities for staining. MARBLELIFE is your source for easy to use and highly effective cleaners and sealers, designed by service professionals based on the problems they have been addressing day in and day out for more than 30 years. We are not selling water; we are offering solutions in a bottle.
Many homeowners are always looking for ways to save, especially now. It's good to know that remodeling your floor does not have to be an expensive proposition; a MARBLELIFE restoration can deliver significant savings compared to a full replacement.
Wondering how much a restoration of your floor would cost? Contact your local MARBLELIFE professional. We're the largest in North America and provide free estimates. Plus, MARBLELIFE has the knowledge and experience to help you properly maintain your surfaces regardless of the type of tile or stone you have. With one simple change, you can makeover your space and even add value to your home by restoring or enhancing the original beauty of your floor.
Fulfill your dream of ultimate bathroom beauty while adding value to your home and saving money. Or use your savings to splurge on that rain shower head you've been dreaming of.
Call your local MARBLELIFE or visit us online to schedule your FREE RESTORATION ESTIMATE at www.MARBLELIFE.com or www.MARBLELIFEPRODUCTS.com to purchase the care products that are appropriate for your surface.