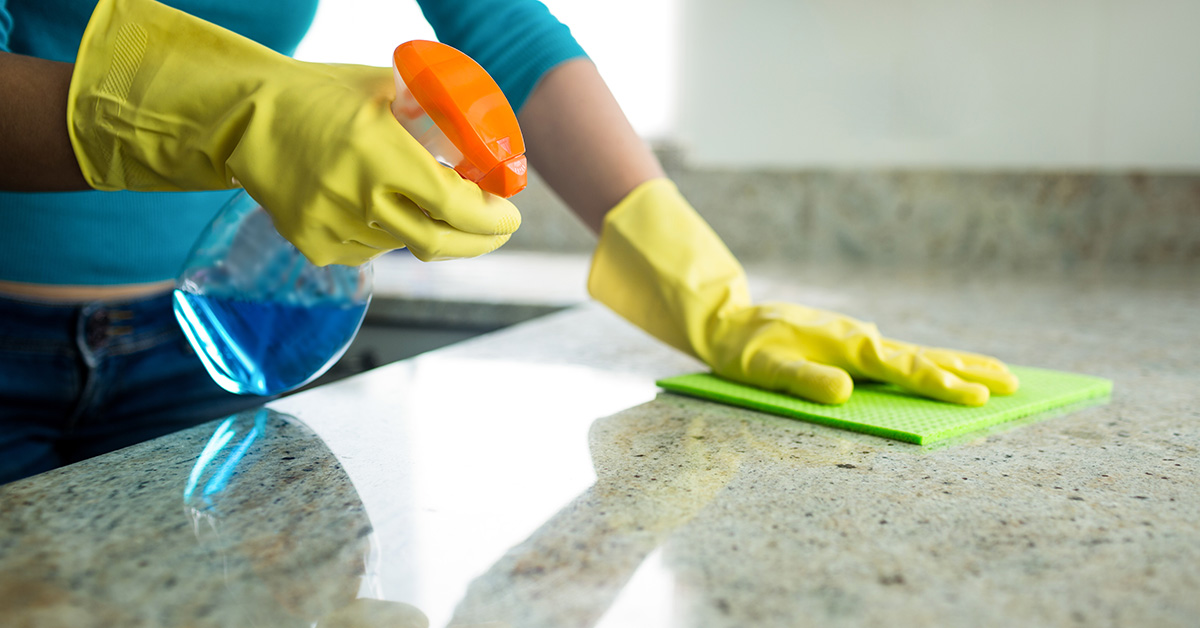 While we're sheltering in place, there's more time at home to do a thorough spring cleaning … except, now we want to disinfect for a safer and healthier home too.
As hard as it may seem, stone is a porous material that, if not sealed, can harbor germs and bacteria beneath the surface. And substances that spill, such as cooking oil, can turn your floor or countertop into a virtual bacteria buffet as oils can provide the glue allowing dirt to adhere to surfaces. And now you have COVID-19 to worry about on top of it all.
Unfortunately, traditional cleaning methods don't always get the job done.
What to do
According to the CDC, surfaces should be cleaned before disinfecting. Many surfaces build up residue from furniture polish, waxes, sealers and "clean and shine" products. While some of these can help protect against damage, they can also interfere with sanitization. It's important to remove residue buildup as the first step in the disinfection process.
If you want to help protect yourself and your family from COVID-19, use products certified by the EPA as effective against SARS-CoV-2, which causes COVID-19. For more information, see the EPA's guide: ( https://www.epa.gov/pesticide-registration/list-n-disinfectants-use-against-sars-cov-2 ). The products MARBLELIFE uses are effective against the virus on hard surfaces such as stone, tile, wood, laminates, vinyl and linoleum.
Once your surface is properly cleaned and disinfected, make sure it's appropriately sealed. Sealing stone and grout blocks the pores to form a barrier that creates a more stain-resistant, cleanable surface.
What NOT to Do
Be gentle when cleaning. Never use harsh scrubbers or abrasive cleaners when caring for stone or marble, even when addressing a stain or other problem. Abrasives risk scratching the surface, which scatters light and results in damage that appears as dull spots.
Also avoid acidic cleaners. Repeated use of lemon- or vinegar-infused cleaners can gradually dissolve and remove your sealer, making your surface vulnerable to staining. Acidic cleaners can also degrade the marble and its gloss finish over time by creating micro-etches.
Consider a product such as MARBLELIFE Stone & Tile Cleaner, MARBLELIFE Granite & Quartz Cleaner, and MARBLELIFE Tile & Grout Cleaner for a thorough clean without damaging the stone or its seal. Use a microfiber towel whenever possible since its ability to capture oils can make your cleaning faster, easier and more thorough.
MARBLELIFE's surfactant-based cleaning technology provides a streak- and odor-free superior finish that's safe for stone. Keep your kitchen and bathroom stone surfaces cleaner and healthier for you and your entire family.
Contact your local MARBLELIFE office, and a knowledgeable technician will be happy to assist you with your stone care questions. Call MARBLELIFE at (888) 524-3372 or visit us online to schedule your FREE ESTIMATE at www.MARBLELIFE.com or www.MARBLELIFEPRODUCTS.com to obtain care products appropriate for your surface.